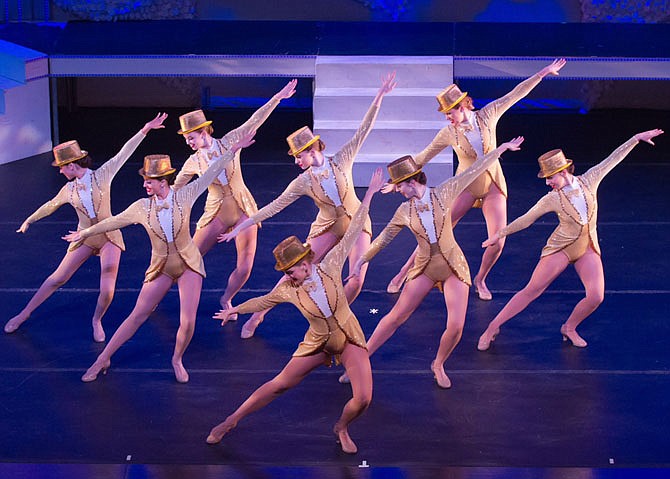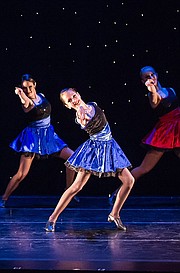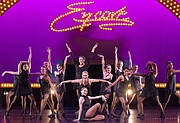 The Chantilly-based Encore Theatrical Arts Project is known for its Broadway-style music and dances, and its upcoming production features this genre at its best. It's a Broadway-musical revue called, "Another Opening, Another Show."
"I picked some of my favorite numbers and some I thought the audience would love," said Encore founder, director and choreographer Raynor van der Merwe. "We go from old musicals like 'A Chorus Line' and 'Kiss Me, Kate,' that were big hits in their day, to modern-day musicals like 'Hamilton."
So, she said, "The show ranges from a traditional, Broadway feel to some unexpected jazz, tap and vocal numbers that'll truly take the audience through many, different genres of musical theater. It's an upbeat, feel-good show that'll take the audience on a journey for an hour and 45 minutes and will, hopefully, leave people feeling happy, joyous and whistling a tune."
Calling her students "hardworking and delightful to work with," van der Merwe added that "My advanced dancers are ones who excel, not only at school, but here, too. Their dedication and attention to detail have made the choreography quicker to learn and polish."
The 27 girls and one boy in the show have been rehearsing since February. And, said van der Merwe, "It's been fun putting this show together, knowing that ultimately, we're not just putting it on for audiences here, but also for international audiences. This summer, we're traveling to Italy and France to perform five shows."
Dancing since age 3, Chantilly High junior Rithika Ashok says it's her outlet. "I come to the dance studio every day after school, and it's a way to express myself," she said. "And it's fun learning new things." In this show, she said, "I do stylistic dances like Bob Fosse numbers, and tap, with flowy music and costumes. I dance with props like fabric and hats and do some fast-paced, energetic numbers, too."
Ashok's favorite number is "Fishies" because it's a stylistic dance, but fast at the end. "It's a jazz number, and we wear jackets that we take on and off, plus black fedoras and heels," she said. "I like doing Fosse-style dances, isolating your body parts to slower music. It's also an audience favorite because it's energetic and we use props. In this show, people will get to see a whole variety of styles of jazz and tap, so there's something for everyone from traditional to contemporary."
Erin Krobath has been an Encore member for nine years and in its performing company for seven. She said this show ranges from "Broadway-style, super-elegant tap to a fierce dance from 'Hamilton'" and illustrates the dancers' versatility. She's in two tap numbers, two vocals and 10 jazz dances.
"I enjoy tap most; it clicks the best for me," she said. "My favorite number is '20th Century Fox Mambo,' a jazz dance with a little Spanish feel to it. But what's cool is that the 12 of us in it are all wearing pink costumes, but different-looking ones, so we have distinct personalities. For example, mine is light pink with a big bustle in back, but someone else's is hot pink with sequins. It's a hard-hitting, jazz number, but with girly aspects."
Besides teaching dance to her students, van der Merwe also imparts life lessons. Krobath said she learned to "Work as hard as you can. You may not be the best at something; but if you work your hardest, you'll get to your personal best."
Veronica Litschgi has danced with Encore since 2007, and with its performing company since 2013. "Whenever I'm stressed, it really helps me get my mind off of anything going on," she said. In this show, she's in 13 jazz and tap numbers.
Her favorite is "City Lights," in which the dancers wear two, different costumes. "I'm a grandma in it and use a walker," she said. "There are 12 grandmas telling kids the important lessons of life. It was my senior request to do it. Before I was in the company, I used to watch it being performed, and it was one of my favorite dances. Everyone shows so much character in it."
Litschgi said the audience will be impressed by "how many costume changes we have and how quickly we do them. Our costumes are detailed and some of them are very bright."
She said van der Merwe instilled a good work ethic in her. "Raynor said people will always want to work with the people who work hard, more than the ones that things come naturally to," said Litschgi. "That's because it shows their commitment and that they put their heart and soul into it."
Heading to Marymount University in the fall, Litschgi's advice to younger dancers is, "Don't get discouraged if you don't get a certain part, because there's always another one that you were made to be in. So don't give up and don't be hard on yourself for it."
Faith Chun has danced since age 3 and has been with Encore for six years. "I can express myself when I'm dancing," she said. "It's my passion."
She, too, is in 13 jazz and tap numbers, and especially likes "Cry Me a River." It's a jazzy tune in which the dancers wear blue halter dresses with sparkles. "It's different from the other numbers," she said. "It's contemporary jazz and is fun to do. The song is deep and interesting and allows me to express myself the most." Overall, said Chun, the audience will enjoy "the creativity of the choreography that makes each dance different. And the 'Hamilton' number brings something special, too."