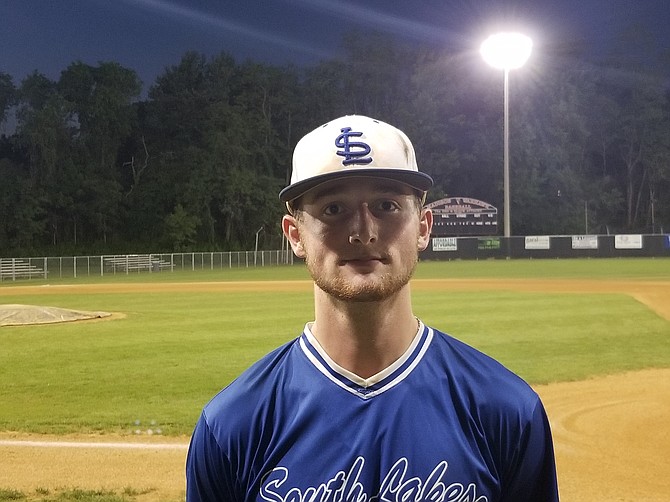 "It's a huge win—it's a statement win for our program." —South Lakes head coach Morgan Spencer
Having reached his 110-pitch limit in the bottom of the seventh inning, South Lakes pitcher Josh Taylor received a warm ovation from Seahawks fans as he walked off the mound and toward the first-base dugout on Friday at Madison High School.
Taylor's previous start ended in heartache, with the senior surrendering a seventh-inning lead to Yorktown in the Liberty District championship game on May 19. Six days later, Taylor responded with a performance that helped establish South Lakes as a region title contender.
Taylor, the co-Region 6D Pitcher of the Year, limited perennial power Madison to four hits and a pair of unearned runs over six-plus innings and the Seahawks defeated the Warhawks 7-2 in the region quarterfinals on May 25 in Vienna. South Lakes was scheduled to face Battlefield on Tuesday in the region semifinals, after The Connection's deadline.
Taylor held Madison hitless until the fourth inning and allowed just one extra-base hit throughout the evening.
"It's unbelievable, honestly," Taylor said. "The entire time I've been in high school, we've never beat Madison. Madison is a very respected and very good program."
Despite allowing just four hits, Taylor had to pitch out of trouble on multiple occasions due to walks and South Lakes errors. No. 9 remained calm on the mound, however, working at a relaxed pace while finding ways to shut down the Warhawks.
Taylor walked three in the third inning, but a 5-4-3 double play and a fly out to center helped South Lakes escape unscathed.
In the bottom of the fourth, Madison cut South Lakes' lead to 4-2 and had the bases loaded with one out thanks to two Seahawks errors, two singles and a base on balls. In one of the game's most pivotal moments, Taylor avoided further damage by getting Madison pinch hitter Patrick Casey to ground into an inning-ending 5-2-3 double play. Third baseman Braden Huebsch fielded the grounder, threw home for the force out and catcher Avery Neaves fired to first baseman Jack Nathan for the double play.
Taylor struck out five, walked six and hit a batter.
"[Taylor] battles (and) he competes," fourth-year South Lakes head coach Morgan Spencer said. "The biggest thing about him: he's composed. He understands that nothing happens until he throws the baseball and I think, really, quite honest with you, he had them out of rhythm because it was his time."
Spencer pulled Taylor after he hit Madison first baseman Josh Gjormand to lead off the bottom of the seventh. Senior reliever Jovani May entered the game and closed out the Warhawks.
Madison entered the game with a 15-6 record, having won the Concorde District championship. The Warhawks own four state championships, including the 2015 6A title, and routinely defeated the Seahawks when they were both members of the Liberty District. Friday's victory over Madison was a big step in the right direction for the South Lakes program, which in 2015 snapped a decade-long streak of failing to qualify for the region tournament.
"It's a huge win—it's a statement win for our program," said Spencer, who graduated from Madison in 1998 and played baseball for the Warhawks. "We expected to win, to be honest with you. We haven't beaten them since I've been here. It's nice that they're not in our conference (anymore). But our guys believe in each other, they believed they can do it."
South Lakes got off to a strong start, scoring four runs in the top of the first inning. Neaves put the Seahawks on the board with an RBI single and right fielder Cooper Rosner followed with a three-run homer over the left-field fence.
Rosner, who said the baseball looked like a "beach ball" at the plate, went 2-for-3 with a double, a home run and three RBIs. He nearly hit a second home run, but his deep fly ball in the top of the fourth inning sailed foul.
"The past four years being at South Lakes, we didn't really look up to Madison, but they were kind of like the top dogs we wanted to take down," Rosner said. "This is a big moment for us. It proves to us that we can beat anyone now … we can do anything."
Neaves finished 2-for-4 with a double and two RBIs and second baseman Ryan Dooley went 2-for-4 with a pair of singles. Sophomore Jack Thompson delivered an RBI double in the top of the fourth.
The Region 6D championship game is scheduled for Friday, June 1.
"My class, 2018, is the first year that coach Morgan Spencer has had all four years at South Lakes," Taylor said, "and I just think it really shows how he's turned the program around. (He) brought us to where we're competing and beating one of the best teams in the region and possibly the state."