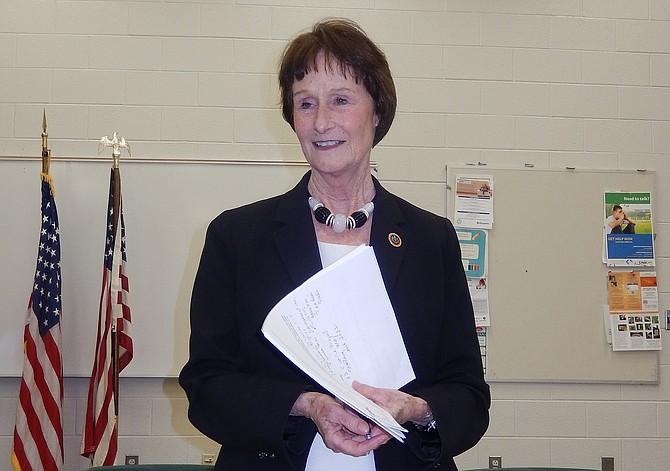 Fairfax County's past, present and future were on Sharon Bulova's mind when she addressed the recent quarterly meeting of the West Fairfax County Citizens Association (WFCCA). She's spent 30 years on the county's Board of Supervisors and has been its chairman since February 2009.
"Cable TV, gypsy moths and planning for the VRE [Virginia Railway Express] were the big issues when I first joined the board," she said. "Now, I'm working on the Silver Line — the Metro extension."
Speaking before the supervisors officially adopted the county's new budget, Bulova said some of the priorities were funding for transportation projects and the Metro system — for new cars and improvements to the tracks and stations.
And, she added, "It looks like everything is falling into into place. So the drama is making sure there are enough votes in the General Assembly to sustain the governor's proposal. And it's been exciting seeing sustainable funding come together and more jurisdictions participating in the funding."
Bulova said the county's FY '19 budget fully funds the School Board's request and increases teachers' salaries — which, she said, "has been a challenge for us in the previous years. [It] also provides funding for early childhood education, gang prevention and the opioid crisis."
She noted, as well, that this budget "expands the Diversion First program, whereby people with mental issues who've committed minor infractions of law can receive treatment, instead of being incarcerated. I'm especially proud of this," she said. "And I believe mental illness deserves a larger focus than it's received in the past."
On another topic, At-Large Planning Commissioner Jim Hart asked Bulova to explain what having Amazon set up shop in Northern Virginia would mean to this area. He also asked her, "When are we likely to know more?"
"By the end of the year," she replied. "But prior to that, they may narrow the list [of possible sites], so we'll know if we're still on it. Having Amazon here would be a game-changer for our region that's been struggling with federal cutbacks. It would be a very big deal — and I like that it's a joint proposal with Loudoun [County] because both counties have their attributes."
"Loudoun has its data centers and Fairfax has technology, and both have excellent schools and a well-educated workforce," continued Bulova. "It would be additional commercial growth to offset our residential tax base — which is exactly what we want. And maybe this will open up the door for more cooperation between the two counties."
But, she added, "That's not the only business this county is concerned about cultivating. Fairfax County has really focused on diversifying its commercial growth, especially in the areas of health, research, genomics and personalized medicine. And we have stability — and that bodes well for our economic development."
Traffic-wise, said Hart, "We suffer the impact of Loudoun's growth, without any of the benefits. But there are reasons to work with them on other things, and I hope there are opportunities for that."