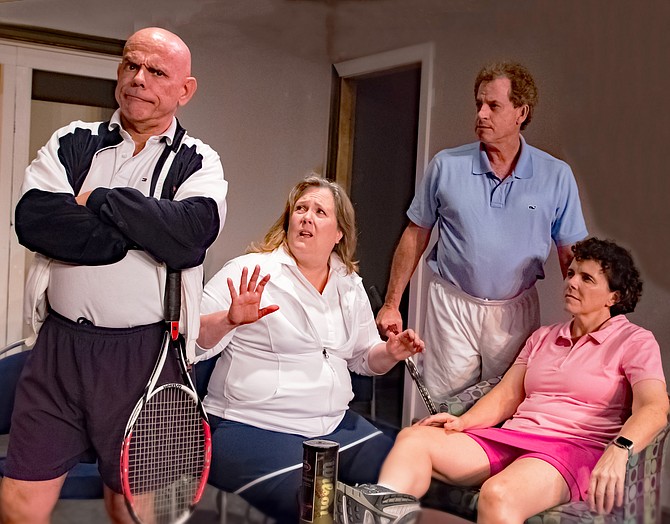 Where and When
Providence Players present "California Suites" at The James Lee Community Center Theater, 2855 Annandale Road, Falls Church. Performances: June 1–16, 2018. Thursday, Friday and Saturday 7:30 p.m. and Sunday Matinees 2 p.m., June 3 and 10. Tickets $20 Adults, $17 Students/Seniors. All Seating is reserved. Call 703-425-6782 or go to http://www.provid...">www.providencepla...
Comedy concludes the Providence Players' 20th anniversary season with Neil Simon's "California Suite."

"Our audiences will love the four playlet variety of 'California Suite.' It is full of Simon's effortless banter and keen eye for the human condition," said Jayne Victor, Board President, Providence Players.

What connects the four short plays is this: four couples from different cities travel to California over the course of a year. They stay in the same Beverly Hills Hotel suite. Each couple brings their problems, anxieties and comic marital dilemmas with them.

"I was drawn to directing 'California Suite,'" said Beth Gilles-Whitehead. "I wanted to do this relationship play with its personal scenes, physical comedy and verbal wit."
"California Suite" consists of "The Visitor From New York," in which Hannah loves living in New York, while her ex-husband, Billy, loves L.A. Can the two happily divorced parents raise their only daughter while living 3,000 miles apart? "The Visitor from Philadelphia" finds Marvin waking up in the suite with both a hangover and a young woman he doesn't know beside him. Then his wife arrives.
In "The Visitors from London," actress Diana loses the Oscar to another woman, and her husband to another man on the same night. And finally, four best friends are enjoying a dream vacation together in "The Visitors from Chicago." That is until a highly competitive tennis match turns friend to enemy.
Ia Ioannidou portrays Hannah Warren in "The Visitor From New York." For Ioannidou, the character Hannah is "a tough lady, navigating the male dominated world. It is difficult for her to allow herself to enjoy motherhood or even the thought of becoming a grandparent one day. She had to choose between her professional career and motherhood."
Chris Persil plays Billy Warren, Hannah's ex-husband. "Billy, a divorced 45-year old writer living in LA meets up with his ex-wife after 9 years and quarrels about custody of their 17-year-old daughter."
Liz Mykietyn plays Millie Michaels in "The Visitor from Philadelphia." "Millie is a loving wife and mom who doesn't get much time alone with her husband whom she adores; never mind a trip to Beverly Hills. For this trip to go "BAD" on her is sad." As for husband Marvin, portrayed by Dave Wright, "basically, Marvin is a good man who made a really bad decision."
Join the Providence Players at "California Suite" to laugh; perhaps even have a sniffle or two.