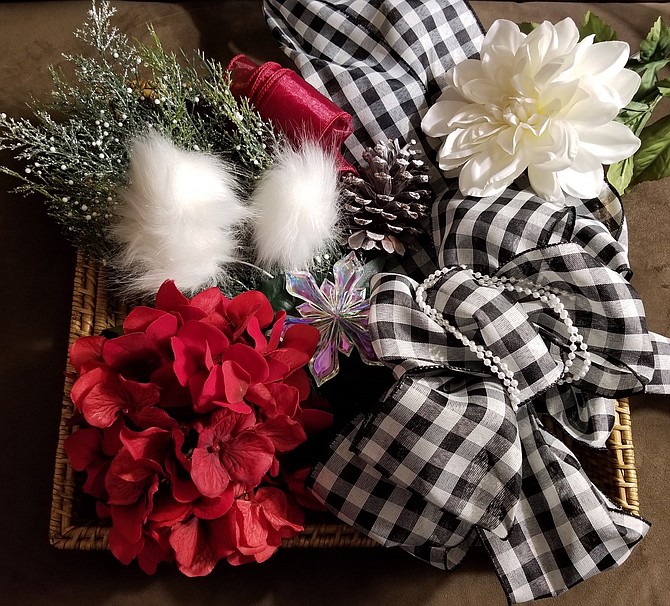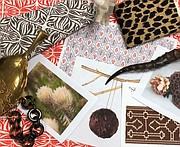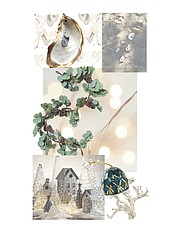 "Our design was inspired by the warmth of the holiday season." —Jeff Akseizer of Akseizer Design Group
Some of the area's most talented tastemakers are donating their time and creativity to benefit a local hospital. From feathers and yarn to seashells and tree branches, local interior designers and artists are creating holiday trees, mantel and table displays, wreaths, menorahs and artwork for the second annual Light Up the Season fundraising event for Children's National Medical Center on Dec. 16.
Designers were paired with children who are patients at Children's. Throughout the creative process, the artistic creations unfolded as the patient-designer relationships grew. "Our design was inspired by the warmth of the holiday season, the onset of winter, and the magical imagination of 7-year-old Johnny our patient ...," said Jeff Akseizer of Akseizer Design Group in Alexandria. "In our interview with him, his mind exploded with all the colors, textures, and characters he loves to see at the holiday season, his favorite being the Grinch. "
Akseizer is creating a holiday tree with designer Jamie Brown, also with Akseizer Design Group. "Johnny is a true inspiration," said Brown. "He plays wheelchair basketball and sled hockey. We took much of the spirit from our interview with him and plugged it into our creative minds to come up with something that would surely wow."
The holiday decor will be created to reflect the personality and spirit of each child. "My patient artist, Savannah, inspired my wreath design for this year's event," said designer Mary Biletnikoff. "She is a sweet, 6-year-old girl who loves to draw, make snow angels and snowmen .... she celebrates Christmas and loves Christmas lights," she said. "My wreath is named 'Savannah the Snow Girl' and is a modern day take on the traditional snowman. I chose this theme because girls need to grow up knowing that they are strong, kind, smart and creative just like my patient artist."
"My patient partner loves fun, color and sparkle, so we created a vibrant wreath that reflects her personality," said Wendy Danziger of Danziger Design in Bethesda.
From traditional colors to hues that stretch the imagination, ideas for creating festive designs will abound at year's event, says Biletnikoff. "I hope that visitors will be inspired to incorporate some fun and lightheartedness in their own home," she said. "If you are decorating for the holidays, I want people to consider elements that make them smile and maybe even chuckle. Design is about incorporating what you like, not what you think you should have."
"When decorating for the holidays, let your imagination take over and don't be afraid to combine elements that may at first seem unlikely companions," said Sarah Hayes of Sarah Hayes Design, who created a console table display with her 17-year-old patient. "And, as Caoilinn and I would both agree, the more twinkle lights, the merrier."
"Also, make decorations together with and for your children so they can be a part of the fun," added Biletnikoff.
Offering hints at what awaits those who visit the displays, Ashley Greer of Atelier Ashley Flowers in Alexandria said, "I have teamed up with a sweet … patient to create a classic, woodlands-inspired holiday tree .... Along with my crew of talented volunteers, we've designed dozens of handmade wreaths that will adorn the tree along with beautiful glass and felt ornaments …. This tree will bring our theme — Over the River and Through the Woods — to life."
"We're inspired by our … patient partner who loves horses, unicorns, magic, pink, and purple," added Rachel and Charles Gang of Helen Olivia Flowers, also in Alexandria. "She lives in the country with her family so being outdoors is a part of her life. We're incorporating nature, plants, and pastel colors into our enchanted design."
Metallic animals, feathers and other natural elements are what designer Marika Meyer of Marika Meyer Interiors and Marika Meyer Textiles in Bethesda is using to create a safari-themed tree. "We'll incorporate some my Marika Meyer Textiles to create the garland and tree skirt using a custom colorway," she said. "It will be a festive and fun way to celebrate the holidays."
Other designers participating in Light Up the Season who are in the area include Lauren and David Liess of Lauren Liess in Great Falls, Wendy Danziger of Danziger Design in Bethesda, and Sascha Roth of Urban Country in Bethesda.
All of the holiday trees, mantelpieces, wreaths, menorahs and artwork on display will be available for purchase. Proceeds benefit Children's National. Light Up The Season will be on Sunday, Dec. 16, from 12-4 p.m. at Four Seasons Hotel Washington, D.C. Family activities include holiday cookie decorating, ornament making, musical performances and visits from Santa. Tickets for the event are $50 per child 16 and under, $85 per adult for the family and $250 per family of four (two adults and two children 16 and under).
For more information, including how to purchase tickets and how to be a sponsor, go to childrensnational.org/lightuptheseason or email lightuptheseasondc@gmail.com.