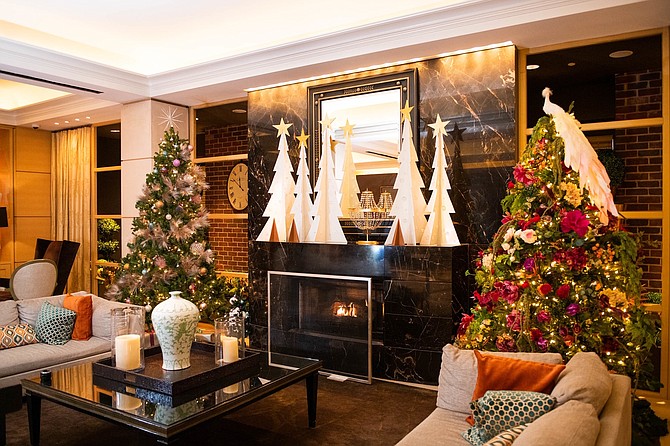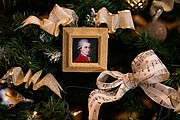 Holiday trees donned with a wide array of décor that ranges from musical instruments and fairies to dollhouses and mice will be on display to raise money for charity later this month. "Light Up the Season," the annual event that highlights creative collaborations between Children's National Hospital patients and notable area artists, will be held on Sunday, Dec. 15, 2019 from 1 p.m. to 4 p.m. at the Four Seasons Hotel in Washington, D.C.
As part of the project, patient-designer teams created custom holiday trees, mantelpieces, menorahs and dollhouses — all available for purchase — with proceeds going to Children's National to support programs that improve the health and well-being of children across the Washington, D.C. region.
Inspired by the children's Christmas book, "If You Take a Mouse to the Movies," the tree created by Quintece Hill-Mattauszek of Studio Q Designs in Alexandria features mice decorating the holiday tree while under a whimsical snowfall.
"Through a child's eyes mice are symbols of youth and innocence with their resourceful courage, adorable curiosity, and their perspective of seeing the world from a different point of view, just like children," she said. "We have embraced them in children's literature for decades because of the lessons they teach, the values they instill, and playfulness they leave in our hearts."
Using a recording of "O Tannenbaum" and musical-themed ornaments, Potomac, Md. designer Sharon Kleinman of Transitions by Sharon Kleinman, assembled a melodious creation. "During our get-to-know-you session, I discovered that my partner is quite the musician," she said. "He plays several instruments and is passionate about music. We decided to make our tree a musical tree."
Taking inspiration from their patient-partner's love of animals, the design team at Pamela Harvey Interiors in Oak Hill, created a display that includes a dollhouse and a fully decorated 7.5 foot tree with a modern farmhouse vibe.
"Our team had a lot of fun decorating … we added lighting, wallpaper, area carpets, wood furniture and soft furnishings," said Harvey. "We even decorated it with tiny wreaths and Christmas trees complete with tiny presents. Our tree includes a selection of handmade clay ornaments. Each ornament is stamped with a different animal and attached with a simple satin ribbon."
Keeping the modern farmhouse theme continuous, the Harvey team combined green, plaid, white, silver and natural wood tones to complement the animal ornaments. "We are presenting our patient with a barnyard animal farm, which is decorated with the same theme, as our gift for inspiring us to create holiday decor that can be enjoyed for many years," said Harvey.
Fairies and folklore were the basis for the Christmas tree created Sandra Meyer of Ella Scott Design in Bethesda. The patient's predilection for all things mythical was brought to life in a tree filled with flowers, fantasy and mythical fairies in nature-themed setting. "Fairies have a long history [of] symbolizing kindness and a desire to help humans," said Meyer. "Light Up the Season" is a fairy-like event that exists to help others."
Light Up the Season will be held on Sunday, Dec. 15, 2019 from 1 to 4 p.m. at the Four Seasons Hotel in Washington, D.C. Tickets for the event are $50 per child (ages 16 and under), $85 per adult and $250 for a family of four (package includes two adults and two children 16 and under). For more information, visit www.childrensnational.org/lightuptheseason or email lightuptheseasondc@gmail.com.