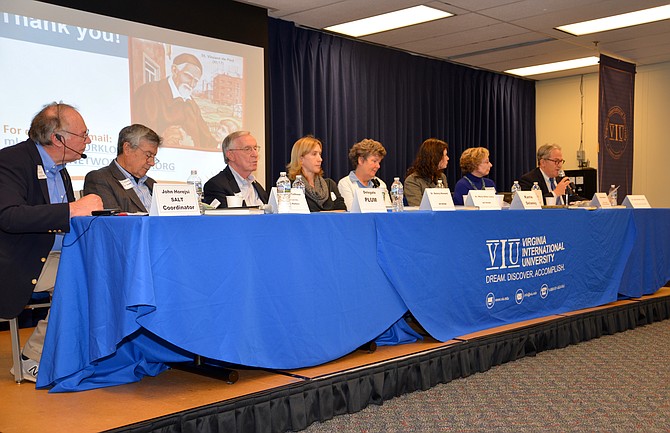 "The elections are behind us. Now it's time for the real work of advocacy to start again," said Social Action Linking Together (SALT) founder John Horejsi as he welcomed the attendees to the SALT Fall advocacy conference at Virginia International University in Fairfax on Saturday, Nov. 10.
SALT is a faith-based network of organizations and individuals who join forces on a number of social issues, "trying to bring the social and economic justice teachings of their faith to bear on public policy and legislation, especially at the local and state levels." The non-partisan group ("We focus on issues, not candidates") formed some 20 years ago with a core of eight socially-conscious people and has grown over the years to a base of about 1,300.
Keynote speaker John "Jack" Calhoun, author of several books about social justice and engagement, brought considerable humor to his presentation, "Finding Hope and Joy in the Broken Places: Keepin' on, Keepin' on," despite the often sobering stories and statistics that he has faced in his work and that he recounts.
"Jesus liked a party," he joked. "We need to find joy and fun in what we are about."
CALHOUN, a senior consultant with the U.S. Department of Justice and Development Service Group, Inc., for National Forum on Youth Violence Prevention has spent a lifetime working inside and out of government institutions to "improve the lives of those who live on society's edges, fragile families and the neighborhoods from which they come" focusing heavily on vulnerable children and adolescents.
"We need to name and claim our kids," said Calhoun, who helped write the landmark Child Welfare and Adoption Act of 1980, or "other negative influencers like gangs will do so."
Calhoun offered several tips on successful engagement, including "Policy Walking" and "Programs, Policy and the Personal" as the three essential elements for a template for "really getting something accomplished. It starts with walking, not fixing or talking."
Bringing the work needed to be done to the local level was Virginia Del. Ken Plum (D-36), introduced by Horejsi as the longest serving delegate in the Virginia Legislature and "an advocate for social justice and civic engagement since day one." Plum was joined on the dais by Karrie Delaney (D-67) who completed her first term this year.
Plum's illuminating presentation was aptly titled the "Uncommonwealth of Virginia." To understand the work that needs to be done and how best to achieve it, says Plum, it is first necessary to understand the economic gaps and disparity in opportunities that exist between the regions of the Commonwealth.
"We are a state of extremes," said the delegate, with Northern Virginia being among the nation's wealthiest in personal income and property value, while the South and the Southwest regions rank "the actual poorest, lower than the state of Mississippi in these economic indicators."
Plum acknowledged that there are many who resent the portion of their tax dollars being used to support other areas of the state, often hearing that "our money should be used to improve our schools, our services," but he makes the case that not only is it the morally right thing to do to help our neighbors in need, but it makes sense that "we all do well when everyone does so."
The changing demographics and shifts in population need to inform how we develop programs and allocate funds and "how we will improve the lives of all Virginians."
THE AUDIENCE was also treated to a snapshot of the daily doings of the "Nuns on a Bus" and their recently completed 2018 tour, which took them from Santa Monica, California, across the nation to the Trump resort Mar-a-Lago in Florida.
"A fitting place to do an ending drive-by" said Sister Quincy Howard who was one of the bus "riders," since the main objective of this year's bus trip was "firstly to learn and listen, secondly to educate and inform on the impacts of the 2017 Republican Tax Cuts and Job Acts."
The nuns organized or attended more than 50 events in 21 states from Oct. 7 until Nov. 2. They met with local lawmakers, attended Town Halls, and joined in rallies around the country, trying to show just how much, or little, different groups would benefit from the tax cuts. According to their organization, NETWORK, Advocates for Justice, Inspired by Catholic Sisters, the wealthiest and corporations would be the real recipients of any positive effect from the tax laws, while the less fortunate and the struggling middle classes would actually "take steps backwards from the days of the Reagan tax cuts" because of threats to the programs that many of them depend on, like Social Security, SNAP and CHIP programs, Medicare and Medicaid, and "even infrastructure and emergency recovery resources."
Sister Mary Ellen Lacy, who was Sister Howard's "bus mate," detailed events on the tour, describing some of the "touching and inspiring site visits" the group made, where "we saw the direct, positive outcomes of people helping each other." Lacy said they were particularly impressed by programs that employed a holistic approach, rather than focusing on just one piece of the puzzle.
"We saw programs that were more collaborative, less competitive," so that she says they achieved a greater outcome in the goal of bringing "dignity and economic mobility" to people and families.
"We voted. We won," said Lacy, breaking for a moment with the non-partisan model when she urged the audience to "now support and educate and work with "these new lawmakers and representatives.
SALT made great strides towards the goals they set at last year's conference. Having advocated for years for the expansion of Medicaid in Virginia, the group was ecstatic when Gov. Northam signed the new state budget that will bring health care coverage to up to 400,000 Virginians starting Jan. 1, 2019. Enrollment is going on now.
Horejsi was also excited that he had been invited to attend the signing of the bill, sponsored by Del. Patrick Hope and Sen. Barbara Favola to "End School Lunch Shaming."
Also in the "celebrate" column are bills to allow video visitations without replacing in-person family visits for prison inmates, and the Kinship Guardian Program, which allows guardians like grandparents to become registered Foster Parents, giving the children in their care "some six times more benefits," said Horejsi, than they could receive otherwise.
ON THE AGENDA for the 2019 Virginia Legislative agenda:
More improvements to TANF (Temporary Assistance for Needy Families), including a TANF scholarship pilot program to "give these young people a chance to become successfully employed."

Supporting the Governor's mission to make Earned Income Tax Credits refundable for lower and moderate-income working families.

Limiting and ending solitary confinement of the incarcerated. Speaker Gay Gardner with Interfaith Action for Human Rights is working to present a bill demanding transparency and accountability and real measurement by the Virginia Department of Corrections. "There are fewer inmates in solitary confinement today," she said, but with no measurement, and simply changing the name of this action to "restrictive housing," Gardner says that this is an advocacy that must continue and needs more attention.

Continuing to oppose Block Grants for all human services programs, as grants are shown to typically shrink in funding over the years.
The issues discussed at the conference and on the SALT radar can be complex. The group welcomes questions and comments and any opportunity to educate and assist, providing factual, non-partisan information on their website at www.s-a-l-t.org or by contacting SALT coordinator and founder John Horejsi at jhorejsi@coxnet.