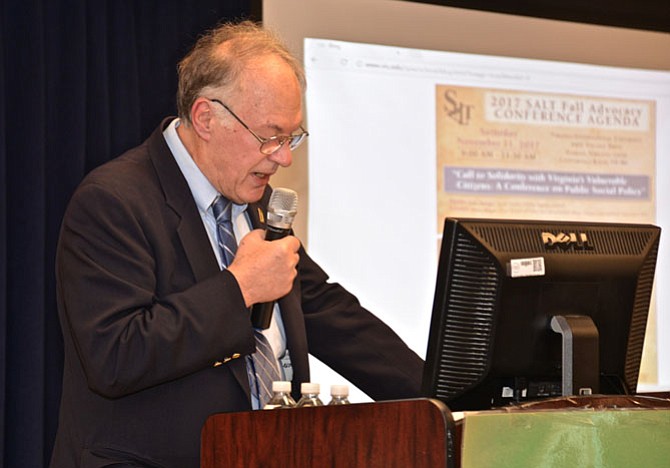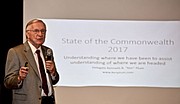 The agenda was full at the 2017 Social Action Linking Together (SALT) Fall Advocacy Conference. The annual forum was held at the Virginia International University in Fairfax on Saturday, Nov. 11 with a packed house in attendance.
SALT is a non-partisan faith-based network of individuals and organizations with the goal of bringing "the social and economic justice teachings of their faith to bear on public policy and legislation." What started as eight socially conscious people about 20 years ago, has grown to a base of about 1,300, who educate themselves and the public on the facts surrounding social issues, and the actions that can be taken to address them.
"It's education, it's advocacy, building relationships with legislators, and bringing people together to strengthen the voices of all," said SALT Founder and Coordinator John Horejsi, who is no stranger to the halls of the Commonwealth's governmental chambers and offices in Richmond.
Each year, SALT selects new priority issues, or continues to address issues in progress, and rallies its troops to raise awareness and recommend actions. Horejsi was particularly pleased to announce that largely through the efforts of SALT members, many more Virginians in need will now benefit from the TANF (Temporary Assistance for Needy Families) program, simply by having consolidated the TANF categories.
Additional improvements to TANF, including an associated scholarship program is one of SALT's priorities for the 2018 Virginia legislative session.
THE GROUP has identified several other priorities upon which they will focus their attention in the coming year, including:
Ending school lunch shaming: SALT supports legislation that would prohibit identifying – and stigmatizing – children who are unable to pay for school meals.

Legislation to provide video visitation services to inmates, and not to ban in-person visits where video visits are provided.

Limiting, and ultimately eliminating solitary confinement in prisons.

Opposing block grants for all human service programs opposing block grants for Medicaid.

Supporting greater equity in Kinship Guardian situations, granting more funds to family members caring for children — where foster carers now receive, in some cases, almost five times the funds allotted to family carers.
To illustrate the scope of the needs of the citizens of Virginia, Horejsi recruited Sister Simone Campbell and state Del. Ken Plum (D-36) as speakers for the forum.
Sister Campbell, a member of the international Roman Catholic religious congregation Sisters of Social Service is often referred to as one of the "Nuns on a Bus." As the director of NETWORK, a Catholic advocacy group for social justice, Sister Campbell leads a group of nuns who, since 2012, conduct bus tours around the country as part of their advocacy work, educating and leading discussions on a variety of issues, from healthcare to immigration, voter suppression to advocating for a "living wage" for all.
The need to provide a "living wage" was a central element in Sister Campbell's keynote address on "21st Century Poverty."
Sister Campbell advised the audience to throw away the old stereotypes of the "typically impoverished." Today's poor are increasingly "the working poor," she said, recounting the story of a young woman she encountered at a special White House luncheon. The woman was filled with excitement for having been chosen to attend the event, yet before the end of the meal, she confessed that despite having a "good, full-time job" at a well-known retailer, she lived at a homeless shelter because she couldn't afford the high cost of rents in the D.C. area. Her dream was to work and save her way out of this dilemma.
Sister Campbell doesn't believe that anyone working a full-time job – and some working more than one job – should not be earning enough to pay for a place to live and the means to exist.
"There's something wrong here. We say we are a nation based on family, yet we do so little to support families and hardworking individuals."
The "nun on a bus" expressed her scepticism regarding the tax reform proposals currently being put forth on the Hill. "Trickle down does not work. We have already proven this, time and again. And you know the definition of insanity, right? Doing the same thing over and over, expecting a different result."
Before concluding her remarks, Sister Campbell challenged the attendees to embrace certain "virtues," including remembering to keep a "modicum of joy" in your efforts.
Secondly, she added to "use your 'holy curiosity,' by asking people about themselves and their situations as the way to truly know the face of 21st century poverty. Practice "sacred gossip" by sharing the stories that you hear and encouraging others to take action, and finally, just figuring out what your part is and doing it."
Sister Campbell cautioned against trying to "do it all" or needing to take charge. "Learn whether you're the head, the feet, the hands, whatever you do best to contribute."
She says it took awhile, but now she knows what she does best and where she fits in. "I am the stomach acid … there to churn everybody and everything up."
Plum followed Sister Campbell's address, giving a mini-history of the Commonwealth, particularly in relation to slavery, the birth of a culture of racism, and the reasons why he feels the issue of monuments to Confederate war participants is far from over.
"Virginia has more such monuments than any other state," said Plum, "with 223, almost all of them built in either the early 1900s or during the Civil Rights movement of the 1960s. What's the message there?"
Like Sister Campbell, Plum also addressed the issue of poverty and the widening gap between the wealthy and the less fortunate, using a series of charts and graphs that illustrated how statistics may not tell the whole story, unless you look a little deeper.
Despite always being categorized as one of the richest states in the union, Plum showed how the "real" numbers show one geographically small portion of Virginia, the "Golden Crescent" of Northern Virginia to Hampton Roads, having a median income of $150,000. "For the rest of Virginia, that number is closer to $40,000. What do we do with that information? We have to find ways to share economic opportunities and all that comes with it to rural Virginia, as well."
LOOKING AHEAD to the 2018 legislative session, Plum thinks redistricting could be a hot topic — and that it should be. Fighting for more school funding and the expansion of Medicaid is also on his agenda. "$10.4 billion by not expanding it. Who leaves that kind of money on the table, especially in 'fiscally conservative' Virginia?"
Plum warns that it "might not be pretty" when the session begins, as both parties readjust after the Democratic wins in the Nov. 7 election, but the delegate is hopeful that all the new faces bring fresh new perspectives and new solutions.
The final speaker at the forum was Gay Gardner, from Interfaith Action for Human Rights, (IAHR) speaking about her organization's efforts to "make solitary confinement truly a last resort."
Gardner cited numerous studies that attest to the physical and mental harm done by long-term solitary confinement.
Kimberly Jenkins-Snodgrass, a board member with IAHR spoke briefly about her own son, an inmate who has been kept in solitary for four years. Other prisoners they have contact with have been held in isolation for even longer, one for 14 years.
"Getting a straight answer as to why these men have been so confined is not easy," Gardner said. Sometimes, solitary is employed as a response to an inmate who exhibits signs of mental illness or distress, "but solitary confinement only makes the condition worse."
A question-and-answer session followed the speakers' presentations. Horejsi noted that the energy in the room remained high, despite the almost overwhelming number of issues that had been brought to the table. "Must be that joy that Sister Simone told us to keep handy," he said, before adjourning the forum and exhorting attendees to "Go and do good."