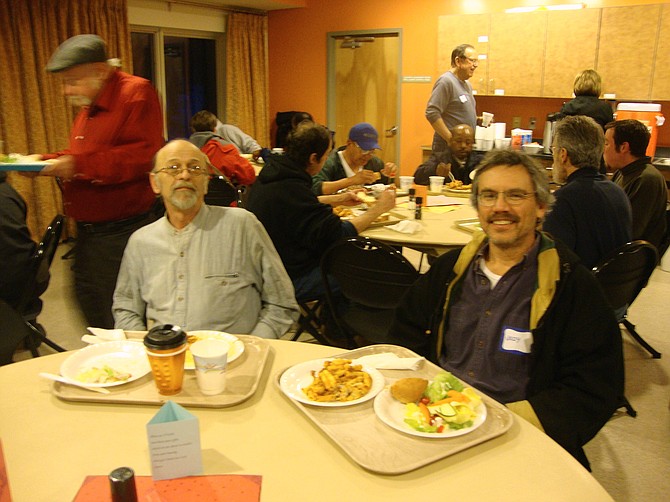 Fifteen years ago, two Fairfax men froze to death during the fall. At the time, FACETS was a nonprofit that was primarily serving meals to the county's homeless in partnership with several churches. FACETS' leaders knew that feeding people only to send them back into the extreme cold was not a great answer for the growing number of people who were homeless in the community.
That winter FACETS responded by offering temporary shelter in conjunction with its partner churches, the Lamb Center, and Salvation Army to get people in from the cold. The first year, these hypothermia shelters rotated to several different churches and only opened when the temperatures dropped below freezing. Soon the centers were serving up to 60 people on cold nights.
The program has evolved as the region's population has grown. In 2006, FACETS worked on policies and procedures with the county and formally began managing central Fairfax's Hypothermia Prevention and Response Program. This year 36 churches will be host sites for the program with more than 50 churches and other faith communities providing volunteers.
These faith community partners rotate when opening their doors to provide shelter. In anticipation, churches and temples are preparing their facilities to welcome people in need during the cold months ahead — cleaning, getting supplies, and preparing the space. Other volunteers are planning menus. Unique partnerships have formed as a result of the program as Christians, Muslims, Jews, and more join together to help the homeless and in the process learn about each other.
The effort also matured beyond just providing safe haven. Guests now receive life-changing case management. By interacting with guests at the shelters, FACETS' case managers are able to address their needs in a very personal way by gaining their trust and connecting them with housing solutions and critical services. They also receive a variety of services from the county.
Last year 283 guests were given shelter from the biting cold. More than 3,800 people volunteered 33,000 hours last season to care for these guests who are homeless. By the end of season, 41 of these people had left homelessness behind and were housed.
This year's Hypothermia Response and Prevention Program began the Sunday of Thanksgiving weekend and runs seven nights a week through April 1. With the projected cold and forecasts of a very snowy winter season, demand is expected to grow.
The hypothermia program continues to adapt to the times to meet the needs of struggling neighbors. Through a coordinated effort that involves broad cross sections of this caring community, we are able to strengthen the community and save lives. To learn more, donate or volunteer, visit us at www.FACETSCares.org.
FACETS is a Fairfax-based nonprofit working to prevent and end homelessness.