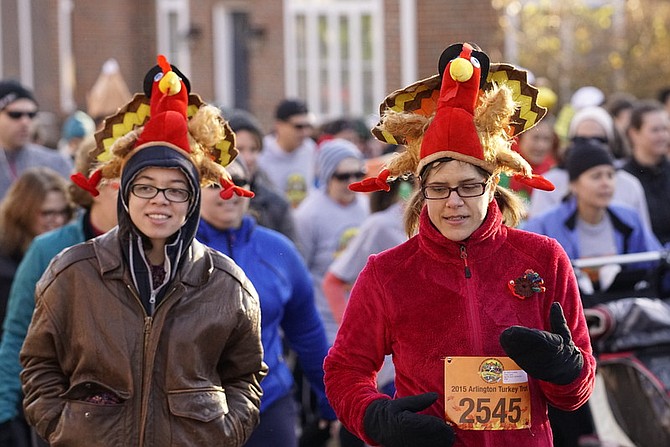 It was time for the 13th annual Arlington Turkey Trot on Thanksgiving Day and to get participants in the mood, Mark Riley and Pastor Brian Webster of Christ Church decided to try something new: the first annual "Thomas the Turkey and Friends" Costume Club Party and Contest.
On Nov. 16, from 5-7 p.m., adults and children, charity beneficiary representatives, and Thomas the Turkey, came in costume to promote the Trot and encourage even more runners to walk or run the trot in costume. Mark Riley, the charity race coordinator, dressed as "The Big Turkey" and emceed the contest.
"TJ the DJ" Schultz set the mood with music, as County Board Chair Katie Cristol, who dressed as Supreme Court Justice Ruth Bader Ginsburg; Denny Edelbrock, dressed as the Bunny Hop bunny; and Allie Sartorie of Virginia Premier dressed as a walking Thanksgiving Dinner Table, judged the contest.
Denny Edelbrock coordinated Clarendon United Methodist Church's inaugural "Arlington Bunny Hop 5K Charity Fun Run/Walk" this past spring. Virginia Premier and Radley Acura were the lead sponsors of the Arlington Turkey Trot this year. All the children in costume received a Turkey Trot medal for their participation and prizes were awarded to the top three costume winners. Arlington Independent Media filmed interviews with beneficiary representatives who spoke about what Arlington Turkey Trot funds mean to those they help each day in Arlington. The six beneficiaries of this year's race are Arlington Food Assistance Center, A-SPAN, Arlington Thrive, OAR, Bridges to Independence, and Young Life.
The race continues to draw increasing numbers of Arlington residents who want to donate, have fun, and make room for that extra serving of turkey. Last year, 4,000 registered, and 3,470 finished. This year, over 4,000 registered, and 3,200 crossed the finish line. It was unseasonably cold on Thanksgiving, and about 800 runners did not show up at all, but in registering, they showed the Arlington commitment to helping their neighbors. For a complete list of sponsors, see: http://www.arlingtonvaturkeytrot.org/index.html.