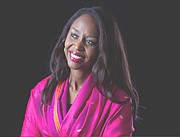 On Oct. 10, New York Times bestselling author Immaculée Ilibagiza will speak at Oakcrest School about finding God in the midst of the horrors of the Rwandan genocide. Ilibagiza will share her odyssey of hope and healing in the wake of tragedy, and explain how she found the strength to forgive those who took everything away from her.
This will be Immaculée's second visit to Oakcrest. In 2008, she delivered the commencement address for the school's graduating class.
Immaculée Ilibagiza is a survivor of the 1994 Rwandan genocide that took the lives of nearly one million Tutsis. Men, women and children, including her entire family except for one of her brothers, were massacred at the hands of Hutu marauders. Immaculée found shelter at a pastor's home, where she and seven other women hid from the deadly rebel mob in a 3-by-4-foot bathroom for 91 days. During those 91 days of unimaginable suffering, Immaculée found her faith, taught herself English, and most incredibly, committed herself to a life of peace, hope and forgiveness, even for those who had murdered her family. Immaculée's first book, "Left to Tell; Discovering God Amidst the Rwandan Holocaust" (Hay House) was released in March of 2006 and quickly became a New York Times bestseller. To date, it has been translated into seventeen languages and has sold over two million copies. Immaculée has gone on to work at the United Nations, receive five honorary doctoral degrees, write six more books about her faith and her life journey, and is the recipient of the Mahatma Gandhi International Award for Reconciliation and Peace.
This event is free and open to the public, and there will be a book signing after the Oct. 10 program. Seating is limited, so those interested must pre-register at bit.ly/oakcrestimmaculee.
Oakcrest School is an independent school for girls in grades 6-12 guided by the teachings of the Catholic Church. For over 40 years, the school has provided an exceptional liberal arts education to girls of all faiths while fulfilling its mission to grow, challenge and inspire its students to thrive in college and throughout their lives. Learn more at Oakcrest.org.