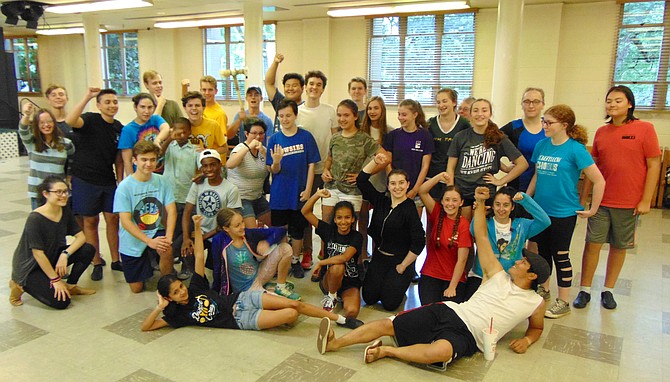 With a cast of 44 members, ages 12 through adults, Encore Stage & Studio is staging "Disney's Newsies" from July 19-28. Set in turn-of-the-century New York City, the show is the tale of Jack Kelly, a charismatic newsboy and leader of a band of teen aged "newsies." When titans of publishing raise distribution prices at the newsboys' expense, Jack rallies newsies from across the city to strike against the unfair conditions and fight for what's right. The show's music is by Alan Menken, lyrics by Jack Feldman, and book by Harvey Fierstein.
Having to learn 20 songs for the show, Music Director Sarah Markovits said the music surprised her with how complex and interesting it was. "It's a fair amount of music to learn and there's a lot of dancing. They're singing high-energy music with a lot of dancing. The show just keeps on going, like it's in constant motion," she said.
She added: "I had only seen the movie version of 'Newsies' before we started working on this show. So, it's been really fun to see how well the music is constructed. There's some interesting harmonies and the cast is doing a great job with the harmonies and complexities in the music and bringing that out."
She said the show has a lot of parallels to today's society. "I hope they will see how relevant this show is to our climate today in that no matter who you are, if you have conviction you can take on the rich and powerful. With a little help from your friends, you can overcome any obstacle," she said.
Garrett Rinker, 19, of Arlington is playing the lead role of Davey, the new kid in the group. "Davey's more uptight, not in a negative sense but uncomfortable with the way the newsies behave. He's been taught to behave in a different way from the others," he said.
The VCU sophomore added: "Some of the challenges with Davey is the fact that he probably has more of a change in character since he's coming in trying to look after his brother and trying to sustain his family. He eventually gets caught up in the strike and I think he realizes it's a greater cause and it's more than them. He realizes it's not about him and his brother, or the newsies at all; it's about the working kids trying to make a living."
Kyle Rhysdalsimer, 18, of Annandale is playing the role of Jack Kelly, the oldest of the newsies. "He's a boisterous, loud, somewhat arrogant leader on the outside, but it's sort of a front to impress the other boys and to keep everything running. He feels like he has a responsibility to make sure the other kids are OK and functioning and everything is going right for them," he said.
To prepare for the role, he said, he dug deep into the history of the newsies strike, since it was based on a true story. "I based a lot of my character on being a fan of baseball and drawing from that and finding understanding of being someone who puts out a façade but who is actually very selfless — just understanding the character by reading the script and finding the little keywords and details the playwright left as clues to who this character really is," said the rising freshman at Rider University.
Sierra Hoffman, 20, of Fairfax plays the role of Race, one of the newsies who's friends with Jack. "We're part of the group of newsies who go on strike. Race has a cigar with him at all times; that's his main personality trait," she said.
As far as challenges, the Ball State University student said: "This is the first time I've played a boy. I am a dancer, so I think the dancing was the easiest part, but it was harder getting into the acting; I have an accent as well."
She added: "I hope (audiences) get the message that just because people are young, that they can make a difference in this world. And it's the next generation of kids who will be the ones who change the world."
Amanda Nell, 25, of Alexandria who also works on the production team plays the role of Finch. "He's always in the action; always ready to go and get the guys ready. He's very involved in the strike that occurs and spreading the word to the other newsies," she said.
She added: "This role has been very fun to work on because it's very dance-heavy, which is something I have not done a lot in my experiences. I had to work in my own time in keeping in shape and making sure all the dance moves are well practiced."
She continued: "A fun challenge has been working with some of my students in this show as I sometimes teach through the year; I am getting the opportunity to work side-by-side with the actors in the production. So, it's an interesting twist to change that dynamic. It's been a lot of fun."
Encore Stage & Studio is staging "Disney's Newsies" from July 19-28. Show times are Thursday, July 25 at 7:30 p.m.; Fridays, July 19 and 26 at 7:30 p.m.; Saturdays, July 20 and 27 at 2 p.m. and 7:30 p.m.; and Sundays, July 21 and 28 at 2 p.m. Tickets are $15/adults; $12/others. The venue is Kenmore Middle School, 202 S. Carlin Springs Road, Arlington. Visit https://www.encorestageva.org.