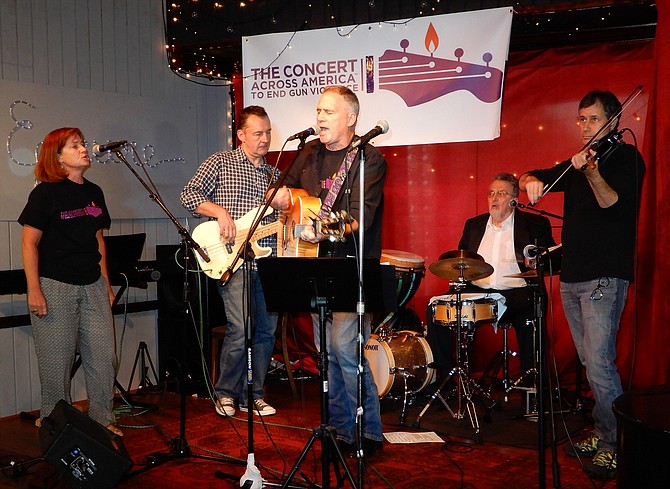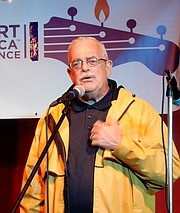 The Epicure Café in Fairfax has a well-earned reputation for bringing in top-notch, talented musicians and singers to entertain its customers. But on Sunday, Sept. 23, this restaurant/music venue along Lee Highway also drew a crowd because it hosted the Concert across America to End Gun Violence.
Organized by Jean White and emceed by musician and former teacher Ron Goad, it was part of a coordinated effort throughout the U.S. to remember the victims of gun violence and to send a message to elected officials that "thoughts and prayers" aren't enough – they must take action to keep guns out of the hands of dangerous people.
"This effort is not anti-gun," said White, who belongs to two groups against gun violence and organizes monthly vigils outside NRA headquarters in Fairfax. "This is about turning down the hateful rhetoric often associated with the gun debate and using music to raise voices in a positive way to focus on change – because 35,000 gun deaths a year [in America] is just not acceptable."
CONCERTS were held throughout the country between Sept. 20-30, and this one was held two days before the National Day of Remembrance for Murder Victims. Sponsoring it were the Brady Campaign to Prevent Gun Violence, Northern Virginia Chapter; Virginia Gun Violence Prevention Coalition, Concerned Citizens against Gun Violence; and the Reston Herndon Alliance to End Gun Violence.
"We are here because gun violence is a horrible scourge on this country," said Martina Leinz, Northern Virginia president of the Brady Campaign. "The elections are coming up soon, and who you vote for matters."
Between each musical performance, guest speakers gave powerful messages, and among them was U.S. Rep. Gerry Connolly (D-11). Following Yasmin Williams on guitar, he said, "If only we could supplant gun violence in America with the beauty of Yasmin's music."
Because of gun violence, he said, "Every two years, we lose more people than we did in the entire Vietnam War [58,220]. Today, we're in the 263rd day of the year, and we've already had 262 multiple-gunshot events – and the day's not over, yet. When will Americans say, 'Enough?'
"There's nothing sacred or unique about the Second Amendment," said Connolly. "Even Justice Antonin Scalia said reasonable measures to control guns and certain weapons aren't impossible. But this isn't what the NRA would have you believe. So what do they come up with? Arming teachers. But that's madness. I'm for gun safety and gun control."
Calling the school shooting in Parkland, Fla., a "turning point," he said public opinion started changing this year because of it. "I marched with the moms and kids from Parkland in Washington, D.C., had a town-hall meeting about gun safety and worked with groups like Moms Demand Action on Gun-Violence Protection," said Connolly. "We need an assault-weapons ban, universal background checks and closing of the gun-show loophole. Nobody should bypass the system.
"To me, this is about protecting our community and our kids," he explained. "The NRA's narrative is that it's everyone's unfettered right to have a gun – and we have to break that narrative."
Noting that he was chairman of the Fairfax County Board of Supervisors when the massacre at Virginia Tech happened, Connolly said, "I saw firsthand the heartache and grief that dangerous guns in the wrong hands can cause. We buried six young people from Fairfax [County], including the shooter. The faces of those grieving parents are seared into my memory.
"I saw how the ripple effects of that tragedy go on forever," he continued. "How do you comfort somebody who suffered that type of loss and answer why? But I'm committed to doing something about it, and I'll never give up as long as I have breath." Urging attendees to not give up, either, Connolly said, "I'm confident we'll eventually do the sensible and sane thing and get guns under control."
DURING THE EVENT, Tim White, Jeff Smith and Bruce Leibovitz sang "Newtown," written by White. It included the words, "From Newtown to my town, it's time to lay them all down …Tell all who hear that change is comin' 'round."
Another group performed "Shine," written by the Marjory Stoneman Douglas students. Its message was: "You may have hurt us, but I promise we are stronger and we're not gonna let you win … You may have brought the dark, but together we will shine the light."
Also speaking was the Brady Campaign's Kevin Bergen. He advised parents, "Before sending your child to someone else's home, call and ask the parent there if there are any unsecured firearms in the home. Asking saves kids' lives." He also brought T-shirts saying, "Ban Assault Weapons" and urged people to "Vote in November for commonsense, gun legislation."
Making a powerful point, as well, was Dr. Joseph Sakran, who was a shooting victim himself, while a student at Lake Braddock High. "No one plans on being shot," he said. "But a 38-caliber bullet ripped through my throat and lodged in my shoulder, and that inspired me to become a doctor and a trauma surgeon."
"I grew up with immigrant parents who worked hard to provide me with opportunities they never had," he explained. "And I'm committed to taking my parents' work ethic and making sure that public places aren't plagued with this [violence] crisis that we have today."
Sakran said he came to this event to end gun violence "for every family that feels powerless to change that situation – and for every parent who packed a child off to school, only to see them never return. I'm also here for every brown and black individual in our inner cities whose stories go untold."
"You can make a difference," he told the audience. "November is coming, and it's time we hold our elected officials responsible. And if they don't have the courage and moral fiber to do the right thing, then we need to replace them."