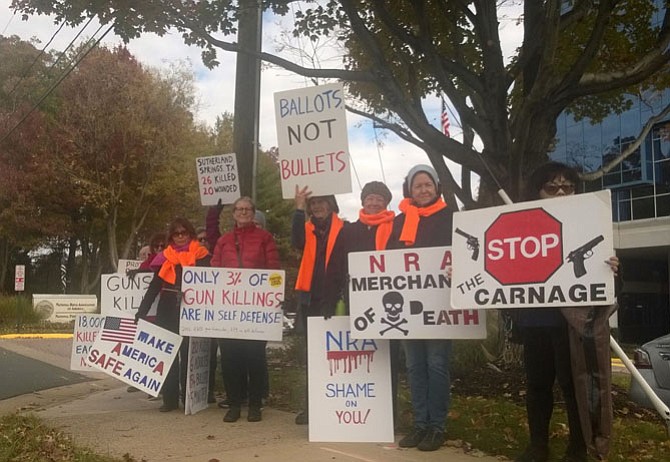 Fairfax County — More than 70 people stood their ground on gun violence Nov. 14 and reminded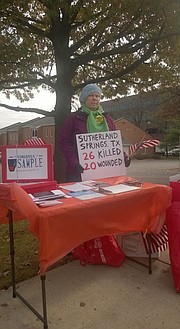 the National Rifle Association of the need for tougher laws in the wake of another mass shooting two weeks ago in Texas — where 26 churchgoers were slain and 20 wounded in the sanctuary of the First Baptist Church in Sutherland Springs.
Northern Virginia residents held protest signs for motorists driving past the powerful lobby's national headquarters at 11250 Waples Mill Road in Fairfax.
Participants in these protests said they have seen cars speed past them in the turn lane during previous protests, and watched some drivers make other ill-mannered gestures.
"There are people coming into the NRA who don't like us," says Kris Gregory of the Concerned Citizens Against Gun Violence. Although she believes association employees are respectful, Gregory understands the NRA is open to the general public. She is aware visitors of the National Firearms Museum and firing range may not appreciate the sight of protesters.
GREGORY NOTES some motorists respond favorably to their public awareness campaign by shouting words of encouragement, beeping their car horns or giving a thumbs-up gesture in approval.
The presence of local law enforcement is low-key, she believes, "Because we are peaceful and nonviolent." Fairfax County Police keeps a watchful eye as cruisers patrol Waples Mill Road. Only joint-action protests, Gregory states, warrant a large police presence — such as the CodePink "die-in" demonstration held Tuesday, June 21, 2016.
Gregory says her grassroots organization in Falls Church formed after the Dec. 14, 2012 massacre in Newtown, Conn. — where 20 school children and six adults were fatally shot inside the Sandy Hook Elementary School. The 20-year-old gunman first shot and killed his 52-year-old mother, a gun enthusiast, at home. Online reports say among the firearms used by the gunman was the Bushmaster AR-15 military-style assault rifle.
The soft-spoken volunteer activist states Concerned Citizens Against Gun Violence and other advocacy groups in Northern Virginia meet in front of the NRA on the 14th of every month in memory of the lives lost in the Newtown slaying and to "raise awareness of gun violence and the toll it takes on all of us," Gregory says.
She points out "So many people here are unaware the NRA headquarters is in our backyard." Gregory believes the lobby has done a very good job of confusing people with claims that gun safety laws undermine the Second Amendment rights of citizens under the U.S. Constitution.
For example, most Americans understand people who purchase firearms are screened by the National Instant Criminal Background Check System, run by the FBI since 1998. Gregory claims the process is voluntary in Virginia, and retailers and private dealers aren't required to conduct background checks. She adds local gun safety advocates are calling for "universal background checks at the federal and state levels for all sales and transfers of firearms."
Gregory isn't opposed to the lawful ownership of weapons under the Bill of Rights. "A convicted felon or domestic abuser should not have the same gun rights as law-abiding citizens," she maintains.
Gregory points out state legislator Del. Kenneth "Ken" R. Plum (D-36) of Reston is the lawmaker who has stood consistently with gun safety advocates each month, since their first protest Jan. 14, 2013.
"I find these mass shootings to be so offensive," said Plum. The retired school teacher hasn't forgotten about the souls lost at Virginia Tech and Sandy Hook.
"And the list grows longer and still nothing is done," he explains Nov. 20.
The theme of the regular vigil at the NRA — "we are never going to forget the need for sensible gun laws" — is what propels Plum to attend as often as he can. He and other participants of the protest feel the urgency to keep reminding folks the killings are still going on. The state lawmaker emphasizes "We need to take action.
"Nobody is proposing taking away everyone's guns," Plum maintains, "but we can take action on enacting sensible gun safety measures." In January, the delegate will make his fourth try at General Assembly to introduce a statewide universal background check bill to remove loopholes in the purchase of guns.
Plum — the longest-serving member of the Virginia House of Delegates — is encouraged by recent winners of the Nov. 7 General Election, led by executive branch team Gov.-elect Ralph S. Northam, Lt. Gov.-elect Justin E. Fairfax and the re-elected Attorney General Mark R. Herring. Plum states in his recent written opinion a more evenly split partisan composition in the legislative branch has worked out in the past to help state lawmakers focus on problem solving versus "simply getting credit."
NEXT MONTH'S PROTEST at the NRA headquarters marks five years since the killing spree at Sandy Hook Elementary School. An interfaith prayer vigil, led by the Unitarian Universalist Congregation of Fairfax, is planned for Dec. 14 from 10 a.m. to noon by the Concerned Citizens Against Gun Violence, the Coalition to Stop Gun Violence, the Brady Campaign to Prevent Gun Violence and Moms Demand Action for Gun Sense in America.
"We have been here without fail since Jan. 14, 2013," Gregory said, "for all victims and survivors of gun violence."