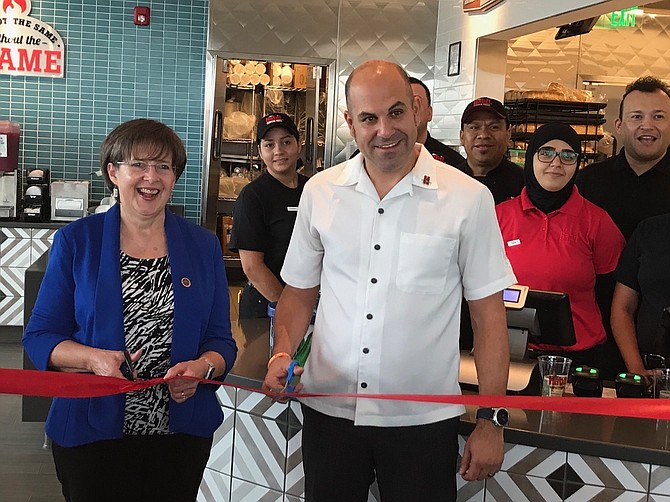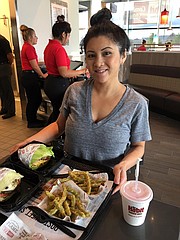 Whether residents have a craving for a chargrilled hamburger, a hearty salad or even ahi tuna, they can satisfy their taste buds at the Habit Burger Grill in Chantilly. It's at 14385 Newbrook Drive, across from the new Wegmans, in The Field at Commonwealth shopping center.
"We're not frilly, fancy or gimmicky," said District Manager Frank Costello. "We make one burger at a time, as good as possible. And we believe that — day after day, week after week, year after year — people will come back, because that's happened at all our other locations. We also give good value and are focused on hospitality and an inviting environment."
From its beginnings as a beach shack in Santa Barbara, Calif., in 1969, the chain has grown to more than 230 restaurants in 11 states and four international locations. But it's only the second one in Virginia (the first is in Ashburn) and the first in Fairfax County.
"This demographic is perfect for us," said spokeswoman Jill Collins. "It's such a fast-growing part of the county; and having the Wegmans nearby will be a magnet. And we're surrounded by residential and business areas."
Habit Burger's official ribbon-cutting was Sept. 20, but it actually opened a few days earlier. One of its first events was a Sept. 16 fundraiser for Chantilly High, with 100 percent of the proceeds from 5-7 p.m. going to the school's Athletic Boosters.
"We're big on giving back to the local community," said Costello. "And we're also raising money via donations for No Kid Hungry." Delighted with the newest restaurant, he said, "It's exciting to have our second location in Northern Virginia, and we're looking forward to more to come."
The 2,295-square-foot restaurant seats 43 people inside and 20 on the heated patio. It's open daily, from 10:30 a.m.-10 p.m., and 30 local residents are among the employees, including students from Chantilly and Westfield high schools.
"What sets us apart is our charbroiler," said Costello. "Our Charburgers are grilled over an open flame for an enhanced, flavor profile. Everything's made-to-order and we even toast the buns. And people can make substitutions."
The signature Charburger features fresh, never-frozen ground beef grilled over an open flame and topped with melted cheese, caramelized onions, pickles, lettuce, tomato and mayonnaise on a toasted bun. And in 2014, it was named "Best-tasting burger in America" by Consumer Reports.
But, said Costello, "We have more versatility in our menu than other fast-casual restaurants. For example, we also offer hand-trimmed steak sandwiches, a sushi-grade ahi tuna filet and a vegan veggie burger. And we can do lettuce wraps for those on gluten-free diets."
He said the most popular menu items are the Double Charburger; the Santa Barbara Char – a double Charburger with cheese and avocado on grilled sourdough bread; and the grilled chicken sandwich, which includes melted cheese and a choice of barbecue or teriyaki sauce.
"I'd particularly recommend our Santa Barbara Cobb Salad, which comes with avocado, bacon, fresh-crumbled bleu cheese and red-wine vinaigrette," said Costello. "And the Portabella Char has roasted garlic aioli and cheese."
Besides French fries, the sides include onion rings, sweet potato fries, a regular or Caesar salad and Tempura Green Beans. "Our green beans are unique, and we make an in-house, ranch dressing for them," said Costello.
Among the beverages are sodas, various teas, hand-spun milkshakes and malts, strawberry limeade, and even a blueberry, citrus and mint agua fresca. And Habit Burger's CharClub members receive points toward free food; sign up at www.habitburger.com/chantilly.
Although it's only been open a few weeks, the restaurant already has some loyal fans. On a recent Sunday, Greenbriar resident Mike Ortega enjoyed a grilled chicken sandwich and Caesar salad there.
"The sandwich was very good, and you could custom-order it the way you like it," he said. "So I had it with lettuce, tomato, mayonnaise and avocado – and they put the right amount of everything on it. The salad was pretty tasty, too; it was evenly put-together and they didn't overdo the dressing. We'll be back."
Eating with Ortega was Greenbriar's Erin Anderson, who ordered a Charburger with a side salad. "They cooked the burger perfectly," she said. "And I liked the toppings options and how you could customize your burger. It tasted very good."
Saying she'd recommend Habit Burger to others, Anderson said, "It's a good location, they have other things to eat besides burgers – such as chicken and ahi tuna – and I like the restaurant's set-up and décor."
Also there was Chantilly resident Tracy Galgana, who got a Portabella Char, a Santa Barbara Char lettuce wrap and Tempura Green Beans for her family. "We've been going to the Ashburn location, at least once a week, because we love the burgers," she said. "So we were so excited to have this one open here."
"The staff is always friendly and the food is always great," she continued. "It's fresh and made-to-order, and that's what I like most. My lettuce wrap was filling and delicious, and the kids liked their bread because they steam it for children so it's easier for them to eat. I recommend this restaurant over any other burger place."