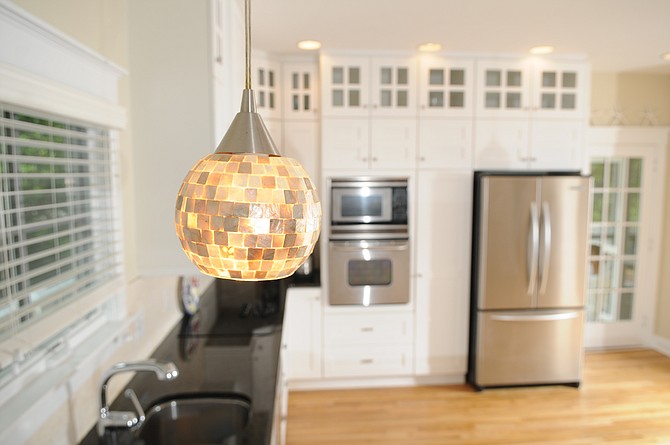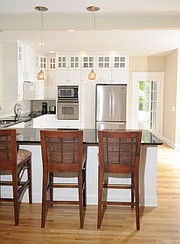 Though Halloween is still three weeks away, the holidays are not far behind the ghosts and goblins. Thanksgiving ushers in the start of a season of festive entertaining for family and friends. As the kitchen is often a gathering place and command central for celebratory gatherings, this is the time to give your eating space a pre-holiday spruce-up. Local design aficionados say there is still time to make upgrades to make a kitchen welcoming for guests and functional for the chef.
A refrigerator that is functional, spacious and stylish is at the top of the must-do list of Reston-based interior designer Rachel Grandin's holiday kitchen spruce-up list. "With all of the delicious food that we make during the holidays, it's critical that we have a space to store it safely," she said. "If your refrigerator doesn't seem reliable, this is the perfect time to replace it. A stainless steel French double-door refrigerator can hold a large turkey and all of the sides, but more importantly it's eye-catching and chic, and will probably be one of the first things guests notice when they enter your kitchen. It's a quick way to give your kitchen an updated look."
Lighting is a critical element in any kitchen, advises Potomac-based Anne Walker, "Changing a light fixture might be the easiest and quickest way to make a big design statement before the holidays," she said. "In a Potomac kitchen I designed, sea glass beaded pendant lights, which reference not only the shimmering aqua glass backsplash tiles, but also the custom Willem Smith bar stools with aqua leather seats."
New flooring can take the design of a kitchen to the next level, says Alexandria-based interior designer Courtney Grace, "Right now, I see hardwood and ceramic tile flooring as being on trend," she said. "I just finished a kitchen for a client and we installed ceramic tile that was actually made to look like wood. So she was able to get the look she wanted, but with a material that was more durable. New flooring can really transform a space without the expense and the time of total kitchen remodel. Choose something durable, for the holidays and beyond."
If you're on a budget, consider a new kitchen rug, advises Grace. "Rugs can add color and warmth to a kitchen, and an indoor-outdoor rug can stand up to high-traffic and things like spills."
Cabinets are usually the biggest part of any kitchen design and renovation project, advises Walker "If your cabinets are structurally sound, you can save a lot of money, but make a huge impact by having the cabinets professionally painted."
Gray is still the most popular color for kitchen cabinets, followed closely by white, suggests Walker. "I recently renovated a small, charming home for resale, and did just this: had the kitchen cabinets painted a soft shade of gray," she said. "What a difference. You will want to have a professional paint the cabinets for you. This is not the time for DIY. With all of the heat, grease, and daily use, paint can easily chip if not applied professionally."
Walker also recommends new cabinet hardware. "Soft brass and bronze has made a resurgence in popularity lately, so if the other elements of your kitchen, [such as] paint color and light fixtures would support it, warm brass hardware would add an elegant, updated look to your kitchen," she said.
A new coat of paint is a simple change that can make a big impact, advises Walker. "Walls and trim get so much wear and tear in a kitchen" she said. "It's the room we use most, and it takes a beating. Make sure to use a medium sheen so it will be wipeable. I most often use Farrow & Ball's Modern Emulsion in kitchens. Their colors are sublime and the paint holds up well in high-traffic areas."