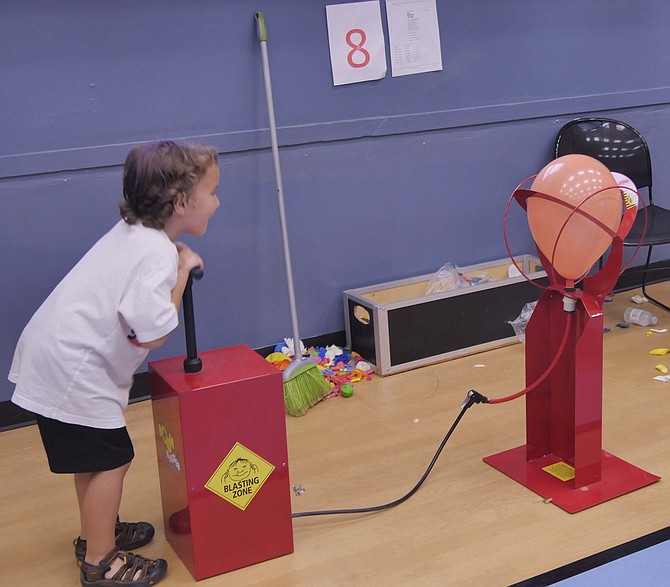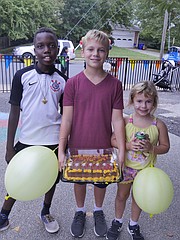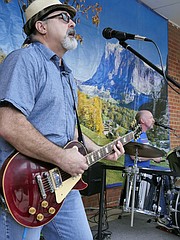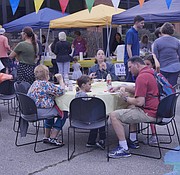 Festivities are in full swing at St. Ann Catholic School Oktoberfest on Saturday afternoon. As you enter the side door, music is playing in the classroom where children march around in a circle waiting for their magic number to be called. A long table full of cakes — chocolate and carrot, caramel-corn topped — sit waiting to be chosen.
A disappointed pigtailed voice wails, "I was so close. I was standing on three and you called two." Ready to start again. "Two tickets in the bucket. You have to pay every time."
A voice down the hall calls out from a classroom, "Halloween costumes here — $5 or less." Next door a Wine Walk waits to begin in 15 minutes.
Pages of silent auction items line tables down the hallway. Number 602 — learn Irish dancing. Number 701 — pre-K lunch brunch at McDonald's. Number 407 — magical birthday party with 40 minutes of magic by the Great Zucchini.
Indoor games (one ticket) line the walls inside the gym as parents guide small hands aiming plastic guns toward balls perched on the top of bottles. Observers clamp their hands over their ears as almost 7-year-old Peter Nortcross pumps air into a red plastic balloon. He pumps and rests and pumps again. His mother comments, "It's a lot of work but a big thrill when it bursts I guess."
Out in the yard, hungry lunchers choose Joe's Pizza (2 tickets) and El Pollo Rico chicken or Lebanese (5 tickets.) On the other side of the school the smell of freshly grilled bratwurst mingles with kegs of beer. "Longboard has been the most popular today." Woodford's Reserve entertains in the Beer Garden singing "It's all right now."
The outdoor playground area is crowded with children clutching strings of tickets in one hand and cotton candy in the other. One heads to the moon bounce while her brother waits in line for the cars. A small train waits on the street for a ride around the block. After searching the depths of his pockets, one father is heard to say, "No more, all gone."
The proceeds of this fifth annual fall event will be used to fund school operations and school supplies.