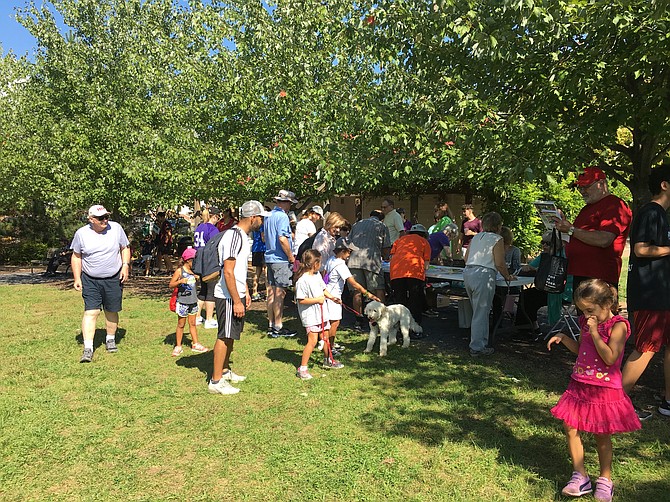 An initially cloudy sky gave way to a particularly bright October sun, and the folks gathered beneath that sun at the Town Green in Vienna on Sunday afternoon couldn't have been more pleased.
"I love the motto for this walk," said Vienna Mayor Laurie DiRocco as she addressed the gathering. "We walk because they walk".
Mayor DiRocco went on to describe an experience she had in Kenya in 2009. There, she was able to go on a water walk with the women and girls who made a mile-long march for dirty water five times a day.
"[I love the motto because] It speaks to community, and the strong sense of community we have here in Vienna".
Following the speeches from Mayor DiRocco and others, live folk music played from the Green's amphitheater and over the Walk's 1:15 p.m. registration, an occurrence that was absent during last year's event.
"Last year there was just basically a virtual walk," explained Jayne McLaughlin, a volunteer at the event.
This year, however, members of five different Vienna congregations came together under the sponsorship of Church World Service (CWS) to make the CROP Walk more of a tangible community affair.
"Now, it's community-wide, and it's great," continued McLaughlin.
While the Vienna walk is certainly special, CROP walks sponsored by Church World Service have been taking place in communities across the U.S. since their inception in 1969. The first CROP (Christian Rural Overseas Program) Walk took place in Bismarck, N.D. on Oct. 17 of that year. Today more than 2,000 American communities take part in more than 1,000 Crop Walks each year.
"We focus on the most desperate situations," said Rev. Patrick Walker, the CWS representative who aided in the establishment of the Vienna walk.
"As we know, there is hunger and poverty everywhere," Rev. Walker continued, "We try to address issues that will help the community continue on a path of development and self-sufficiency".
With connections in seventy-five countries around the world, two of those issues addressed by CWS are world hunger and thirst. While twenty-five percent of the funds raised on Sunday will be used to alleviate those issues in Vienna, the remaining seventy-five percent is used by CWS to combat them around the globe.
"Twenty-five percent stays here," said Rev. Walker, "and because we're working in so many other communities there's not another that will receive a larger portion of what's raised here than Vienna."
At 2 p.m. the participants, clad in "CROP Walk" t-shirts as warm and yellow as the day's sun, gathered for a quick photo before setting out in solidarity.