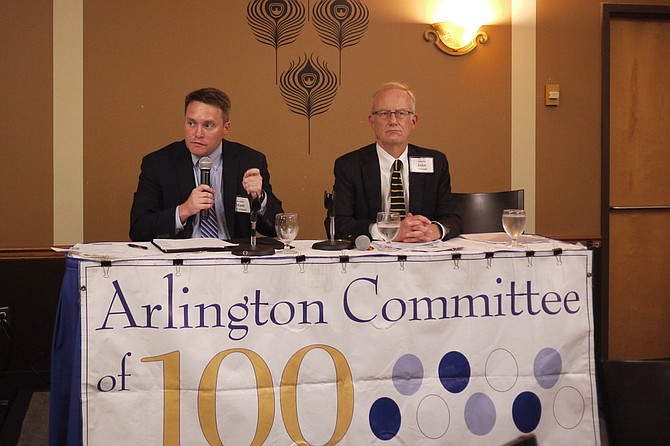 Independent candidate for reelection to the County Board, John Vihstadt, and Democrat hopeful, Matt de Ferranti, debated their differences Oct. 11 in front about 100 Arlington residents. The debate at Marymount University was sponsored by the Committee of 100, a group of Arlington citizens who have provided a forum for candid, non-partisan discussion of current issues in and around Arlington County for 60 years. ARLNOW's Scott Brodbeck moderated the debate.
The only moment where the debate heated up was over the name change at Washington-Lee High School, and that was because a member of the audience did not follow protocol in shouting out comments. If attendees wanted divergent views from the candidates, they didn't get any on that topic: both men said they believe the issue of a high school name change is a School Board issue, not a County Board issue.
Instead, the debate provided strikingly similar views of the usual Arlington issues: Is there the right mix of transportation? Both favor multi-modal transportation and updating methods other than Metro to get around, including bikes and scooters. But for de Ferranti, the transportation issue was just one more way to state the importance of development in Arlington: "We have to work on our greatest challenge which is Arlington's office space vacancy rate …. In order to get funding for those other items."
For those who were concerned about over-development in Arlington, de Ferranti noted that it would be impossible to stop all development but "there are real concerns as I knock on doors about the pace of development." He talked about the supply and demand mismatch and his intent to prioritize enforcement: "Building a McMansion is one thing, bumping out your house is something else. Whichever it is, you need to follow the rules. You can't stop development, and we will need multi-family housing near transportation hubs. Affordability is important … so our teachers and firefighters can live here."
Vihstadt's position: "We can't stop, and we don't want to stop, the path of development. We need to manage our growth and one of the key themes I have stressed during the life of this campaign is providing for better growth management along with ensuring greater openness, transparency, and inclusion in how we do our work, and making cost and value a part of every conversation." He touted cost-benefit analysis as something, with his urging, County Board colleagues had agreed to pursue for future development. Vihstadt referred to the variety of planning documents on file outlining how we approach development in Arlington — the stormwater master plan, the urban forest master plan, the public spaces master plan, etc. He said: "A public facilities master plan would also be a good idea, with schools as a key component: we have not done that."
Asked about the possibility of Amazon's HQ2 coming to NOVA — is it a good thing — Vihstadt differed slightly from de Ferranti: "In my view, it's a mixed bag," he said. He wanted to see wise investment in schools, Metro, natural infrastructure, public safety. And he said the county needs to attract small business: greentech, medtech, etc. Vihstadt also used the opening to talk about some of the things he has done on the Country Board, ending with his having worked with Arlington artists to set up pop up gallery in Clarendon. While he cited the county's success in wooing Nestle and Gerber, he cautioned we would have to be mindful of the mitigants and the negatives of an Amazon HQ2.
De Ferranti countered: "Attracting medtech and greentech should have been done four years ago"… "and we still have a 19.4 commercial space vacancy rate; John did not include that in the top three priorities he just listed." de Ferranti was unabashedly pro-Amazon, noting the 50,000 jobs in the Amazon deal was a way to manage "our near 20 percent vacancy rate." Because of that, the county could not afford to turn it down. He too cautioned, "We have to pencil it out, we have conditions, but count me in as someone who wants to move forward."
On the use of county land in Arlington county, de Ferranti wanted "a good balance." He serves on the Joint Facilities Commission and stressed the need for joint facilities; he said the county and school boards "must work better together — and that he has the endorsement of each of the members of the School Board. de Ferranti cited agreement with Eric Gutshall on lighting playing fields, a source of contention this past year, saying, "I agree we must have a rubric before we go forward with lights."
Vihstadt cited some of the work he has done as a board member, particularly "working with Paul Ferguson on the Upton Hill Park plan, in order to dial back some of the proposed tree loss and creation of impervious surfaces that might take place with suggested improvements," and his position was that if the park space was already lit, then transitioning from grass to turf made sense but "not all green space has to be programmed to the max."
Regarding senior citizen benefits, both men were positive, with Vihstadt noting his father lives at Vinson Hall and he has been a supporter of senior benefits since the 1980s.
De Ferranti used the issue to urge, again, that the key to making it possible to improve senior housing, aging in place, investing in housing grant programs, and making Arlington senior-friendly hinged on "growing our economy."
Both men talked about the loss of affordable housing units being a major issue in keeping Arlington "inclusive," and both men believed affordable housing — and resulting diversity — couldn't be limited to Columbia Pike: all neighborhoods should be available for this. Both men were opposed to the "Gondola" project linking Rosslyn with Georgetown, and both men appeared to have been concerned — but unable to do anything about — the Dawn Redwood tree that was lost to development last month; de Ferranti went out to see it and Vihstadt met with the developer.
Perhaps the biggest difference between the two candidates was apparent in the personal hero they identified at the end of the debate. Vihstadt's was his 98-year-old father, a mechanical engineer who still lives in his own apartment, does his own books, reads the stock tables and watches Fox news much to Vihstadt's chagrin. de Ferranti said his hero since the fifth grade was Martin Luther King, Jr. because he "spoke to me about the fierce urgency of social activism and addressing social injustice."
As the candidates closed, de Ferranti underlined that he aligns with the next chapter in Arlington's history, a new view, and Vihstadt said he thought his record in voting against frivolous expenditures and getting an independent auditor — among other things — spoke for itself.
Who won the debate? This was far too diplomatic a crowd to say. One attendee, Karl Van Newkirk, said: "That's easy. The Arlington voters won."