"We've had a wonderful 27-year run." —Alice Dai, Manager of Operations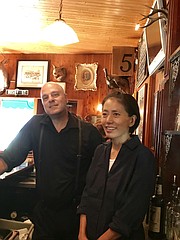 One of the longest-running restaurants in downtown Herndon shutters its doors on Dec. 31, 2018, after cooking up unforgettable dining experiences for 27 years. Ice House Cafe and Oyster Bar is closing.
Noted for its crab cakes, oysters and fresh burgers, Alice Dai, manager of operations said, "We've had a wonderful 27-year run."
Dai explained she did not come to an agreement with the landlord. "I'm sad," said Dai. "Dan Root has been here 32 years, and Orlando Orellana has been here a long time too. It was very hard to tell them.
"I have no plans to open at another location. Ice House is my last location.
"I want to thank our patrons for the years they supported us and welcomed us into the Town of Herndon community and family."