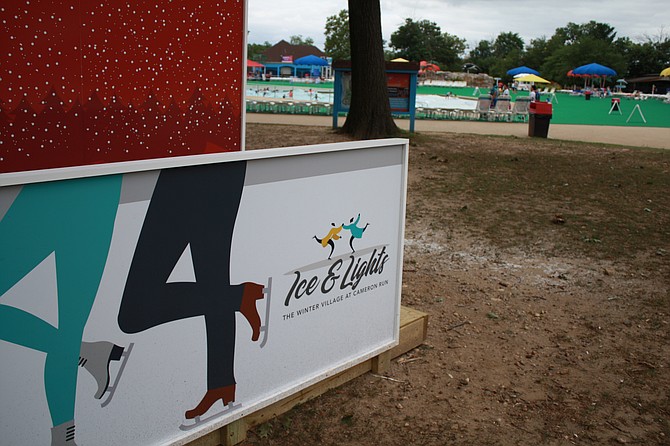 When the last wave hits the fake beach at the Great Waves Waterpark at Cameron Run, it won't close up as it does every year because, starting in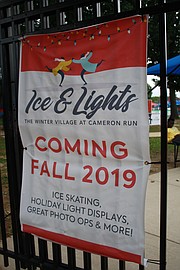 November, there will be ice skating and a light show at the park.
NOVA Parks is calling the winter program "Ice and Lights, the Winter Village at Cameron Run," and every night from Nov. 15 through Jan. 6, a portable ice rink will be open, with a snack bar and gift shop. After Jan. 6, there will only be weekend ice skating until it closes on Feb. 28. Ice skate rental will be available too.
Where the wave pool is now will be cordoned off and "all sorts of photo ops," will be the center of attraction with an accompanying light show, said Park Manager Reid Nebergall. "It will bring a year-round draw into the park hopefully," he said.
The rink is a portable type from "Precision Ice," that will hold up to 150 skaters. It is scheduled to show up at Cameron Run in late October. "No actual construction," Nebergall said. There will be light displays and fake igloos for people to sit in, and the "photo ops," which are decorated wooden cutouts with a hole to stick the face in, like a pie-throwing contest.
"I will be back," said Tiffany Bartley, who was in from Maryland with her children during the last week in August. Since her children went to Maryland schools, they didn't have to be in class until after Labor Day, so the wave pool was a good option.
Jonelle Wallmeyer was watching her children in the wave pool too, and liked the idea of the skating rink and lights. "It's a good use of space, it will keep people here," she said, thinking of all the times in the past when she drove out to Bull Run for the holiday light show. This year, they'll stick around Alexandria instead.
Other elements of "Ice and Lights" will be fire pits, pizza, heated tents and a gift shop.
NOVA Parks is behind this operation, and they have a website up already to spread the word. "The waterpark will be transformed mid-November through February into a winter wonderland with an ice rink, beautifully lit photo ops, music and more! Grab a slice of pizza, roast a marshmallow over the fire pits, and enjoy the winter village," it states.
If You Go
ICE AND LIGHTS: THE WINTER VILLAGE AT CAMERON RUN
4001 Eisenhower Ave., Alexandria
703-960-0767
Hours:
Open nightly, Nov. 15 - Jan. 5, 5-10 p.m.
Jan. 6 - Feb. 28 Ice Rink Only
Friday: 5-10 p.m.
Saturday and Sunday: 11 a.m.-5p.m.