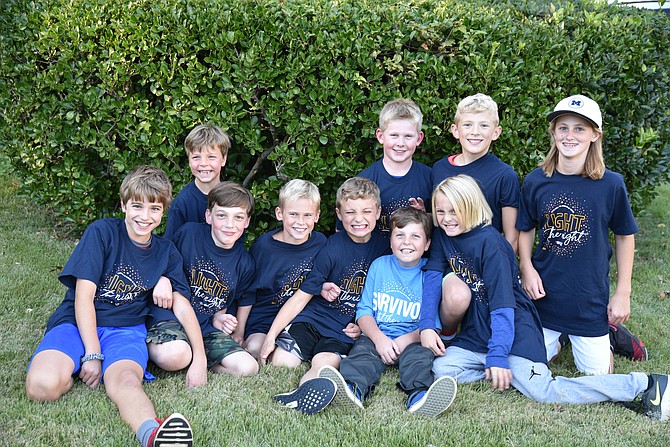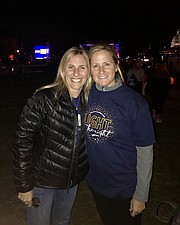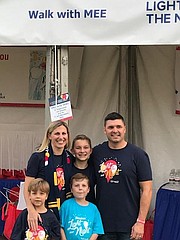 For the fifth year in a row, about 120 members of the "Walk with MEE" team that supports Michael Erlandson, 10, participated in the LLS Light the Night Walk last Saturday in Washington, D.C. The three communities of Waynewood, Collingwood, and Riverside in Mount Vernon have raised $100,000 for the Leukemia & Lymphoma Society (LLS) – which came primarily from the same 100 families in those neighborhoods. They're on track to raise $30,000 this year from local residents and businesses alone.
Michael and his family, who lived in Waynewood in Alexandria, have since moved to Colorado Springs, Colo., in July where dad Mike, 41, works for the U.S. Army at Fort Carson. Michael is now leukemia-free, but they came back to visit friends who have been so supportive and do the walk.
During the LLS Light the Night Walk, all the supporters (and Michael's friends) carried red lanterns around the National Mall; survivors carry a white lantern; and there's gold lanterns for remembrance of people who have died.
"We are overly thankful for not only the donations and support that the community has given us but we are especially thankful for all of the friends and people we think of as family now — the closeness in those relationships that we've developed over the years. This is a very tight-knit community and people care about their fellow neighbor and fellow man," said dad Mike Erlandson.
Added wife Sandi Erlandson, 40: "We're an Army family that will move all the time, but because of this, Waynewood will always be home to us…. Even when we moved away, we knew we would still come back for (the walk)."
According to Maureen Beddis, 42, chairman of team Walk with MEE, the community has been incredibly generous, loyal, and helpful. "It's amazing when I think about how our one small corner of the world has raised more than $100,000, and a lot of times it comes from the same people and their repeated giving to this charity," she said. "It started with Michael. It's bigger than just us. We're helping current patients, future patients with leukemia, lymphoma and other cancers."
When Waynewood residents found about Michael's illness, Beddis said they organized everything to help — from gas to grocery to restaurant gift cards and a meal train delivery for over a year. "They knew someone in our community was in need and they wanted to help," she added.
Michael's ordeal started in May 2014 when he was tired and not able to keep up with his friends. When they discovered a mass in his chest, he was diagnosed with leukemia. His mom said the first eight months consisted of intravenous chemotherapy and spinal taps, which kept him out of Waynewood Elementary with low blood counts and hospital stays due to fevers. He began maintenance therapy in April 2015, which is daily oral chemo, and once a month he got intravenous chemo through his port; and every three months he got a spinal tap. He then developed an immune disorder because of the first treatments, which led him back to the hospital for one month.
Today, Michael is cancer-free; he finished his last treatment in November 2017. In July, he rang a bell at the Walter Reed Medical Center with his doctors and nurses that signifies completion of his treatments. "So now he just goes for a checkup once a month — a complete blood count to check his normal blood levels," said Sandi Erlandson.
Sandi Erlandson began researching nonprofits that were connected to their cause and she suggested that they do some fund-raising and get a team to walk with Michael at the LLS Light the Night Event. "She thought it would be family-friendly and fit with the Waynewood community," said Beddis, who is vice president of marketing at the Vision Council in Old Town.
Mike Erlandson said the money raised during the walk principally goes to cancer research. "Michael already has a research grant in his name that was funded through the first couple of walks — of donations raised in this community, so there is a direct line of donations in this community going to help future generations of people suffering with cancer. Hopefully one day we'll get a cure. That's the goal," he said.
Mike Erlandson said he has Tri-Care coverage with the Department of Defense, so he has no outstanding medical bills from all the treatments. "Having no out-of-pocket cost gave us the opportunity to say, 'Hey, we need to pay this forward.' Essentially, we weren't up at night worrying about paying medical bills. Maureen Beddis is the force that has brought the community together and generated such a wonderful fund-raising effort," he said.

Sandi Erlandson added: "She's a rock star. She organized everything from day one. I think everybody in this neighborhood felt it was one of their own that got sick, so we're giving back."
Sandi Erlandson said they absolutely love Colorado Springs. "We miss our friends and family out here. It's a beautiful place. It's given us an opportunity to start over as a family that doesn't have cancer. Nobody out there knows that Michael was sick. Nobody knows that he had cancer," she said.
Mike Erlandson said his son's desire when they moved to a new place was that he gets a new start as just another kid and not the kid with cancer. So, he tries to do normal things like playing ice hockey; rooting for the Washington Caps and the Nats, and playing baseball in the spring.