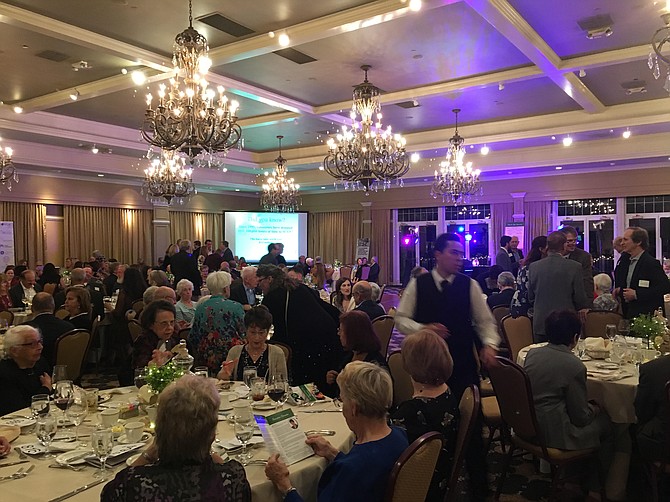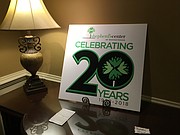 A scene set in a country club ballroom flush with valuable sports memorabilia and jewelry could easily be misconstrued as a purely materialistic one, yet this event was anything but.
The Shepherd's Center of Oakton-Vienna celebrated its 20th anniversary this past Sunday, Oct. 21 with gala held in the ballroom of Westwood Country Club.
"The aging population is growing," said Irma Gennaro, manager of marketing and communications for the organization. "There's a lot of talent here, …and those that are on the younger side, like me, want to help those who are really frail".
Per the SCOV website, it is a "volunteer-based organization dedicated to promoting and supporting purposeful, independent living for mature adults through: volunteer opportunities, transportation assistance, support services, lifelong learning and cultural enrichment opportunities.
"Now, these are our pioneers," said Chair of the Shepherd's Center's Board of Directors Bill Farrell as he addressed the crowd, "the ones that did an experiment twenty years ago.
"And the experiment was: can we engage older adults to volunteer their time, their skills, and their energy to help other older adults in the community. Good for the volunteers because it gives them a meaning and purpose in their life – good for the community.
"Well," reminisced Ferrell, "I guess the experiment worked, because here we are twenty years later, celebrating its existence."
Those valuables strewn about the apron of the ballroom bar: items up for charitable sale in the evening's silent auction. Signed Elena Delle Donne and Dmitry Orlov posters, Steelers tickets, and a collection of jeweled accessories were among the items to bid for. The auction was such a hit, that it only took half of the night for the maximum bidding amount to be reached. All proceeds went towards SCOV's operating costs.
Among those speaking at the anniversary gala were Del. Mark Keam, as well as U.S. Rep. Gerry Connolly.
"The Shepherd Center is an easy one to explain," said Keam. "As we age, we don't want to age alone."
"When I think about the history of our community in Fairfax County," said Connolly, "we started out as a suburban community, and built ourselves for young families. We never thought…that a larger and larger group of people would actually age in place.
"Ending isolation and depression; healing contact is so important, for so many people in our community who have lost their partners, whose families don't live here. And, the work you do is lifesaving to those people."