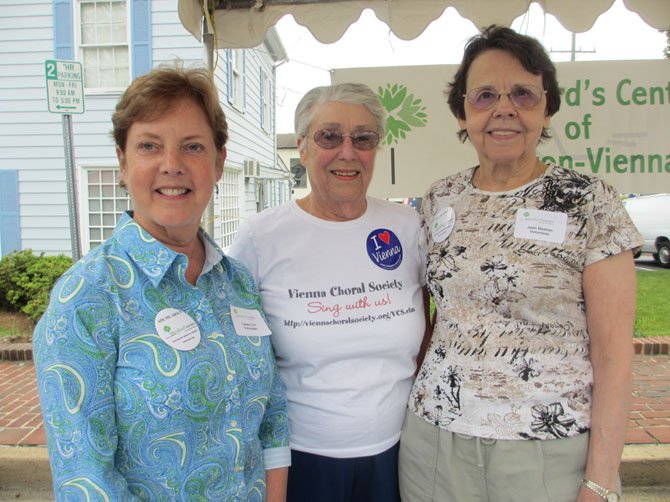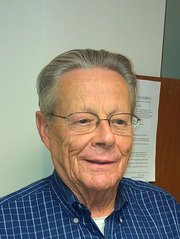 Fairfax County — Kathy Tugendhat chairs the Adventures in Learning organizing committee at Shepherd's Center of Oakton-Vienna (SCOV). She teaches conversational ESL at Patrick Henry Library, one-on-one. On Wednesdays in the summer months, Tugendhat tells stories and leads songs for youngsters on the grounds of the Little Library. She sings with the Vienna Choral Society because she loves it. "It keeps me young," said Tugendhat.
She's also 80 years old.
"I like people," said Tugendhat, who taught at a bilingual school in Venezuela for 35 years before returning to the U.S. and Vienna in 1998, joining the Vienna Choral Society that same year. She came to Vienna because her son and her grandchildren live here. She's been active ever since.
"I can't imagine not being busy," Tugendhat said, manning the Vienna Choral Society booth at ViVa! Vienna! on Memorial Day.
On the airwaves and in print, you hear that 60 is the new 40.
The problem with that analogy is that most 40-year-olds do not have the breadth of experiences the 60-year-old does. Nor does the 60-year-old have the breadth of experiences an 80-year-old has. It isn't that you get smarter as you get older. It's that you have had a longer history of experiences.
Many seniors are aware of the wealth of knowledge they bring to the table. They share their experiences — work and life — with family and with others, younger and older, as well. They are friends in-need, and help when help is necessary.
ORGANIZATIONS SUCH AS THE SHEPHERD'S CENTER build on a lifetime of experiences and skills.
"[Retired] people have more time to give, and they have experience caring for aging parents or relatives," said Barry Wickersham of Fairfax City. Wickersham, who did intelligence work for the Department of Defense and the CIA for 38 years, serves as vice-chair of the Shepherd's Center of Fairfax-Burke (SCBF). He's been doing volunteer work for SCBF for more than 6 years now.
"Volunteering gives you a sense of accomplishment, a sense of contributing," Wickersham said. "And you get to experience gratitude from those you are serving. Volunteering is an efficient use of your time."
Wickersham said he has two primary motivations for his work with SCBF, one altruistic, the other more selfish. The first, Wickersham said, is to provide services and assistance to seniors. The second motivation is more personal. "Some day, I may need these services for myself."
Some SCOV volunteers, such as Casey Tarr of McLean, say they have volunteered throughout their lives in some manner. Tarr uses her background in nursing in her role of SCOV's volunteer health advocate. She gives talks to seniors in the community, mostly to church groups, and women's and civic clubs. She provides practical tips and tools on how to get better health care and how to reduce the chances of medical errors in their health care. She schedules health and wellness classes for the Shepherd's Center Adventures in Learning curriculum. What she tries to do, she said, is to improve a person's quality of life.
"I try to give back to the community," said Tarr. "I feel really good and worthy doing this. I don't need an award; I do it for the response."
The Shepherd's Center empowers seniors to give back to the community as volunteers and use their knowledge and skills, Tarr said.
If there is a common thread among the seniors who do volunteer work, it is the sense of fulfillment and reward they get from their contributions to the well-being of other seniors.
"Volunteer service provides us with a sense of value to the community," said Jean Bastien of Oakton, who retired as a Department of the Navy systems analyst.
Bastien translates her skills to tasks at SCOV. For 13 years, Bastien has been a Jack-of-all-trades in the SCOV office, maintaining computerized mailing lists, creating fliers and posters. "That's what I like best about SCOV," Bastien said. "They match your volunteer opportunities to your talents."
Bastien said she volunteers because it makes her feel good to help others, and it's also a social outlet.
"Age is just a number," said Bastien. "No matter how old you are, you can always help the community."
THE FAITH-BASED Shepherd's Center nationwide network of more than 50 senior resource centers offers learning experiences taught by seniors for seniors, social luncheons anchored by a prominent speaker, caregiver retreats, and most significantly, the opportunity for seniors to lend a hand to seniors not as mobile or independent, from handyman services to a drive to doctors' appointments. Its motto is its mission: living a life that matters.
SCOV says its primary purpose is to "provide services to assist older adults to continue to live independently in their own homes and to offer programs which supply opportunities for enrichment, learning and socialization."
SCOV vice-chair Bill Kirby, a former career diplomat with the Foreign Service, feels Shepherd's Center fulfills its commitment. "That's what the Shepherd's Center is all about, utilizing the experiences and skills of senior citizens for the good of the community."
Go to www.SCOV.org or call 703-281-0538 to learn more about volunteer opportunities and resources and programs at SCOV. You can also email them at office@scov.org.
To learn more about the services and activities of the Shepherd's Center of Fairfax-Burke, go to www.scfbva.org/ or call 703-323-4788.