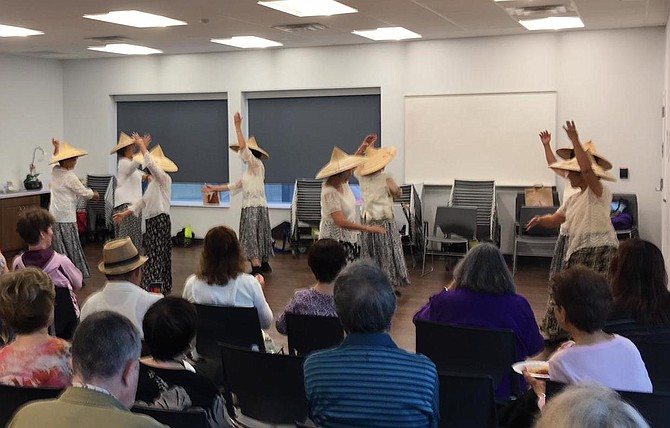 When Burke resident Corazon Sandoval Foley retired in 2007, she decided to dedicate her time to serving the Fairfax County community. Foley, who is Filipino-American, documented and shared the history of Filipinos and Asian Americans in Fairfax through numerous publications. She also established the Burke/West Springfield Senior Center without Walls, providing services for senior citizens in her district.
For Foley, it was important to remember one's Asian American "heritage and culture as part of the overall story of America." After Foley retired in 2007, she joined the committee writing the book, "Fairfax County Stories, 1607-2007," commemorating the founding of Jamestown with personal stories of Fairfax residents. When she pointed out there were no Asian American contributions, she was asked to write the stories of the growing Asian American community. This led to the establishment of the Fairfax County Asian American History Project with Foley as the project leader. With the support of Fairfax County, and a hardworking group of volunteers who documented the stories of Fairfax immigrants, the project was completed in two years. Foley wrote and published "The Fairfax County Asian American History Project: A Contemporary History Honoring 143 Years of Asian Residents in Fairfax County" in 2010. Foley wrote and published more books, but her favorite was the one she wrote to honor her father, who died in 2004, "Sandoval Stories, 1760s-2013: Filipino American Odyssey from Iloilo, Palawan, Manila to Fairfax County, Virginia."
After several conversations with fellow seniors, Foley recognized the need for a senior center when they continuously asked for facilities nearer their homes. Foley then organized the Burke/West Springfield Center Without Walls. At that time, the Springfield District was the only district without a permanent building dedicated to seniors. Together with Fairfax County officials, they found a creative solution by tapping churches and libraries to be venues for various senior activities like yoga, self-defense, tai-chi, Qi-gong, Zumba, ballroom dancing, line dancing, hula, and folk dance.
Foley considers her Filipino identity important. "Our family has tried to respect and maintain our heritage and traditions here in Fairfax County," she said, adding that when her son was married they observed Filipino rites by adding the traditional veil, cord and coin ceremonies but also included a bagpipe ceremony, a nod to her daughter-in-law's Irish roots. Foley thinks that this is representative of Fairfax County's diverse community where there's an "interesting mingling of traditions."
Foley's outstanding community service was recognized with numerous awards. This includes Lady Fairfax 2009, the Merit of Citation in the Citizen of the Year Awards in 2012 for Fairfax County citizens and more recently, the Virginia Foundation for Women in 2017 as one of the Virginia Women in History.
When asked about the importance of being Asian American, Foley said, "they have taken up their responsibilities in contributing to the prosperity and strength of our American community." She added, "our Asian American history also encourages us to strengthen the American tradition of freedom and equality – making real the Independence Declaration that all men are created equal."