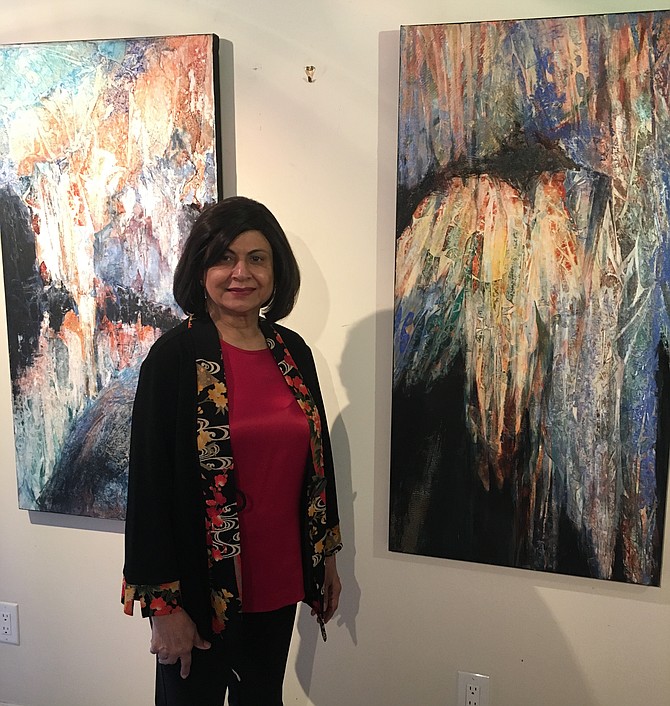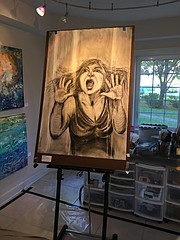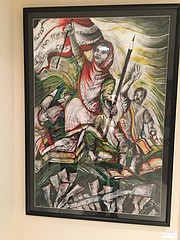 Potomac artist Nimi Trehan draws inspiration for her paintings from everything around her. Nature, architecture, literature, classical paintings, even news and politics all find their way into her work.
She recently had a show in her home studio, showing almost 80 paintings displaying her ideas in vivid color palette and an abstract style.
"Color is the common denominator, but you have to look underneath the surface," Trehan said.
Bold color and subtle message are on view in Dichotomy, two paintings: Chaotic Order and Orderly Chaos.
Drawing of life in her native India and her years in the Washington, D.C. area, Trehan painted Chaotic Order in stirring oranges and reds with sweeping strokes and a jumble of items. Orderly Chaos is more peaceful, using cool blues and greens and orderly architectural elements.
Here is what she says about the meaning of the Dichotomy: "The series Dichotomy is a visual expression of my observations of the opposing forces in New Delhi and Washington, D.C., the two most powerful capitals of the world that I have lived in.
"New Delhi is a dichotomy of people, the glitter of the urban center and the dust of the unkempt slums. There is the chaos of blaring traffic, regular power grid failures and erratic monsoons. Extreme materialism and intense spiritually abide side by side in the capital's culture. In spite of the sensory overload, there is a sense of order, an underlying structure to the city's madness.
"Around Washington, D.C., I witness political chaos within architectural orders, construction and deconstruction, as well as 'ritz and glitz' amongst impoverished neighborhoods. As Lamia Zia wrote: '… amidst the magnificent buildings and robust debates on poverty alleviation, homeless veterans still slept on the sweltering pavement framed by clinically decorated foliage, out of sight, out of mind.'"
Longtime friend and art lover Geeta Oberoi Tholan helped Trehan organize her Oct. 19 show and is one of her greatest fans.
"I'm just an enthusiast," Tholan said. "I admire her as a person and I respect her talent."
Trehan said she has painted since childhood but sold her first works in her 20s while visiting her sister in Chicago.
"When a painting sells it motivates one to do more," she said. "It's a validation, you feel valued."
Trehan spent her career as an interior designer.
About 10 years ago she retired, she said, and now likes to spend about five hours a day painting.
She considers herself a life-long learner and takes classes at the Corcoran, where she also had one of her paintings on exhibit.
Lifelong learning is definitely on display in many of her paintings, like the one inspired by reading the autobiography of Malala Yousafzai, the young Pakistani social activist, and a group of paintings with political messages.
Not all Trehan's work has deep meaning. Her paintings of nature offer peace and tranquility and the opportunity to meditate on beauty.
In addition to her paintings, Trehan works on commission, creating works for individual homes and offices.
For November, she is participating in a show, "Wonders of the Universe" at the Viviana Puello Gallery, 1791 Amsterdam Ave., N.Y. The exhibit runs Nov. 9 through Dec. 2, with a reception from 6-9 p.m. Friday, Nov. 9.
To see Trehan's work closer to home, make an appointment to visit her studio by emailing Nimitrehan100@gmail.com.