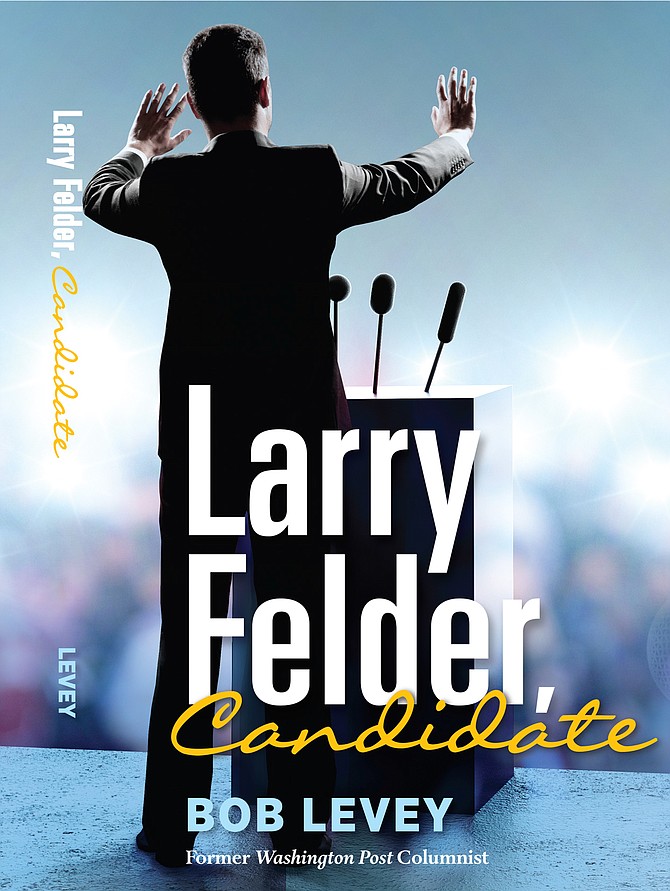 Montgomery County midterm elections are foremost in the minds of most Potomac residents as they prepare to head for their November polling sites. For more than a year, households have been inundated with media ads that characterize the many candidates running for office. Each candidate continually promises to improve residents' lives, produce legislation to affect positive change within the state and communities — and to maintain honesty, ethics and transparency at all times (while they point out the lack of qualifications demonstrated by their opponents). But how and why are they running for office? What is the political process that determines whether they will be selected for their party's nomination? What do candidates do to win or lose an election?
This political process is the impetus for a new novel written by longtime Washington Post columnist Bob Levey. His book tells the story of Larry Felder, a successful Washington journalist who decides to run for Congress as a candidate from Montgomery County. Because of his decision, he abandons his longtime career and enters the world of DC area politics. He looks like a cinch to win — until fate intervenes.
The book is set in Montgomery County in 2006 and, according to Levey, "is a close-up look at big-time newspaper and contemporary Washington-area politics. It captures a man who is ceaselessly loyal to his wife, an invalid, and spotlights a swaggering white-shoe lawyer, a beleaguered editor, a corrupt businessman and a congressional opponent who gets luckier than she ever thought she would. The book is a searching snapshot of how difficult it can be to attain a lifelong dream — and leave others behind."
Levey said, "I started this book 10 years ago. I had been thinking about it for a long time, and once I had made the decision, I wrote the first draft in a week. Over the course of seven to eight years, I edited, revised and self-published it. The book is not autobiographical but Larry Felder is modeled after a long-time congressman from Montgomery County. I believe the local readers will thoroughly enjoy the references to places they know — Montgomery Mall, Dunkin Donuts (there used to be one located in Montgomery Mall a long time ago,) Suburban Hospital, familiar sights in Chevy Chase, Bethesda and Potomac."
Levey began his journalism career at the age of 6 when "I launched the late, lamented Levey's News (circulation: 1). I served as editor, publisher, columnist, and crayon-er. My mother still has copies for the curious." Raised in the Bronx, he left New York City to attend the University of Chicago, graduating with an English degree and lots of experience editing the student newspaper. His first professional job was as a cub reporter for the Albuquerque Tribune.
While visiting Washington D.C., he applied for a job with the Washington Post where he remained for 36 years. In June, 1981, he began writing his daily column, Bob Levey's Washington. His Send Kids to Camp Campaign, reports of incidents in the local community — and comments on his own open-heart surgery, attempts to golf and/or garden made him a friend and confidante to all. He welcomed phone calls and emails and was a willing listener to all who shared their tales with him.
After his first child was born, Levey and his wife were affected by the "one salary" plight of many new parents, so he decided to moonlight at a local radio station. His career in radio and TV has been long; he worked for seven local radio stations and four local TV stations as a commentator and talk show host. He has taught journalism at three local universities, is a life master and regional champion at Tournament Bridge, and still plays competitive slow-pitch softball. He is married to historian Jane Freundel Levey and they have two children.
"'Larry Felder Candidate' is a celebration of journalism and of Montgomery County," said Levey. "It is a positive book and it was meant to be. No one dies, goes broke or gets murdered. It's a true to life snapshot of a candidate's world."
"Larry Felder, Candidate" is available on Amazon.com for $20 or a signed copy can be purchased directly from Bob Levey by emailing him at boblevey@comcast.net.