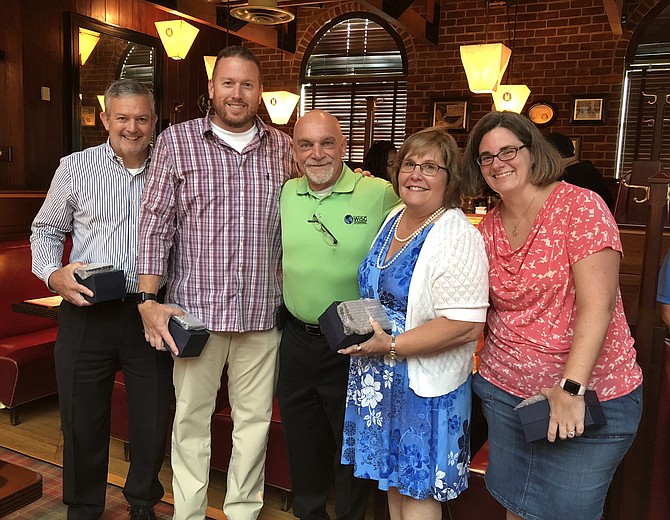 "WiSC is a small business that, despite its growth, has maintained a family atmosphere." —Founder and President Bill Craig
WiSC Enterprises, a veteran-owned small business based in Chantilly, celebrated two milestones on Aug. 21: the 10th anniversary of the company's founding, and the recent naming of the company as the recipient of the 2018 Public Sector Pro Patria Award, the highest award given to a civilian employer by the Virginia Employer Support of the Guard and Reserve Committee.
"I was pleased to see that we had a nice blend of new and old employees attend our 10th anniversary celebration," said founder and president Bill Craig of the gathering held at Mike's American Grill. "Everyone embraced the opportunity to better know other members of their WiSC family, which I feel is important to the success of the company."
The Latin phrase "Pro Patria" translates to "for the country." The award is earned by only one employer each year and symbolizes uncommon patriotism by an employer. It is presented to an employer who demonstrates exceptional support for national defense by adopting personnel policies that make it easier for their employees to participate in the National Guard and Reserve.
"It was an honor to represent WiSC and hear story after story of companies and their policies in support of employees that serve in the Guard and Reserves," said Gary Ayers, who accepted the award on behalf of WiSC at the ESGR ceremony in April. "It's encouraging to hear how companies from across the state are taking care of the families of deployed service members."
Craig founded WiSC Enterprises in August of 2008 with nearly 30 years of experience in the intelligence community — 20 in the U.S. Air Force and another 10 in the private sector. The company specializes in worldwide interoperability of intelligence, surveillance and reconnaissance data.
"WiSC is a small business that, despite its growth, has maintained a family atmosphere," said Craig, a Centreville resident who missed the ESGR ceremony due to his son Kyle's wedding. "That was evident this evening and recognized in the Pro Patria Award."
See www.wiscenterprises.com
More like this story