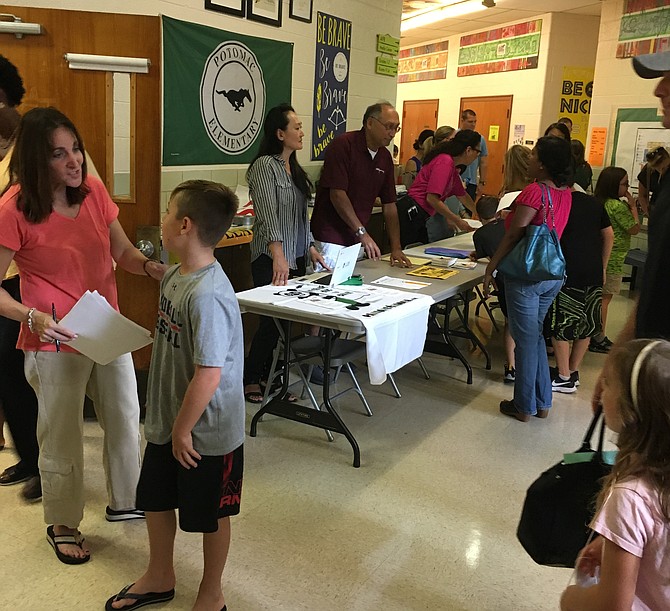 Moving can be a time of angst as can changing schools, but when the whole school moves to a new site, it's a whole different story.
Potomac Elementary School students are faced with that change this week when school started.
The old school building on River Road closed for good this summer and the inside: books, wall hanging, flags, papers and pencils along with staff and students all moved to Radnor "holding" school in Bethesda while a new school is built on the old site.
"There's been such a feeling of anxiety about [the move]," said Gregg Baron, assistant principal. "We worked hard to bring things, 'from home'."
But, he noted, people were walking around at the school's Open House Friday, Aug. 31 happy with what they were seeing.
"You can feel the positive energy," he said.
The buzz seemed positive with parents and students greeting school friends, familiar teachers and staff and everyone scrambling to find the right classrooms.
"I like it, I like how it is bigger and the lunchroom is nicer," said Chinwe Chuke, 8, a third grader.

And the commute, an issue of much debate before the move?
"That's going to be an issue, we will have to be organized about getting her to the bus on time," Christine Chuke, Chinwe's mother, said. "You definitely don't want to miss the bus."
Principal Catherine Allie said she was happy to see so many parents at the Open House. "We are open for business," she said.
The school has 365 students in kindergarten through fifth grade. It is also one of two Montgomery County Public elementary schools hosting a Chinese Immersion Program. To accommodate the students, there are 11 portable classrooms, called cottages.
"I think it's great," third grade teacher Stacy Hinton said. "Dr. Allie has put so much love into [getting the school ready]. And I love the windows. Some of the rooms at Potomac didn't even have windows."
Visitors were greeted in the main lobby of the school where staff answered questions and gave out maps so everyone could find their way around.
"Where is the playground," a student asked counselor Lizabeth Borra, who told her which hallway to take to get there.
"It's going really well," Borra said. "People have been really complimentary of the building. County building services, the movers, everyone, it was a team effort [getting the school ready]."
There was even artwork from the old building already installed at Radnor.
"It's really nice," Kenner Medina, 10, a 5th grader said. "The playground is amazing."