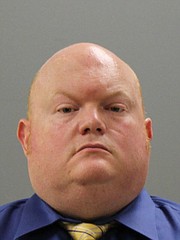 Fairfax County Police Media Relations Bureau posted, on Aug. 28, that officer Jason Colley, 38, of Monrovia, Md., who recently worked out of the Reston District Station, turned himself in that day at the Frederick County Law Enforcement Center. Colley did so after a Maryland judge signed an indictment the day before charging him with First Degree Child Abuse-Death, First Degree Child Abuse-Severe Physical Injury and First Degree Assault.
The charges stem from an investigation by the Maryland State Police into injuries sustained by Colley's infant daughter Harper Grace Colley on Sept. 19, 2017, which resulted in her death on Oct. 31, 2017.
FCPD said that the Maryland State Police notified them on April 20, 2018, that Colley was the suspect. Before Colley returned for his next shift on April 23, 2018, he was relieved of duty and all of his law enforcement authority, and placed on paid administrative leave.
"The charges Colley faces are abhorrent," Chief Edwin C. Roessler Jr. said Aug.28, 2018. "This afternoon I served Colley notice of separation from employment in accordance with Fairfax County Personnel Regulations and the Code of Virginia."
Colley's attorney, Andrew V. Jezic, said Colley's wife and a neighbor testified on his behalf at the bond hearing in Frederick County court on Tuesday, Aug. 28. Colley was granted a $100,000 bond and was released, the Washington Post reported.