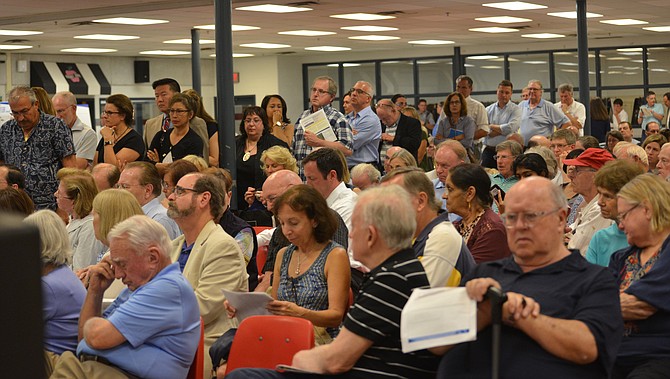 At 7 p.m. on Thursday, Sept. 13, the Virginia Department of Transportation (VDOT) will be holding its second public meeting on a proposed four-month pilot to close the ramp from Georgetown Pike to I-495 north from 1 to 7 p.m. weekdays. The meeting will be held at McLean High School, 1633 Davidson Road, McLean.
The pilot is intended to test the viability of a plan to mitigate congestion and address safety concerns. Currently, drivers seeking to avoid heavy traffic on the Beltway between Tysons and the American Legion Bridge are cutting through neighborhoods, which in turn, negatively impacts residents in the area.
For Great Falls residents, the VDOT concept has the potential of reducing cut-through commuter traffic on Georgetown Pike. However, it would also mean that residents who wish to head north toward Maryland in the afternoon would need to take an alternate route in order to get on I-495 — at Route 123, Route 267 or Route 7.
During the Aug. 2 meeting on this proposal, representatives from VDOT indicated that they felt that it was important to bring this "out-of-the-box" proposal to the community for input and stressed that the pilot would not go forward unless it has strong support. Feedback from residents will be used in determining if the pilot is undertaken as originally conceived, put on hold, or whether a modified version is implemented.
While some residents at the meeting spoke in favor of the pilot, many felt that closure would negatively affect other roads and increase travel time to Maryland. Many indicated that they had chosen to live near the ramp precisely because of the easy access – to work, schools, doctors, friends, etc. For more information on this issue, including materials from the first VDOT meeting, seehttp://www.virginiadot.org/projects/northernvirginia/mclean_traffic_analysis.asp. Great Falls residents are encouraged to attend the upcoming meeting and "weigh in" on this important issue.
The Transportation Committee (TRN) also welcomes your feedback. Please send comments, including whether you support, or do not support, VDOT's proposed pilot to TRN at transportation@gfca.org.