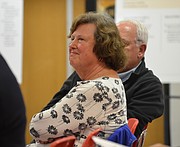 At the previous community meeting on Aug. 2 to discuss traffic issues in the McLean area, Virginia Department of Transportation Chief Engineer Barrett Moore assured residents repeatedly that the proposal to close the northbound ramp from Georgetown Pike onto I-495 from 1–7 p.m. on weekdays as a potential solution "would not go forward without strong support from the community."
At the department's second public meeting on Oct. 18 at McLean High School, Moore issued his assurances once more. He also informed the several hundred meeting attendees that public opinion as submitted to VDOT to date was currently running at 35 percent in favor of the suggested four-month pilot testing of the ramp closure, versus 65 percent who were opposed and 3 percent who submitted "neutral" responses or approval with conditions.
"So why are we here, if it's so obvious that you're not getting that strong support?" was one of the first questions Moore, VDOT Transportation and Land Use Director for Northern Virginia Alison Richter, and VDOT traffic consultant Rob Prunty faced when their presentation ended and the public questions and comments session began.
"Because we had announced that we would hold a second meeting to give as many citizens as possible the opportunity to participate and be heard," responded Richter, adding that with schools back in session, vacations weren't keeping people from attending.
The short and intermediate term actions already taken or underway, as well as the close-the-ramp proposal are all the results of studies and meetings dating back to the Spring of 2017, when VDOT received numerous complaints and requests for involvement from residents of the neighborhoods along Georgetown Pike and the surrounding secondary roads.
RESPONDING TO PREVIOUS CONCERNS that the shutdown would "simply move the traffic elsewhere and cause problems further down the line," Moore reported that the studies suggest that traffic flow on the Beltway might actually show marginal improvement by closing Georgetown Pike access.
VDOT acknowledges that the notion of simply closing down a major entry point onto the Capital Beltway as the means to keep locals from being trapped in their own neighborhoods by cut-through traffic is a radical solution and "full engagement by the stakeholders is essential."
Moore also told the crowd "we all know that ultimately the traffic build-up in this area and the sometimes dangerous use of neighborhood streets as cut-through alternatives won't be permanently solved without addressing the real problem – the American Legion Bridge carrying more than 200,000 cars daily between Virginia and Maryland.
"So it's not a solution that Virginia can initiate on its own."
Moore and Richter both added that VDOT and other Commonwealth officials were in frequent engagement with their Maryland counterparts and announced that another public meeting, addressing these wider issues, would be scheduled for early in the New Year. Citizens were urged to keep informed and attend if possible.
It was that knowledge that real relief in the form of American Legion Bridge improvements — or some say, a new bridge over the Potomac — are years away, that had the outnumbered proponents of the pilot program willing to give the ramp closure a try.
Years away and confronting miles of red tape "longer than the whole Beltway," is why McLean resident Jonathan Rodgers says he is for the trial run. He sees the only other solutions as equally "out of sight" like limiting the ramp to area residents or cars with Virginia tags only. "We just can't go on this way."
Rodgers was in the minority among the public commentators, although another man, who works in College Park and lives in affected Langley Forest waited out the crowds to be sure and vote yes to close access.
"Is it a great solution? No. But at this point, sometimes we can't get out of our own driveways during the peak hours – which seem to be longer and longer. It's not even safe to walk the streets in our neighborhood, forget trying to cross one. This is something we can at least test and try without high cost or legal obstacles, so let's see what impact this has."
Living across Georgetown Pike from Langley Forest, one Churchill resident agrees. "We have to try something," he insists, worried about the safety of his own, and other's children as more and more cars use local streets as cut-throughs. "And they are always in a hurry."
Closing access to the Beltway has support of Langley High School parents, teachers and staff as reported in a recent survey on the proposal.
Residents who oppose the ramp closure speak to the same issues – dangerous non-resident driving, gridlock on residential streets, safety factors, obstacles to participation in school activities, and more. Several people, backed up by supportive shouts and applause, brought up recent incidents where local children had been struck by cars "passing through" the neighborhoods, to which one proponent declared himself "appalled" that the nay-sayers would "put personal inconvenience ahead of a child's safety."
BUT THE OPPONENTS still don't see VDOT's proposal as the answer.
For one thing, closing the ramp would be like "punishing local residents for the problems you created," said the very first resident on the comments line. Just like travelling commuters, those who live in the area would also be prohibited from using the ramp, and in most cases would have to travel considerably out of their way, in the opposite direction from their intended destinations, to enter onto I-495. "Locals are obviously not one of the criteria that you are considering with your solutions," said that resident.
Nicole Ritchie of McLean, and many others, reprimanded the VDOT representatives for "not listening to citizens in the first place" and sending HOT lane travellers out onto the Beltway right before Georgetown Pike. Opponents say there are changes that can be made there that will immediately improve the situation, even without changes to the existing bridge or the construction of a new one. "Right now they exit the lanes and start criss-crossing all over the highway. Make the Hot Lane exit further back."
The massive and continuing development of Tysons also received the wrath of many of the residents.
Ritchie, who lives in the Dolley Madison/Lewinsville Road area angrily declared that with "all the high-rises, the enormous Capital One campus expansion, all the tolls, our area is slowly being closed off, like an island. Soon we won't be able to move."
"Thanks," added Brian Palmer. "Shame on the elected officials who keep rubber-stamping all this development without the roads and infrastructure needed to support it. All done poorly."
Through much of the comment session, the VDOT representatives listened attentively, but quietly, occasionally answering a question, but mostly just allowing the residents to have their say.
"They could have presented their case a bit better," remarked long-time McLean resident Victor Kimm.
Kimm is as concerned about the traffic issues in the area as his neighbors and equally desirous of safety for area children and for his neighbors to have access to their own streets and driveways, but Kimm says he is looking at the numbers when "trying to find the balance."
He is not satisfied that VDOT has truly provided all of the information needed, but his review of the materials still shows several thousand cars per day that would be diverted from the area by the ramp closure.
"That alone will have to better the current situation.
"Of course, closing the ramp would affect locals who use it, but we need to think about the trade-off, how big is that impact, inconveniencing how many, versus how much traffic in the neighborhoods and local roads could be improved."
Kimm has been asking VDOT for those numbers – how many cars/residents would be negatively affected, versus the numbers diverted from the pilot area which VDOT has provided in their study – but so far, hasn't gotten that answer. Side conversations with VDOT reps at the meetings leave Kimm thinking that VDOT would agree that the numbers would support moving forward with the test project, but there's nothing on record or in the data provided to validate his suppositions. Still, he's a "yes" on the pilot. "It doesn't cost much and provides more real information, not just models and projections, and that's much needed to make a decision of this magnitude long lasting."
VDOT lists the next steps for the pilot program as:
• Continue to seek public input to gauge support
• Summarize and evaluate feedback
• Decide whether to advance the pilot project forward, abandon the pilot, or place it on hold, and communicate to the public
• Decision to move forward will require strong local support, clearly an uphill battle
VDOT is still taking comments and questions on their website at www.virginiadot.org/projects/northernvirginia/mclean_traffic_analysis.asp, via email at meetingcomments@vdotvirginia.gov (including "McLean Traffic Analysis" in the subject line), or by mail through Nov. 13.