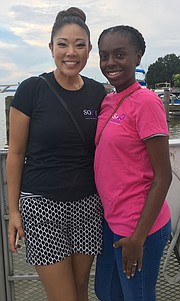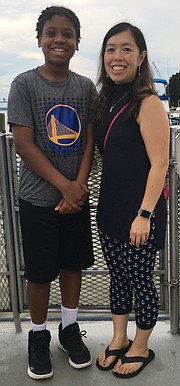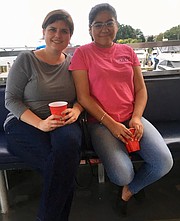 More than 40 youth mentees and young adult mentees and their older mentors celebrated their relationships on a donated annual riverboat ride last Thursday, Aug. 30.
Ten organizations participating in the Alexandria Mentoring Partnership (AMP), a coalition begun in 2006, oversee the mentorship programs. AMP's mission: "To provide a quality mentor to every child in Alexandria who needs one" — particularly those considered at-risk. A survey at the time found at-risk youths suffering from "minimal connection to their schools and/or community, poor academic performance, emotional issues and the lack of any person who had the time or inclination to focus their attention on that youth," according to the city.
With staff support from Alexandria's juvenile Court Service Unit, AMP serves as a kind of administrative umbrella, helping to coordinate volunteer recruitment, screening and training.
Mentee Ashley Suggs and mentor Cynthia Chin have had a mentoring relationship through Space of Her Own (SOHO) since 2007, when Suggs was in fifth grade at Jefferson Houston. In partnership with the public school system, SOHO provides guidance and support for at-risk girls, especially through arts activities, and ultimately a bedroom makeover. Suggs is now 20 years old and works fulltime at a barbershop. She says was "really shy" at first, but 11 years later she still calls Chin for advice and to talk about her job.
Mentee Isaiah Sitton, an eighth grader at Francis Hammond, and mentor Christina Huie have been together through Wright to Read for five years. Wright to Read aims to improve literacy. Sitton said he especially liked reading a book about Bruce Lee. Huie said she loves reading and wanted to give back. She's also attended Sitton's basketball games and church Christmas play.
"His family is my family," she said.
Mentee Bryan Diaz, a rising high school senior, and mentor Jeff Ackerman know each other through Community Lodgings, a housing provider for homeless and low-income families. The mentorship program meets regularly for activities, including hearing from speakers and a variety of professionals to expose the youths to an array of vocations. Additionally, Diaz says Jeff has taken him to baseball games. Another adult mentor gave Diaz and other students a tour of the Pentagon. Diaz says he's probably headed to college next — a step his mentors can help him plan for.
Mentee Briana Jerez Bustillo, a rising high school freshman, and mentor Taryn Wilkinson have had a mentoring relationship through SOHO for four years. Jerez Bustillo says she's enjoyed building a friendship. Wilkinson says she's helped Jerez Bustillo connect with college preparatory activities.
Organizations participating in AMP include Wright to Read; Community Lodgings; Space of Her Own; Higher Achievement; The Untouchables; Casa Chirilagua; BRYCE Project; Reach and Arise for Excellence (RARE); Alexandria Seaport Foundation; and Friends of Guesthouse. The Potomac Riverboat Company donated the boat ride.
For more information or to become a mentor, visit www.alexandriava.gov/Mentoring.