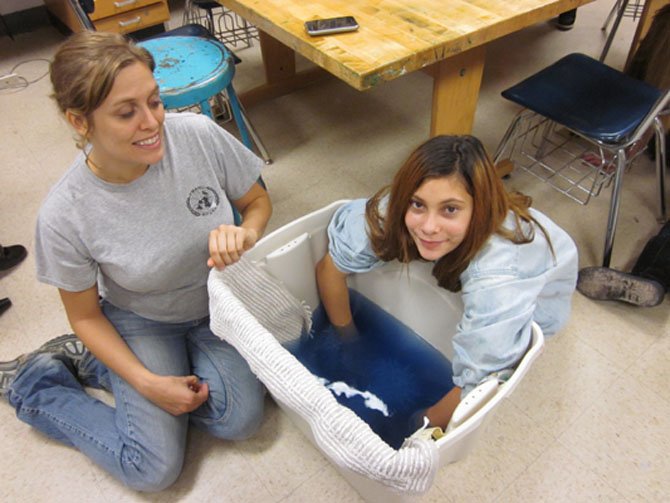 Arlington — A Space of Her Own (SOHO), a mentoring program, is expanding this fall and recruiting adult female mentors for its new fifth-grade girls program in Arlington. A Space of Her Own originated in Alexandria and is now set to include 12 new students from Hoffman-Boston and Randolph Elementary schools.
"Our board feels passionately about reaching as many girls as possible," SOHO Board President Amy Creed said. "We are very excited to be expanding to Arlington."
SOHO is a locally born mentoring program that pairs adult mentors with fifth graders from lower income households who have a passion for art. Began in 2003 to serve Alexandria girls, it broadened the program last year to include male students. The 2014-2015 school year will mark SOHO's first venture outside of Alexandria.
"This is a mentoring program that has been serving girls in need since 2003," Creed said. "We started off as a collaboration between two people in the Alexandria Court Service Unit and the Art League.
In 2010, we became an official non-profit. Our goal is to help as many girls in need through creative mentorship. We truly believe that through mentoring, we are able to provide social, emotional, creative and academic support. Visual arts and instruction is our avenue."
EVERY THURSDAY throughout the school year, the SOHO girls meet with their adult mentors over an art project and a meal. The projects facilitate confidence-building activities and conversation.
"Girls are matched to adult mentors," Creed said. "They share a meal and do an art project, whether it's wiring a lamp or making a mosaic mirror. They work on projects with their mentors and at the end of the program which is the end of the school year, their bedrooms get renovated. All the projects that they work on go into their newly renovated bedroom."
The end of year room renovations are the mentors' swan songs that give meaning to the program's name.
"We believe that each girl needs a space of her own to empower her, and that's where the whole bedroom comes in, even if she shares that room with a sister, brother or parents," Creed said. "At the end of the program, she really will have her own space, even if it is just a corner. It is a personalized space of her own."
The girls leave the program with more than a beautifully decorated personal space. Once a girl becomes a mentee with A Space of Her Own, she becomes a part of a lifelong family.
"Once they graduate, they are a part of a SOHO sisterhood," Creed said. "Even though they have graduated, they still have a support system. Even if their mentor has moved away, they still have support."
Creed said the program has served girls of all ages, but the board has deemed fifth graders as ideal for the program.
"It is an ideal time, because it is the last time before they are making a major transition into middle school," Creed said. "We catch them right before and give them a skillset they need to be successful and positive."
The upcoming school year will see 50 girls through the program, including the 12 girls in Arlington. The girls are chosen with the input of teachers, guidance counselors, principals and social workers.
CREED ENCOURAGES any women interested in mentoring to come to the SOHO information sessions on July 24 and Aug. 14 at 5:30 p.m., at Hoffman Boston Elementary School. She said working with the youth in this program is a life-altering experience, both for the girls and for the mentors.
"No art experience is required," Creed said. "We ask that women are passionate and committed to working with youth. We have mentors from all different walks of life who have made tremendous impact on our girls. We feel these girls have tremendous potential and have been in situations where they have been let down by adults. We feel they deserve the best mentors possible."
Creed, who was herself a mentor during the 2004-2005 school year, said she sees children's and their mentors' lives change every year.
"I feel very passionate about this non-profit," she said. "We have the most unique mentoring program in this area. It is great so see girls come alive through art. Once these art projects start, you just see the girl and her mentor connect while creating this beautiful piece of art. Every year I go through the program, I am amazed to see the transformation these girls make."
She said watching the girls' reactions to their new bedrooms at the end of the year is particularly priceless. The mentors receive a small budget to make the new bedrooms sparkle for the girls, who themselves participate in community service projects during the school year as a part of the SOHO program.
"Throughout the school year, the girls also do community service projects," Creed said. "They are giving back throughout the school year knowing they are going to be getting something really big at the end. Watching the girls and their reactions to their new bedrooms is completely inspiring."
Courtney Dixon, a mentor for the 2012 -2013 school year and current board member, said SOHO absolutely impacted her. She is still in touch with the sixth grade student she spent the year with, even though the girl has since moved out of the area.
"I think the program is amazing for the girls, I still talk to my mentee now," Dixon said. "She moved and is a little further than before. I told her I would redo her room out there at her new house."
She said the change in all the girls was palpable during her year of mentorship.
"They were rambunctious with low self-esteem at the beginning of the program," Dixon said. "By the end, they had calmed down. They didn't need validation from their friends, as they were getting validation from people who had been there, done that. They were a lot more respectful. You could definitely see the change in how they approached each other and how they approached the mentors."
She added that being a mentor affected her, and that she appreciated playing an important role in a young girl's life.
"For me, personally, the impact was just feeling like I made a difference even though it was for one year, I could tell she was excited to see me and I could see in our interaction outside of the program that she was more open," Dixon said. "It impacted me because I could be that outlet for her. I could be that soundboard for her. It made me remember how I was in sixth grade."
FORMER MENTOR Jennifer Tutuska also said her experience with SOHO was overwhelmingly positive.
"SOHO really is an amazing program and the experience was truly memorable," Tutuska said. "Watching the girls learn, work, collaborate, and grow was a joy at the end of a hard day. Helping with art work and just sitting and chatting with these young ladies was likely as therapeutic for the mentors as the mentees."
She said she too has kept in touch with her mentee, Miranda, and has been able to watch her grow from sixth grader who had just lost her mother into a strong young adult.
"Our first day together we spent putting plaster on each other's' faces to create mold," Jennifer said. "Miranda's mother had recently passed away so her bedroom that she was making was a tribute to her mother."
They have made new memories over the past six years, as well.
"When Miranda went off to college, we went shopping for her new room and she asked me to drive her down to move her in," Tutuska said. "On move-in day, SOHO surprised her with some additional funds to use for her college dorm room, so we went shopping and set up her room. I met Miranda in 6th grade and although I signed up to be a mentor with the intention of building a life-long relationship, I never pictured decorating two rooms."
Tutuska said SOHO mentors will have many positive and inspiring experiences throughout the school year.
"I saw a positive change in Miranda and many of the girls just in the short time we were in the program," she said. "Miranda learned to get along with people she may not have normally chosen as friends, and some of these girls became life-long friends. Girls learned how to control anger and act like the beautiful young ladies that they were. Watching a community get together to support these young ladies was inspiring to me. Countless teachers and community members donated and worked on the room renovations, and it wouldn't have all come together without each and every person."
To register interest in becoming a mentor, visit http://tinyurl.com/sohohb.