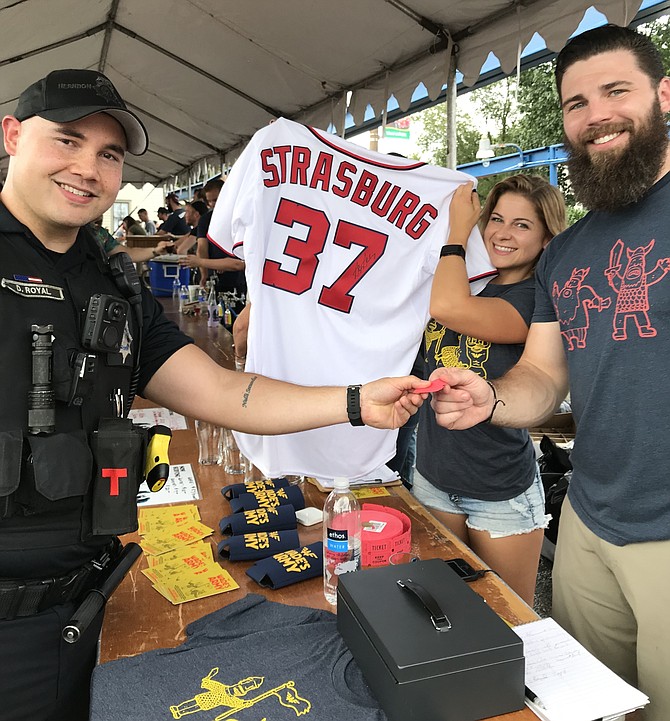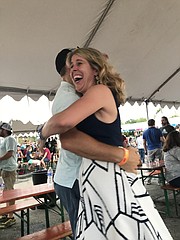 "I'm happy people are enjoying our product," said Aaron Adams of Bottle Logic Brewing of Anaheim, Calif. during the Aslin Beer Company Third Anniversary celebration. Bottle Logic was one of the breweries staked out under tents in the Aslin parking lot at 771 Elden Street in Historic Downtown Herndon on Saturday, Sept. 15 from 11 a.m.- 7 p.m.
Kai Leszkowicz, one of Aslin's co-founders, confirmed in an interview that the company sold every one of the 2,200 tickets to the event. Patrons from across the District, Maryland, Virginia and beyond came to sample beer from more than 100 local, regional, national and international breweries, cideries, meaderies and wineries.

Each one told a distinct story, something, which set them apart. "We try to go for something unique for each style," said spokesperson Whitney Myhra of Drekker Brewing Company of Fargo, North Dakota. "Something funky. We're adding lactose to IPA. It gives the beer a different body, a different mouth feel."
Joel Mahaffey of Foundation Brewing Company of Portland, Maine admitted that most of their beer is based on classic style, but they put their twist on it. Asked why his brewery was here, Mahaffey said, "It's a network thing. We brewed with Aslin yesterday, and they brewed with us two months ago."
In an interview, one of Aslin's owners, Kai Leszkowicz said they have been working with the Town of Herndon and are now ready to resume construction and hope to get the renovation for the new facility at 771 Elden Street completed and open in six-to-eight months. Last summer on Facebook, Aslin Beer Company posted that their new home on Elden Street will "provide a unique environment that encompasses our brand and represents our team."