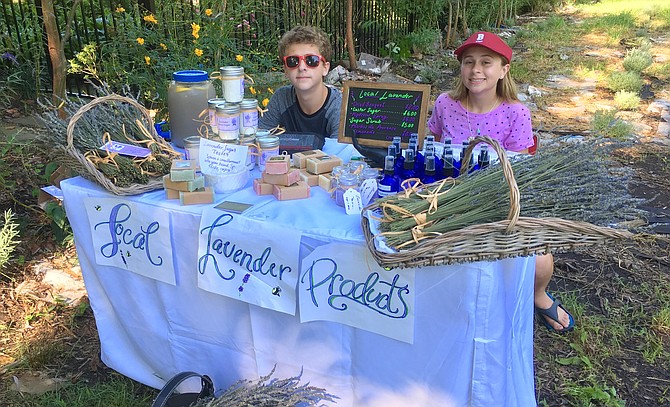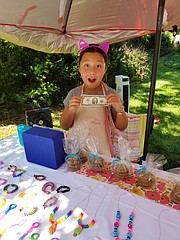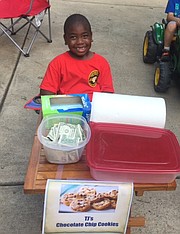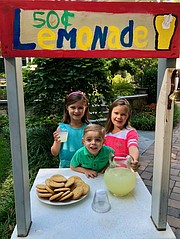 Chesterbrook Woods residents celebrated a sweltering hot Labor Day with their fourth annual "Stands in the Hood."
Young entrepreneurs and their families sold beverages, baked goods, frozen treats, books, and artisan products and crafts. Free activities designed to help neighbors commune and de-stress included a coloring station and tech assistance for Android and iPhones. This year's stands generated more than $700 for a variety of charities. Elizabeth Ende, who along with her husband, Neil, helped organize this year's event, said "We loved seeing what was offered at their stands this year. This event creates a market for young entrepreneurs and also gives residents an excuse to get outside and catch up with friends, meet new neighbors and support worthy causes."
Some neighbors began work earlier in the summer to prepare for the event. Eight year old Phoebe Kim, who raised money to support Operation Christmas Child, made sure she had a good supply of jewelry for her stand where she also sold delicious ginger cookies. To help generate excitement, she also included a raffle for a Halloween prize bucket.

Will and Charlotte Fernau spent much of their summer working on their lavender garden plot. Their mom, Anna, recounted that "My husband grew up on a farm and cattle ranch and at a very young age he developed a good work ethic. Over the summer, we let our kids use our extra garden space to grow and harvest lavender and make lavender products. The lavender plot has been a wonderful project to teach them about hard physical work (and to respect those who do it for a living), to learn about business by keeping track of expenses and gauging profitability and to learn how to market and sell products. It also helped my son fulfill the requirement for the Personal Management merit badge as he works his way to becoming an Eagle Scout. 'Stands in the Hood' was a perfect opportunity for them to launch their lavender products. We're grateful to our community for providing the encouragement to try something like this."
Oliver Thomas capitalized on the heat by offering icy treats and raised $50 for the Friends of the Fairfax County Animal Shelter. Oliver reported, "We had so many people come by! It was the perfect day for snow cones!!" Rick Timmons, whose kids raised nearly $600 between their lemonade stand and a Facebook campaign, related, "It seems like a simple activity, but when communities come together to support their neighbors and charitable causes, it really reminds us what America is all about. The Chesterbrook community is extremely diverse, and it includes folks who were raised right here, and others who have immigrated from afar – and we all care about and support each other. Social media gives us the ability to stay even more closely connected, and to 'extend our neighborhood' to include others who care about the causes we are supporting."

Plans are already underway for the 2019 edition of this popular neighborhood event.