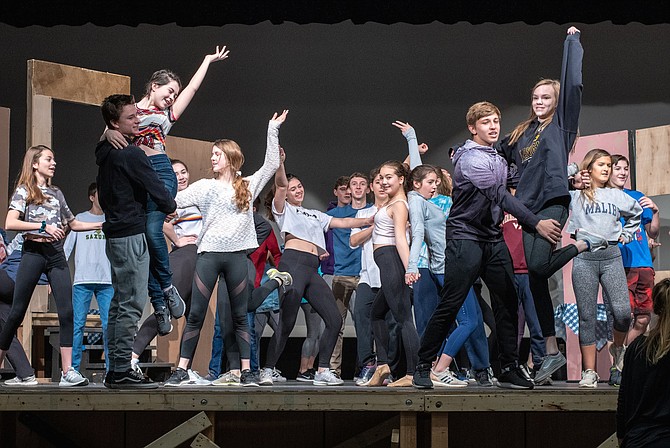 Langley High School concludes its 2018-2019 theater season with an international hit sensation: Mamma Mia!. It will play on April 25-27 at 7 p.m., April 28 at 2 p.m. and May 2-4 at 7 p.m. and May 5 at 2 p.m., 2019 at Saxon Stage Theater at Langley High School.
Across the globe, generations of audiences have been smitten by the enchanting romantic comedy and ABBA's timeless music. The action unfolds on a Greek island, where Donna, an American hotelier and a former lead singer of the 1970s pop group "Donna and the Dynamos", raised her 20-year old daughter, Sophie, as a single mother. Though being happily engaged to Sky, Sophie realizes that there is still something missing from her life. She has never known her father and dreams of a perfect wedding – one which includes her father giving her away. Just before her wedding, Sophie sneaks a peek in her mother's old diaries and secretly invites three men from her mother's past. Sophie prays that one of them is her true father and is convinced that she will know the real one when she meets him. However, when Sam, Bill and Harry turn up, Sophie realizes that this spontaneous decision may not be as simple as she imagined…
Langley's Mamma Mia! is about the power of everlasting unconditional love: love of family, love of friends, and love of knowing who you really are. The electrifying energy and unparalleled performances of actors are simply breathtaking. Intricate costumes and stage designs, kindhearted humor, and beautiful dance numbers make this production great. Most notably are ABBA's hit songs which include "Dancing Queen", "Knowing Me, Knowing You," "Take a Chance on Me," "Super Trouper" "Thank you for the Music," "The Winner Takes It All," and many more amazing numbers. Mamma Mia! will give the theater loving community a chance to reconnect, to share a good laugh and to spend a fun night singing favorite tunes together.
For tickets and more information: www.saxon-stage.com