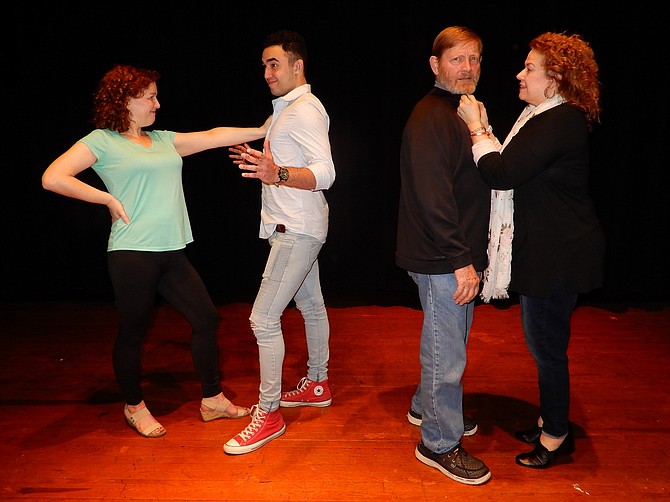 Combine hit songs from ABBA, a cast full of stage veterans and an iconic musical that'll have audiences dancing in their seats, and you get The Alliance Theatre's upcoming production of "Mamma Mia!" The show runs March 29-April 14 at Mountain View High, 5775 Spindle Court in Centreville.
The story unfolds in Greece, where American ex-patriate Donna runs a hotel. Her daughter Sophie is about to get married there, but doesn't know which of three men is her father — so she invites them all to the wedding.
"The scenes take place in the hotel's courtyard, a dock and a beach," said Director Scott Olson. "The aisles in the theater will be decorated for the wedding, and the audience members will all be wedding guests. This is a fun, campy show, and people will love the music, story and romance. But what they'll like best is that they'll be able to join in and sing the songs along with the cast."
And the festivities will continue after the curtain closes. "We're holding a wedding reception, right outside the theater, after the show," said Olson. "There'll be refreshments, and the cast will even form a receiving line to meet the audience."
The play has a cast and crew of 20 and is so popular that actors from far and near auditioned for it. "It attracted people who wanted to do something different and new to the area," said Olson. "We got so many amazingly talented people that 15 tried out for Sophie, alone."
For the fathers, he said, "We got Shawn Cox, a former Broadway actor who toured with the show, 'Titanic,' and has been a wonderful addition to our cast. And I've worked with Leland Shook and John Totten on other shows, so I know how good they are. All three are perfect together as the dads." Olson also noted the extensive theater experience of Cara Giambrone, who plays Donna, and praised the "wide range of acting talent in drama and comedy" of Seraphine Terryberry, portraying Sophie.
Totten, of Centreville's Cavalier Woods community, formerly taught at Centreville High and has acted in at least 10 Alliance shows. Playing dad Bill Austin, Totten said his character is a travel-book writer and confirmed bachelor who lives out of a backpack.
"He's self-assured until pressed about whether he might be Sophie's dad," said Totten. "And he and the other possible fathers are concerned about what they should do for this daughter that may be theirs. Bill's also scared when Rosie — one of Donna's former singing partners — comes on to him."
Calling it a great part, Totten said, "I love it. I get to sing ABBA music and work with a great staff. I don't have to dance as much as the other two dads, and I get to show a big range of emotions in a short span of time."
His favorite song is "Thank You for the Music," sung by all three dads plus Sophie. It's personal to him, he explained, because "Having music in my life and being able to sing is a wonderful thing, so I'm very thankful for music."
Totten said audiences will love the show's energy and music and "will hopefully sing along with much of it. It's also a neat story with kind of a surprise ending, plus a message that there are lots of different kinds of families."
Shawn Cox portrays dad Sam Carmichael, an architect. "He's smart, sarcastic, flirty and earnest," said Cox. "He's still in love with Donna, who he met 21 years ago. He already has two kids, so he's open to being Sophie's dad, too. All the dads think she's theirs. I wanted this role because Sam is real and relatable. He has some good songs and some nice moments onstage."
Cox especially likes the number, "The Winner Takes It All," sung by Giambrone as Donna. "She belts it out, the lyrics are really good and it tells a story," he said. "And it's the first time Sam sees that Donna still has feelings for him."
He expects the show to be a big hit because "People love this music and it brings back memories of where they were when they first heard these songs. And the story is frothy and fun, with bits of seriousness and lots of silliness. Teens and adults will enjoy it."
Playing dad Harry Bright is Leland Shook. "Harry's a British banker, but has a fun-loving personality," said Shook. "Being on the island, he finds the happiness of his youth, as opposed to the seriousness of his everyday life. I usually direct musicals and act in dramas, But I'm having fun being in this production with all the other cast members and staff and their great energy."
Being a huge ABBA fan, Shook likes all the group's songs, particularly "I Have a Dream," sung by Terryberry as Sophie. "It fits her character well," he said. "And it shows her changing from a girl to a woman and being responsible for her own actions."
He said the younger audience members will enjoy "Mamma Mia!" because it's a popular Broadway show and movie. "Adults will like the nostalgia of the songs," he added. "And there are lots of breakout, funny moments — it's a hilarious show."
Seraphine "Sissi" Terryberry portrays Sophie. "She's an optimist, a romantic who thinks with her heart and a very vulnerable character," said Terryberry. "She's hopeful and believes things will turn out all right and that good will overcome bad and love will beat out any obstacles."
Terryberry likes her part because of Sophie's upbeat attitude. "It's encouraging to me, and I've been able to bring her positive mentality into my own life," she said. "I've previously played either male roles or women in period pieces, so it's my first ingenue role set in modern times."
Her favorite number is "Voulez Vou." Performed by the entire cast, Terryberry calls it "a party onstage and so much fun to sing." She also likes "Slipping through My Fingers," sung by Donna, with Sophie joining in at the end. "It's right before the wedding and is about wondering where the time goes with your children," said Terryberry. "And it's a special moment that mother and daughter share together."
She said the show tells a story about love, not just romantically, but in a family. "It's great for moms and daughters to see a representation of a mother-daughter relationship where you're bickering one minute, but wouldn't want to be arguing with anyone else," said Terryberry. "The story reminds people to appreciate their family dynamic — and also has some sparkly costumes, jazzy dance moves and pretty funny jokes."
To Go
Show times are Friday-Sunday, March 29, 30, 31; April 5, 6, 7; and April 12, 13,14. Friday-Saturday performances are at 7:30 p.m.; Sunday matinees are at 2 p.m. Tickets are $20 at the door or via www.thealliancetheatre.org.