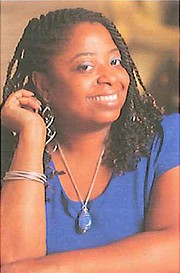 The Office of the Arts has appointed KaNikki Jakarta as the new poet laureate for a three-year term. The Alexandria Poet Laureate program was reestablished by the city in 2007 to promote appreciation of poetry as an art form, to encourage creative writing and reading of all forms of literature, and to promote literacy through poetry.
Jakarta is an award-winning performance poet who has toured the U.S. and United Kingdom performing poetry. She founded, facilitated, and/or hosted 15 presentations in the last 17 years ranging from open mics, award ceremonies, conferences, and workshops. With over 26 years of writing and almost two decades on the poetry scene, Jakarta has authored three works of fiction, two poetry collections, a poetry CD, and a memoir. She aims to utilize her public relations/marketing degree and love for the arts to promote creative writing, reading of literature, and literacy with poetry. See www.kanikkij.com
The Office of the Arts and the Alexandria Library will celebrate Jakarta's appointment on Saturday, April 6, 3-4:30 p.m. at Charles E. Beatley Jr. Central Library 5005 Duke St. in the Large Conference Room. Refreshments will be served. To RSVP, email Poet@ Alexandria.gov.
Join Jakarta in celebration of poetry month: April 12, 7 p.m. Poem In Your Pocket Day at The Athenaeum for a free reception and April 26, 7 p.m. for A Friendly Game of Slam at The Durant Arts Center Competitive Poetry, also free.