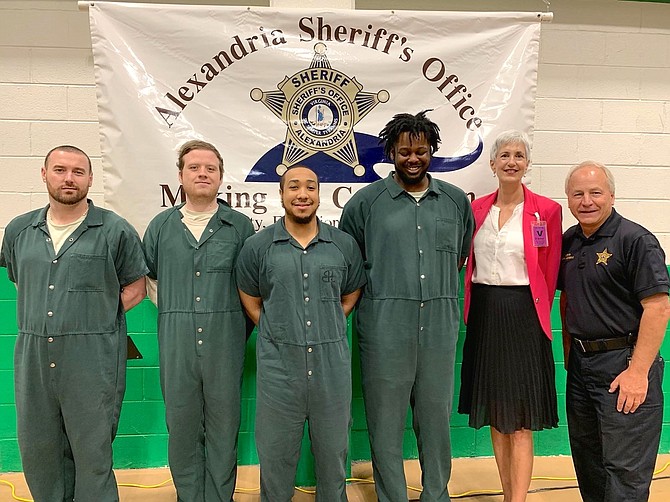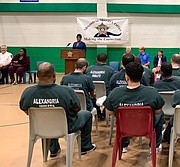 Inmates at the William G. Truesdale Detention Center in Alexandria shared their gift of writing Aug. 22 at the second HEARD Creative Writing Contest, with Sheriff Dana Lawhorne presenting awards to the winning entrants
HEARD describes itself as "an arts program for silent stories." It is a creative arts program for Alexandria nonprofit program partners serving clients who are marginalized in some way. The program partnered with the Alexandria Sheriff's Office to offer the creative writing contest for inmates.
Sixteen inmates submitted entries in fiction, non-fiction and poetry categories. Awards were announced for first, second and third place entries with some of the winners reading their works to those gathered at the ceremony.
In the nonfiction category, Michael Pixley took the top honors for "The Glass Window" and Joshua Mann finished second for "Bridge Building." In fiction, Nicholas DeLuca won the top prize for his work, "Bliss," and Hashim Barner finished first in poetry for his untitled entry.
Following the presentation of awards, two honorees shared their winning entries. DeLuca read "Bliss" and Barner read his poem to an audience of inmates, HEARD representatives and Sheriff's Office staff.
HEARD was founded in 2017 by communications consultant Jane Hess Collins, an Alexandria resident and retired Air Force colonel. Through the program, participants were given the opportunity to submit original works of poetry, fiction and nonfiction in a competition.
The panel of judges – City of Alexandria Poet Laureate KaNikki Jakarta, The Zebra Publisher/Editor-in-Chief Mary Wadland, and Georgetown University Professor Mike Long – considered each submission's technical and artistic strength when selecting the winners. Winners received monetary prizes that were added to their accounts to cover personal expenses.
Alternative Programs Manager Gloria Wright announced the first, second and third place award winners. Four of the honorees were present to receive their awards, although other finalists were released prior to the ceremony.
The HEARD program is privately funded through donations. For more information, contact Collins at jahcollins@gmail.com, call or text 703-282-6738.