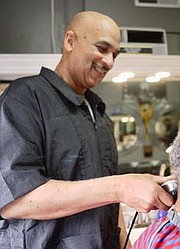 It was a Thursday at Mr. Moore's Barber Shop on Lee Highway; it was starting to get busy with the weekend coming. One customer stopped in to tell Jim Moore to send birthday greetings to Mr. Moore, Jim's father, whose birthday it was. Another was celebrating her 50th wedding anniversary and wanted Mr. Moore to give her a "wow" look for the occasion. Moore and she talked about the fact that only 5-6 percent of marriages last that long. Moore asked one customer if he had read the new book about Hall's Hill by Wilma Jones. Jones wrote "My Halls Hill Family: More Than a Neighborhood," about living in segregated Arlington. His customer was halfway through it. Then Moore talked about the upcoming Challenging Racism 5K on May 4.
Five Arlingtonians will be honored during the race: Evelyn Syphax, Dr. Charles Drew, Judge Thomas Monroe, Barbara Marx, and Dorothy Hamm. "I should run in that race," said Moore. "I knew those people. When I was 12 years old, I had a band, and we had no place to practice. Dorothy Hamm used to let us practice in her basement."
Hamm is being recognized for having fought the Arlington County Board in a legal case when they did not allow her son, Edward Leslie Hamm, Jr., to attend Stratford Junior High School. "Her son, one of the four kids who integrated Stratford High, still comes here for a haircut," Moore said. "He also sponsors the annual Turkey Bowl, the big Thanksgiving morning football match on Hall's Hill."
"Ms. Hamm cared about kids," Moore said. She would always say something I use today when cutting kids' hair. She would ask, "How was school and what did you learn today? And she would keep probing until she got an answer that you had to think about."
To see a profile of Ms. Hamm, see: https://edu.lva.virginia.gov/changemakers/items/show/26
Moore knew another one of the honorees: Thomas R. Monroe. "Judge Monroe was my dad's friend so I don't remember much but he came in to get his hair cut regularly. He started his law practice right across the street in what is now the tattoo parlor. His son Charles I knew better. He was the county board chairman, in 2003, when he died suddenly during a board meeting, from an aneurysm. Arlington County Fire Department responded, but it was too late."
Monroe is being honored because in 1955, as president of the Arlington branch of the NAACP, he circulated a petition to desegregate Arlington's schools. It was a battle he continued fighting through the early 1970s, when a group of parents whose children attended Drew Elementary school, which remained all-black because of its location, pursued a school desegregation suit against the county. He also worked to desegregate the maternity ward at Arlington hospital and Arlington's movie theaters.
He was one of the first black Circuit Court judges appointed in Virginia since Reconstruction, and he was the first black member of the Arlington Bar Association and the only judge to have served on all three Arlington courts — Juvenile, General District and Circuit.
Speaking about Charles Drew, one of the honorees, Moore said his father knew Dr. Charles Drew's brother — he was not sure about Drew himself, the founder of the blood bank concept and a ground-breaking physician. The Drews had moved to Arlington after a flu epidemic in Washington, D.C. took one of their daughters and they vowed to move to the countryside — Arlington — for clean air.
Two other activists are being honored during the 5K race: Barbara Marx, who defied death threats from white supremacists to pursue desegregation in Arlington schools, and Evelyn Syphax, who was the first black school board chairperson. An Arlington teacher, Syphax also began the first Montessori program in Arlington in 1965, after she and her husband realized there were no pre-schools for African American in Arlington. The couple was known throughout Arlington for their activism and everyone knew them as "construction people" who built up many of the apartment buildings along Lee Highway.
Back in the barber shop, as the conversation turned political, Moore paused and asked a customer who had experience in D.C.'s corridors of power: "What do you think? Is this Attorney General Barr a straight up guy?" The answer came after a long pause. "A lot of people I used to think were reasonable, under this regime, in the face of the kind of power at the top, seem to be bending a little in a less straight up direction ... so is he a straight up guy? Yes, but ... I don't know ... in this case."
They both reflected on the Challenging Racism program and why it was important. "Racism is still a part of our lives," Moore and his customer said. Moore recalled a recent story from Station Eight, where he is a volunteer firefighter. "Two weeks ago, four firefighters from Station Eight went to a pre-school off Glebe Road in Arlington to talk about Fire Station Eight, its history, and its role. After the presentation was over, a four-year-old boy asked the firefighters, who were in their blue uniforms, "Where are your masters?" The men were dumbfounded.
Moore said the other day Coach John Thompson of Georgetown came in. He was telling a story about taking Patrick Ewing, a star basketball player, on tour in California. At one house, a young boy was asked if he would like to shake Ewing's hand, and he hesitated, asking: "Will that color on him rub off on me?"
Moore remarked how successful Thompson and Ewing had been, even in the '70s, as ground-breakers themselves.
"Yes," said Thompson, "But so many more young men and women would have been successful too, if it were not for the stigma of racism."
To support the Challenging Racism 5K race, whether by sponsorship or running, see: www.ChallengingRacism5K.org.