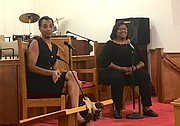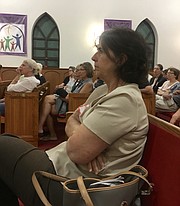 Wilma Jones relates the history of Hall's Hill neighborhood as a storyteller: she personalizes it, gives us context, humor, and color; most importantly, she reminds us what a neighborhood was to people growing up under segregation, where running water and sewers were lacking, in families living through the civil rights movement, or interrupted by war.
The book, My Hall's Hill Family, gets some of that history down on paper in anticipation of the day when those who lived through it aren't around to tell the stories. The book also reminds us that soaring property values in Arlington make it hard to keep a neighborhood "village" intact when the people who grew up there can't afford to live there. The idea of preserving what is left of Hall's Hill weighs heavily on Jones and others of her generation. In an event put on by "Challenging Racism," a local organization dedicated to call out racism that persists, Jones was interviewed about her book by Karen Monaco on Oct. 2 at the Calloway Methodist Church.
History: Basil Hall bought 327 acres of land in the 1850s, to start his plantation. He and his wife Elizabeth were abusive slave owners. In 1861, Union Army soldiers began using the land for encampment and Hall fled, returning after the war, employing his former slaves as laborers who lived in shacks on the property, and continuing to treat them as enslaved, beating them at will. He was charged with battery and assault of his workers in 1866 and the case was heard before a military provost, but President Andrew Johnson intervened and got the charges dropped. This reads like a page out of the recent biography of Ulysses S. Grant: reconstruction thwarted by unreformed slave owners.

Hall originally sold off lots of his property to whites who wanted to farm there; he refused to sell to blacks. In 1881, for the first time, black men were able to afford lots. In 1892, Hall's family sold land in High View Park to a developer, and he marketed homes and building lots to blacks.
And when Arlington made it difficult for blacks living in other African-American neighborhoods in Arlington, like Pelhamtown, refusing to connect them to the sewer system or provide road access, those black families also moved to Hall's Hill, making it a larger, even more cohesive black community.

Jones' grandfather had moved there from Loudoun County because after the war, a black man could find a job in Washington. During the interview with Monaco, Jones noted, "No white person lived on Hall's Hill after that until 1979."
Neighborhood: "Hall's Hill was known as a safe place to live; Rosslyn was pretty much a cesspool, and the KKK was huge in Cherrydale and Ballston. Things were hot there, with weekly cross burnings," related Jones in her talk. So for African Americans who didn't like getting chased up Lee HIghway by the KKK, being further away from Cherrydale was a good idea. The residents dug wells in the area, had easy access to Washington, D.C., and breathed clean air. It was close to Georgetown University which had a hospital that accepted non-whites, and the Georgetown Market was not far. Hall's Hill was also known as a place where you could come on the weekend and find a party. There were moonshine stills at 18th and Culpeper Streets.
Jones illustrates the post-civil war period and the sanctuary that Hall's Hill represented in the context of her own family: her great-grandmother, Elizabeth King, was born a slave in 1847, in Norfolk, Virginia. After the war, she walked the 200 miles from Norfolk to Arlington, settling in Cherrydale and eventually buying a house in Hall's Hill with her husband Henry so they could raise a family in a safe place. Arlington was highly segregated at the time: a wall separated white areas from black areas because "white people didn't want didn't want black people traipsing through white neighborhoods," Jones said, "and you had to go along the Lee Highway corridor to avoid those white neighborhoods."
Like many descendants of enslaved people, Jones writes in her book, she doesn't know as much as she'd like to about her ancestors, but she knows some good stories, Her grandfather could dance a mean jig and was known for that. Her mother came from free black people and her grandmother had a child by a white man – non-consensually – which meant her mother is 56 percent white.
Her mother's father had a good job as a janitor at the government printing office, but her grandmother was widowed after a fire, and had to manage on her own. Hall's Hill was the kind of neighborhood where if you had a car, you'd pick up things for others. If you ran out of something, others would give it to you. The people who had wells would give water to the people who had not dug a well. This became even more important during wartime, when only sick and old men were living on Hall's Hill: women had to make things work without a lot of help.

Jones fondly remembered May Day at Langston school where all the neighborhood kids went.
When the school closed and they split the students up into other schools, Arlington wanted to make sure no school had more than 30 percent black students; because of the wall separating whites from blacks in Arlington, some students then had to walk 18 blocks to school at Woodlawn Elementary School.
Jones noted the importance of Fire Station 8 in the Hall's Hill Community. The station had a coke machine and a pay phone. It was a safe haven for local residents running up Lee Highway from KKK-driven cars, and it was the only organization that would fight residents' fires until the 1950's. It was a source of pride and achievement for the community.
Jones stressed at the end of her talk about her book that the numbers of African Americans living in Hall's Hill dwindles annually. "There was 20 percent diversity in the neighborhood in 2018, now down to ten percent. The county is becoming diverse in the south and white in the north," she said.
Jones hopes her book will be read by Arlingtonians in every area. She has talked to the school board about making it part of the history curriculum in Arlington Public Schools. She hopes the current acting superintendent (and new superintendent) will address the lack of comprehensive coverage of Arlington's black history in the schools. She also hopes Martin Luther King Day will be used more effectively to showcase the black history of the county, particularly the achievements of black Arlingtonians.
"I would bet my paycheck no one in APS is teaching the history of segregated Arlington, with the KKK baseball team and KKK youth clubs in Cherrydale and Ballston, and the night they burned a cross on the front lawn of Dr. Harold Johnson, the black physician who was urging school desegregation." Jones said. "Racism continues to exist, with major issues at Yorktown and Williamsburg, with the "N" word and name-calling still being used to denigrate people of color." (Racism at these schools was the topic of a Committee of 100 meeting on Jan. 8 at Marymount University.)
Jones also noted the amazing role of the wider Arlington community in helping move the change from segregated and unequal schools to a fully integrated system. She is convinced one of reasons Arlington welcomed boat people from Vietnam and El Salvador immigrants was the history of tolerance and integration that came out of the mid-20th struggle to desegregate Arlington.
Jones wrote the book to share the stories her parents told her before they died. She wanted to include positive stories, like when the group "Arlingtons for a Better County" led the effort to desegregate Arlington Hospital so black mothers could give birth there. She wanted to put on record profiles of the people who populated Hall's Hill, like Dorothy Hamm, who fought for school desegregation. "Her house was the first place I ate lettuce that wasn't iceberg," Jones said with a smile. "She was a housewife, she had studied, her husband had a professional job – so that's why white people listened to her and felt okay talking to her. She wasn't working class, so she made white people more comfortable, and had the time too, to take on the issue of segregation in schools. But she was also important to kids in Hall's Hill in other ways. She had a pool table downstairs, and kids from the neighborhood would go there – you went in through the garage – because she HAD a garage, which no one else in Hall's Hill had at the time."
The audience at Jones' talk asked questions afterwards about how to save the neighborhood from the gentrification currently taking place. Some were angry. "There are big issues with these McMansions coming up in the neighborhood, and there are three companies that are buying people out here; there is inaction by the county board to keep housing in the area affordable," were the refrains of the audience.
"I have a cousin I won't talk to because he sold our family house to a developer who put 8 houses on it and took down four 400-year-old oaks." said Karen Monaco, who moderated Ms. Jones' talk.
Peggy Jones, a Hall's Hill resident, rejoined: "The land is everything. We gave our blood for this land. My father won't let us sell."
But others said Hall's Hill is not attracting young black people because it has become too white. "My son said, 'If I come back to Arlington, I won't live here – I'll go to Prince George's County or D.C., where I can live next to people who look like me,'" said one mother.
Wilma Jones' book can be found on Amazon.com.
For more information about Challenging Racism, see: www.challengingracism.org or write to: continued@challengingracism.org.