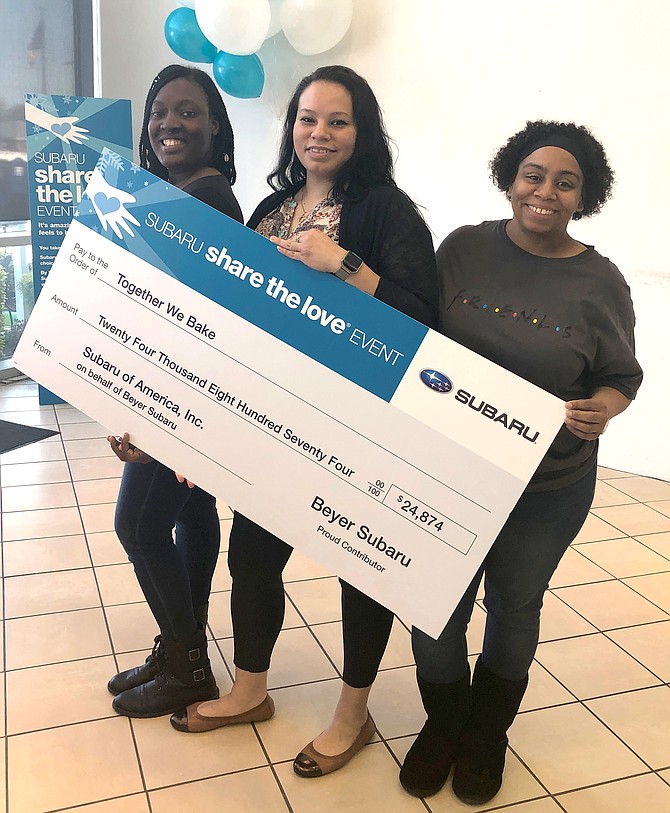 "This year's campaign was a huge success. It really speaks to our customers' values." — Beyer Subaru Vice President Stephanie Beyer-Kirby
Regional representatives of Subaru of America joined with employees of Alexandria's Beyer Subaru April 3 to present a check for $24,874 to local nonprofit Together We Bake as part of the automotive company's annual Share the Love campaign.
"This year's campaign was a huge success," said Beyer Subaru Vice President Stephane Beyer-Kirby. "It really speaks to our customers' values."
This year's Share the Love campaign ran Nov. 15, 2018, through Jan. 2, 2019. During that time, Subaru donated $250 to Share the Love organizations for each new car that was purchased or leased. Customers were able to designate if the donation went to one of four national organizations — the ASPCA, Make-A-Wish, Meals on Wheels or the National Park Foundation — or a hometown charity. Beyer Subaru selected Together We Bake as this year's local charity.
"In the past, we have raised between $7,000-8,000," Beyer-Kirby said. "But Together We Bake has had a tremendous impact on the local community and that resonated with our customers."
Founded in 2012, Together We Bake is a job training and personal development program to help women transitioning back into society from the corrections system, facing long-term unemployment and/or experiencing homelessness.
"Together We Bake gave me a solid foundation to start over," said Colida Johnson, a 2014 program graduate now working for the organization. "It gave me a place to feel safe — it felt like home."
Together We Bake teaches four, 8-week sessions per year. The program is centered around a small baking business through which women learn and participate in food production, food safety education and business administration.
"This program has been great," said 2018 graduate Teresa Ross, who now works as a Together We Bake kitchen helper. "It gave me a chance to feel more comfortable, to learn how to open up and to feel safe."
The annual Together We Bake Empowerment Breakfast will be held June 5 and is open to the public. For more information or to purchase tickets or a sponsorship, visit www.togetherwebake.org.