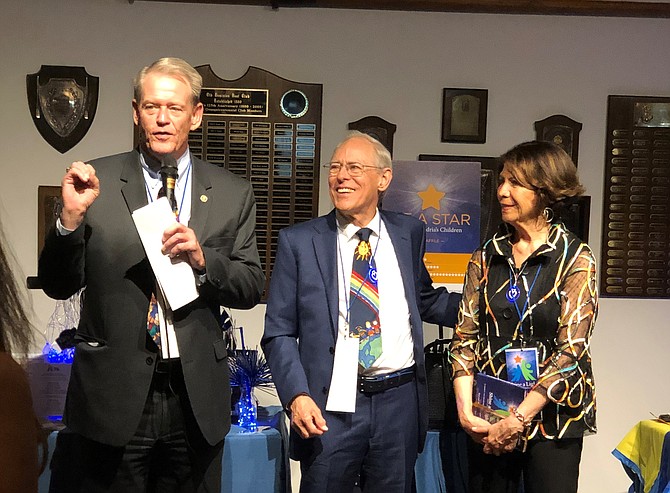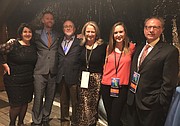 The Center for Alexandria's Children honored community philanthropists Tom and Magaly Hirst with the Champion of Children Award at its 10th annual CAC Gala April 4 at the Old Dominion Boat Club.
"Tom and Magaly Hirst and the Mason Hirst Foundation have made a profound impact on Alexandria's children," CAC board chair Kerry Donley said in presenting the award. "Since 2012, they have doubled contributions for ACT during Alexandria's Spring2ACTion online giving campaign, providing more than $1 million to aid Alexandria's children."
The Hirsts were introduced to ACT shortly after moving to Alexandria 12 years ago. In addition to the Spring2ACTion matching grants, the couple supports 28 different local nonprofits through their ACT donor advised fund.
"Through our grants we really hope to encourage other Alexandrians to give," said Magaly Hirst.
The couple was taken by surprise when they learned that they would be honored at the CAC gala, which took place during April's National Child Abuse Prevention Month.
"We really shun the limelight as much as we can," said Tom Hirst. "But we are grateful for the honor and the recognition is very much appreciated."
The Hirsts were surrounded by friends and family, including five of their grandchildren, as they received their award. Also in attendance were elected officials and representatives of the many nonprofits supported by the Mason Hirst Foundation.
The Hirsts learned of the Center for Alexandria's Children through their association with ACT.
"Using ACT's donor advised fund frees us from managing the day-to-day operations of a foundation," Tom Hirst said. "The staff has helped us sharpen our focus on organizations that align with our priorities. With CAC, our ultimate goal is the prevention of child abuse through training and education."
Founded in 2007, the Center for Alexandria's Children is a public-private partnership that provides comprehensive services to children who have reported abuse. It has expanded its scope to include prevention, education and outreach programs aimed at eliminating child abuse within the community through training programs and a specialized Learn & Play Group program aimed at strengthening families.
"We are very fortunate to have a community trust such as ACT to manage our donor advised fund," said Magaly Hirst. "That allows me the time to visit the individual organizations and really see the impact they are making. It's nice to receive this honor and we are glad to be able to help those who are doing so much good in the community."
See www.centerforalexandriaschildren.org.