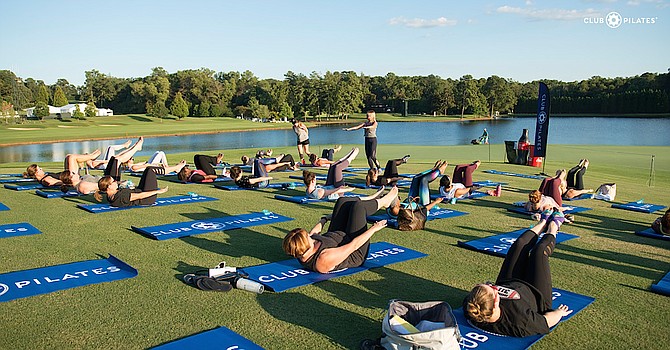 In honor of National Pilates Day, Club Pilates, the Pilates franchise with 500 studios, is giving people one more reason to try Pilates. While Pilates is famous for sculpting longer and stronger muscles in addition to a tighter core, Friday, May 3 through Sunday, May 6, anyone who takes a free intro class will also receive a $10 Gift Card to Whole Foods, Target, and others.
All 10 Virginia and Maryland studios are participating, including the three new Fairfax County locations in Burke, Fair Lakes and Tysons Corner. The celebration begins on Friday, May 3 and runs through Sunday, May 5 with classes and celebratory events happening all weekend long.
Club Pilates Burke is hosting a Pilates in the Park - Mat Marathon event at Burke Lake Park on Sunday, May 5, from 10 a.m. – noon. People are invited to bring their own mat and see how many classes they can finish and to compete in special challenges. Prizes include free reformer (machine) classes at the studio. Times: 10 a.m. – Beginner; 10:30 a.m. – Intermediate; 11:30 a.m. – Advanced.
"While other commemorative holidays are meant to be observed, National Pilates Day is about participation – inviting others to demonstrate the unique mind and body connection that Pilates promises to those practicing it frequently," said Julie Karickhoff, Owner and Instructor at Club Pilates Burke.
In addition to the $10 Gift Card offer, studios are offering 20 percent off all branded retail merchandise, and for those interested in enrolling in Teacher Training, Club Pilates will pay for your training manuals – making it a better time than ever to pursue a career in wellness. Burke will host their Teacher Training info session at 3:30 p.m. on National Pilates Day itself, Saturday, May 4.
"I truly love Pilates and I couldn't be happier to spread the Pilates practice as my profession," said Lindsey Donnelly, Instructor at Club Pilates Burke. "If you're looking for a career in health and fitness, Club Pilates is a great place to be."

More like this story