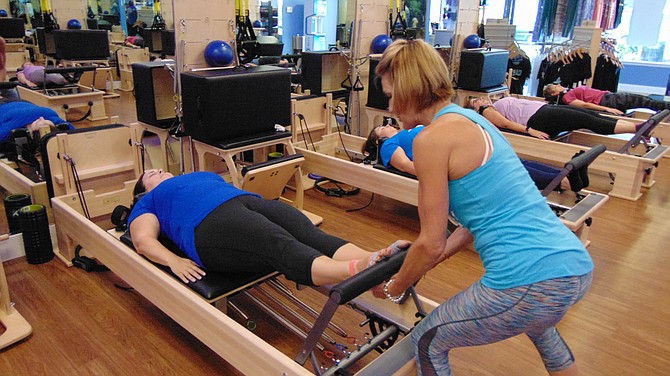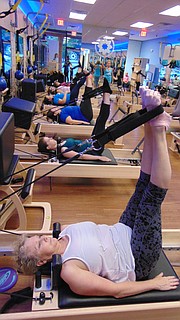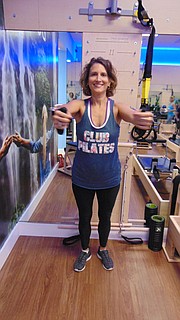 Julie Karickhoff, 43, of Mantua in Fairfax is hosting the grand opening of her new Club Pilates Burke this weekend, Sept. 22-23, at the Burke Centre Shopping Center at 5765 Burke Centre Parkway, Ste. S, Burke.
The studio offers full-body, low impact workouts that improve strength, balance, flexibility and posture. Members can choose from four class levels and eight signature group class formats that tone and burn calories while utilizing a variety of equipment, including Reformers, EXO chairs, TRX, Trigger Point, springboard and Barre.
"Club Pilates is for people who are beginners or who have never tried Pilates before. A lot of my members are newbies in the fact that they are learning all together. A lot of people could be intimidated by Pilates, but we are training to learn Pilates from the ground up. Ninety percent of classes are Level One, which is for beginners," said Karickhoff, who graduated in 1993 from Woodson High.
THE GRAND OPENING includes complimentary intro Pilates classes. In addition to raffles, they will be partnering with Beau Totale Aveda Hair Salon and offering gift bags from Amazing Lash as well as gift certificates from Massage Envy.
The club offers 45 classes a week, Monday through Sunday. Early morning classes begin at 6 a.m. and evening classes go until 9 p.m., with a break in the afternoons. There are three different types of memberships depending on how many times a month you want to attend.

One class uses the Reformer, the main resistance exercise machine; another is called Cardio Sculpt that keeps your heart moving using a trampoline device that lets you jump while laying down. Another class uses fusion with a bar and the Reformer. Another class is called Center and Balance, which offers stretching and flexibility for an engaging range of motion and flexibility.
Karickhoff said the benefits are better posture, flexibility, and a toned core, meaning your abdomen, lower back and sides get worked out. Because members are laying or sitting down, gravity is not pushing on your joints. "When you're sitting and laying down, you're using the springs on the Reformer to tone but you're not hurting your joints. Everything in Pilates is a controlled, slow movement. You're actually using your core to pull yourself into the spring; you're not using gravity and you're doing slow controlled movements," she said.
"The differentiator between Club Pilates and other studios is you get to use more equipment than you would in another type of class. At Club Pilates, everyone has their Reformer, their EXO Chair, and their little area – you get four pieces of equipment that you can utilize during a class. You can use multiple equipment in one class," she said.
Karickhoff, who has an MBA from Georgetown University in 2002, worked in Los Angeles, marketing for Disney and Warner Brothers, MCI WorldCom and U.S. Airways. After she broke her ankle while Roller-blading and tore her knee playing volleyball and running, she started physical therapy, and the therapist had a Reformer machine in the office, which she loved. She got laid off from her job and started exploring franchises to start her own business and discovered Club Pilates.
"I wanted to own my own business and this just made it feel like I was giving health and wellness back to the community," she said. "I thought that if I invested in health and wellness concept that I would be healthy well into my 80s like my dad." Her father is Dr. John Karickhoff, an ophthalmologist.
THE BURKE CLUB PILATES has 250 members who are mostly women and five men. Bill Myers, a physics teacher at Lake Braddock Secondary School, said Club Pilates in Burke provides him with a special way to stay in shape that he hasn't experienced at other gyms. "After more than 20 years in the Army and nearly a dozen years as a high school teacher, I've gotten a few bumps and bruises along the way, and it's all taken a bit of a toll on my body. The low-impact exercises in a Club Pilates class help me strengthen my inner core muscles without the extended pain or soreness I've often felt from more traditional types of physical fitness activities. The staff and instructors at Club Pilates in Burke are friendly and truly help a beginner student like me feel welcome and comfortable – especially when I'm not sure what I'm doing during a particular exercise or feel like the token guy in a class full of women."
Added Denise Stone of Burke: "I joined Club Pilates as a founding member (before it opened). I've done mat Pilates before but not Reformer Pilates, so I was excited to see this club opening in my neighborhood. What makes it unique is the size of the classes allow for individual feedback from instructors, almost like private sessions; and a special camaraderie among members because most of us are doing Reformer Pilates for the first time. Also, the hands-on approach by owner Julie, and her accessibility at the club, make it feel like I'm part of something special happening in my community."
Karickhoff has completed 250 hours of teacher training and is now apprentice instructor. She is in the process of completing the Teacher Training Program so she can teach classes to her community as a certified Pilates instructor.
Club Pilates has more than 300 locations in 37 states. For more information, visit www.clubpilates.com/burke/, or call 703-691-5999.