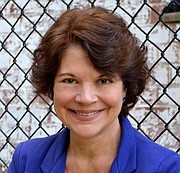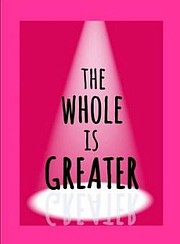 The next play reading of Pipeline Playwrights' Winter/Spring 2019 Reading Series will be "The Whole Is Greater" by Ann Timmons. The staged reading will be held on Monday, April 29, at 7:30 p.m., at MetroStage in Alexandria.
According to Timmons: "'The Whole is Greater' is a comedy about what happens among a group of disparate characters when their lives unexpectedly intertwine."
It stars Carmen, the motivational superstar; Marguerite, the cynical, recently unemployed professor; Shelly, the wily Dollar Store cashier; and Frances, the corrupt City Council chair; who all come together in Carlyle, Va.
"They all try desperately (and somewhat hilariously) to hold onto their carefully crafted identities. The play shatters many of their illusions, and illustrates what can happen when the lies we tell ourselves — and others — catch up to us," said Timmons.
As far as challenges, she said it has a fairly complicated plot structure, so she didn't want to overwrite, but also didn't want the audience to get confused. "And I wanted to leave some room for my director and actors to make some creative choices, so I kept finding myself editing, cutting, re-editing, and so on. I had written an earlier version of this play that was read at Page to Stage at The Kennedy Center in 2015, and after that I eliminated a major character and one whole plot arc. Which was hard! They call it 'killing your little darlings,' and it sure felt like I had stamped out something very precious to me," she said.
She added: "If people are encouraged by this play to take risks, or look a bit more closely at how they move through life, I would be happy. Oh, and if they remember a funny line or moment from the play that made them laugh, that'd be great too."
Directed by Catherine Tripp, the play stars Barbara Pinolini as Marguerite Navarre; Caren Anton as Shelly Lauerman; Diane Coope Gould as Carmen; Marni Penning as Frances Furst; and Stephen Strosnider as Kevin McSweeney.
Pipeline Playwrights is a group of women playwrights based in Northern Virginia who have decided to work together to support each other's work and get women's voices into theatre. The group's other members are Jean Koppen, Crystal Adaway, Patricia Connelly, and Nicole Burton.
Pipeline Playwrights will present a reading of "The Whole is Greater" on Monday, April 29, at 7:30 p.m., at MetroStage, located at 1201 North Royal St., Alexandria. The show is free, with a suggested $10 donation. Stay for the post-performance discussion and reception with the cast, Ann Timmons, and all the Pipeline Playwrights. Visit them on Facebook: https://www.facebook.com/pipelineplaywrights/.