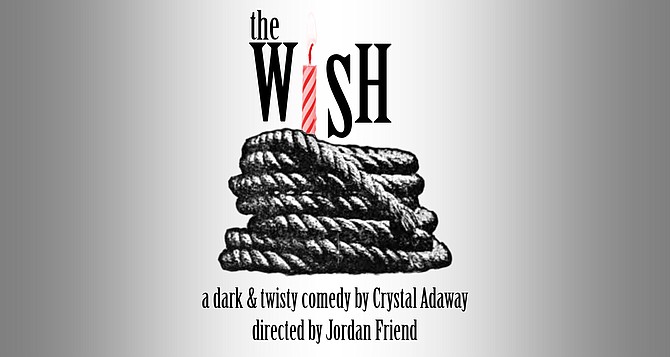 Pipeline Playwrights is kicking off its Winter/Spring 2019 Reading Series with a play by its newest member, Crystal Adaway of Mount Vernon, and her dark and twisty comedy, "The Wish." The staged reading will be held Monday, Feb. 25, at 7:30 p.m. at MetroStage in Alexandria.
The play follows Barbara, who has been wishing for the same impossible thing for 12 long, bitter years. For her 50th birthday, Barbara's daughter, Bonnie, concocts an elaborate scheme to make that wish finally come true. Will her combative sister, Lyla, bring it all crashing down? This dark comedy explores the twists and turns of family dynamics, choices, and accountability, says Adaway, a visual arts teacher and screenwriter.
"I wrote the first draft of 'The Wish' more than seven years ago. It was about half the length and explored a much darker subject matter. It was decent, but the characters needed greater depth and I wasn't happy with the ending, which felt like a runaway truck barreling into brick wall. No cushy gravel pit on that ramp. I set it aside for a few years and worked on a screenplay and some other stage plays," she said.
Last spring, she was invited to become a member of Pipeline Playwrights and presented with the opportunity to have a reading at The Kennedy Center's Page-to-Stage New Play Festival. "I knew immediately that I wanted to dust off 'The Wish' and give it new life," she said. "Over the summer, and since, I worked to give my characters greater depth and humanity, as well as create a new ending that satisfies. It was quite well received at Page-to-Stage in September, and I've done some tweaking based on the helpful and insightful feedback I received from that audience."
Pipeline Playwrights is a group of women playwrights based in Northern Virginia who have decided to work together to support each other's work and get women's voices into theatre. The group's other members are Jean Koppen, Ann Timmons, Patricia Connelly, and Nicole Burton.
Adaway said her main intent in writing the play was to create compelling characters and a story that sucks in the audience from the first moment, holds them tight, and throws them for a twist at the end. "I wanted to explore the complexities of family relationships — sisters, mother, father, daughters, husband, and wife — and how our words and behaviors have long-lasting effects on the people we are supposed to love the most," she said.
As far as audience takeaways, she hopes they will enjoy the ride. "On top of that, I want what every playwright wants: I'd love for them to want to think about and talk about the characters and the plot and the questions the play raises — not only when they're leaving the theater, but weeks later when they're alone in their cars in traffic, or sitting down for drinks with a friend who loves a good story," she said.
"The Wish" is directed by Jordan Friend and features the talents of Annette Mooney Wasno, Ned Read, Angela Kay Pirko, Kira Burri, and Shaquille Stewart.
In her other works, Adaway's screenplay, "Bangers & Mash," was a finalist in the Virginia Screenwriting Competition. Her other plays include: "The Splintered Tale" (co-written with Jake Baskin); "Give & Take;" "Hoot-Nanny;" and "The Christmas Card;" which will be featured along with four other short plays in Pipeline Playwrights' 2019 Capital Fringe production to be held in July. Adaway is a recent alumnus of The Kennedy Center Playwriting Intensive, and she is a member of the Dramatists Guild of America.
Next up in the Pipeline Playwrights' Reading Series will be "Rebellion in the Heartland," by Patricia Connelly -- March 18; "The Best Worst that Can Happen," by Jean Koppen -- April 8; and "The Whole is Greater," by Ann Timmons -- April 29.
Pipeline Playwrights will present a reading of "The Wish" on Monday, Feb. 25 at 7:30 p.m. at MetroStage, located at 1201 North Royal St., Alexandria. The show is free, with a suggested $10 donation. Stay for the post-performance discussion and reception with the cast, Crystal Adaway, and all the Pipeline Playwrights. Visit them on Facebook: https://www.facebook.com/pipelineplaywrights/