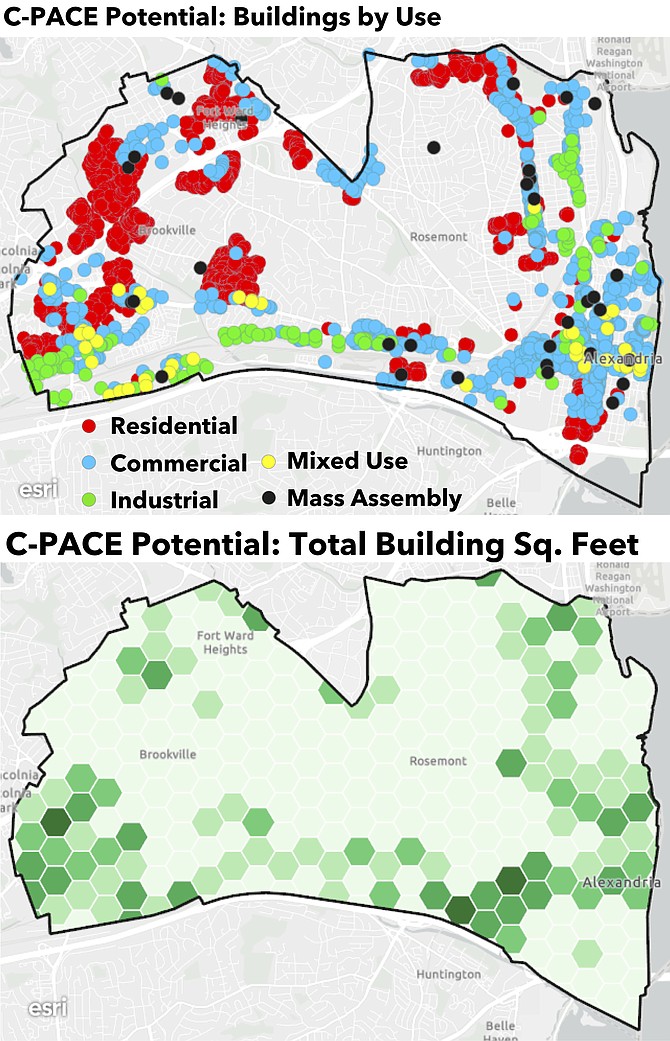 City Council will decide on Wednesday, May 1 whether to reserve funds for a "green" building program, which would enable private lenders to collect debts via the city government's taxing power.
Proponents say the program — dubbed Commercial Property Assessed Clean Energy (C-PACE) — would enable building owners to invest in eco-friendlier building upgrades, like HVAC systems and roofs. They think such upgrades could yield a relatively big positive environmental impact, since buildings are major greenhouse gas emitters.
With C-PACE, eligible debt attaches to the building, which passes to the new owner if the building is sold. It's repaid through a special assessment on the property, as a tax bill addition.
"This can address a key disincentive to investing in energy improvements because many property owners are hesitant … if they think they may not stay in the property long enough for the resulting savings to cover the upfront costs," according to the Department of Energy.
With zero-down and long repayment terms, C-PACE may enables owners to finance upgrades for which they might otherwise lack sufficient cash.
"The annual energy savings for a PACE project usually exceeds the annual assessment payment, so property owners are cash flow positive immediately," according to the C-PACE Alliance, a coalition of firms. "[Net new revenue] can be spent on other capital projects, budgetary expenses, or business expansion."
The Ivy Knoll Caring Senior Community in Covington, Ky. illustrates the benefits, says Jessica Greene of the Virginia Energy Efficiency Council. With a $750,000 C-PACE loan, Ivy Knoll installed, among other things, heating and cooling controls that reduce energy costs by some 20 percent.
Greene says C-PACE reduces risk all around. The city government could realize environmental and economic benefits by enabling C-PACE legislatively, but otherwise would act only as a "pass-through," its credit not backing the loans. It could also charge a nominal fee on closing costs.
Positive cash flow increases the borrower's ability to repay and, conversely, the lender's assurance of getting paid. Unlike with some conventional loans, missed C-PACE payments may not incur late fees or trigger a due-in-full penalty. If the loan forecloses, the lender acquires a property made more valuable by the green capital improvements, she said.
Others express more skepticism.
Using the tax system to collect debts could amount to the government "serving as a barrier against default for private lenders," said Councilman Mohamed "Mo" Seifeldein. It could also make lenders more "willing to lend as much money as the person asks for," and in turn "reduce the discipline from the people who are asking for loans."
Sharing Seifeldein's concerns, City Manager Mark Jinks didn't include C-PACE funding in his initial budget proposal.
"It is reasonable to question whether or not a government's tax collection authority via special assessment lien should be used for such private purposes," Jinks said in a recent budget memo.
Other council members want to carve out $125,000 to initiate a C-PACE program, pending further research and planning by departmental staff.