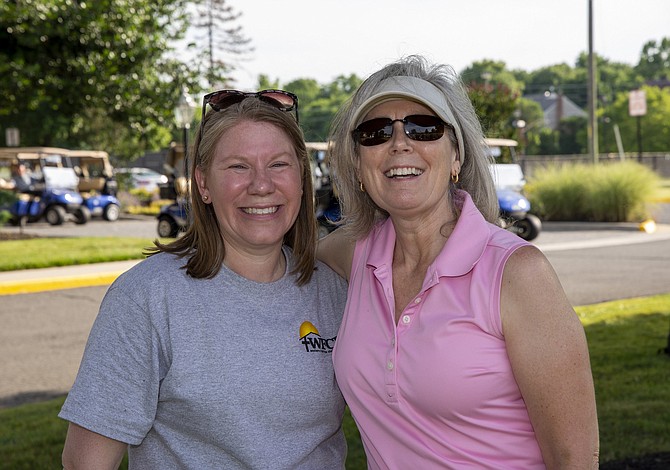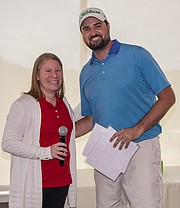 Western Fairfax Christian Ministries' inaugural Spring into Action Golf Tournament was a big success and raised more than $13,000 for the nonprofit. The event was held June 17 at Chantilly National Golf and Country Club in Centreville. Some 72 people participated and then enjoyed a barbecue buffet lunch afterward.
Attendees included several WFCM board members, Dulles Regional Chamber of Commerce President John Boylan, Supervisor Kathy Smith (D-Sully), Mike Coyle from Smith's office, representatives from local businesses and churches, plus other supporters. Prizes were gift certificates for rounds of golf donated by Chantilly National.
"The work that WFCM does for the community is invaluable," said Phil Hicks of Sandy Spring Bank (part of the Northern Virginia Business Outreach Group). "Their food pantry is immaculate and allows for those in need to shop with dignity."
According to WFCM Executive Director Harmonie Taddeo, in the fiscal year that ran from July 2018 to the end of this June, WFCM served more than 2,600 people who are struggling to make ends meet.
"We provided over $250,000 in rent and utility assistance to nearly 500 families facing eviction or disconnection of services," she explained. "And in addition to giving support, comfort and funds, we provided more than 300,000 pounds of food to our clients."
She said 94 percent of the families served by WFCM have low or extremely low incomes – earning only as high as $32,000 for a family of four. "These resources of food and funds are making a difference in their lives during times of crisis," said Taddeo. "We thank all those in the community whose support and generosity help us to serve those at risk of hunger and homelessness in western Fairfax County."
The funds raised during the golf tournament will be used toward WFCM's new services, including a text-message, appointment-reminder service for clients, additional appointment hours on weekdays and weekends, plus cleaning services for the pantry. "As more clients seek our assistance, these services will help us to serve them in a timely, efficient and healthy manner," said Taddeo.
Furthermore, added WFCM Board President Andrew Casteel. "We welcome the opportunity to provide a tour of WFCM's offices and food pantry for anyone who's interested. We know that, once you see what we do, you will share our passion and want to get involved."
Golf teams and golfers participating in WFCM's tournament were from: Pender United Methodist Church, Ox Hill Baptist Church, King of Kings Lutheran Church, Fairfax Church of Christ, St. Andrew Lutheran Church, Northwest Federal Credit Union, the office of Kathy Smith, the Dulles Regional Chamber of Commerce, TIAA, Dominion Energy, Acorn Financial, MarketPlace Development and Northern Virginia Business Outreach Group. Event sponsors were Atlantic Union Bank, Bloom Brand Strategies LLC, Keener Insurance Agency, The Dickens Family and Yates Campbell & Hoeg LLP.